Jess Fink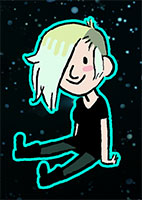 Jess Fink Is most likely an alien, but there is insufficient proof to support this claim. She has been making drawings, cartoons and comics since she could hold a pencil. Graduating from the School of Visual Arts in 2003, she set out to self-publish as many comics as possible. Her published works include We Can Fix It, a time travel memoir, and Chester 5000-XYV, an erotic Victorian romance. She has been featured in various anthologies like SPX (2002/2003), Popgun (Volume 4, 2010), Best Erotic Comics (Last Gasp, 2008) and Erotic Comics, Volume 2 (Abrams, 2008). Her erotic work has been published by Fantagraphics including a special single issue with writer Polly Frost (Head #14). Also an illustrator, her work has been featured in the New York Times and her t-shirt illustrations have won the Threadless.com contest many times.
She is a humanist, she can't ride a bike and she loves marzipan. She lives in NY with her boyfriend and some cats.
Reviews & Interviews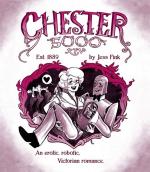 by Jess Fink
Winner of the Ignatz Award for Outstanding Series!
"Liquid and elegantly stylized." — Alan Moore
"Sexy and charming. This is pornography with a heart." — Noel Murray, The A.V. Club
"Fink's storytelling is as likely to pluck on your heartstrings as get you all steamed up." — Graeme …
$19.99 (US)
$7.99 (US) DIGITAL
Details
ISBN 978-1-60309-535-8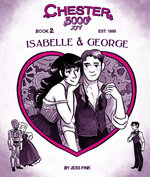 by Jess Fink
Winner of the Ignatz Award for Outstanding Series!
Praise for Chester 5000:
"A woman-friendly, couple-friendly book destined to become a perennial in sex-positive toy and book stores." — The Comics Journal
"Delightfully playful... a genuinely beautiful piece of erotica evidently drawn …
$14.95 (US)
Details
ISBN 978-1-936561-69-8 - Diamond: MAY168789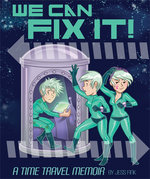 by Jess Fink
"Jess Fink's work is full of so much casual charm, you think you know her by the time you finish the book. Her light touch brings you through slapstick humor to emotional depths and back again without missing a beat." --Kate Beaton (Hark! A Vagrant)
"We Can Fix It is sexy AND funny at the same …
$14.95 (US)
$7.99 (US) DIGITAL
Details
ISBN 978-1-60309-065-0