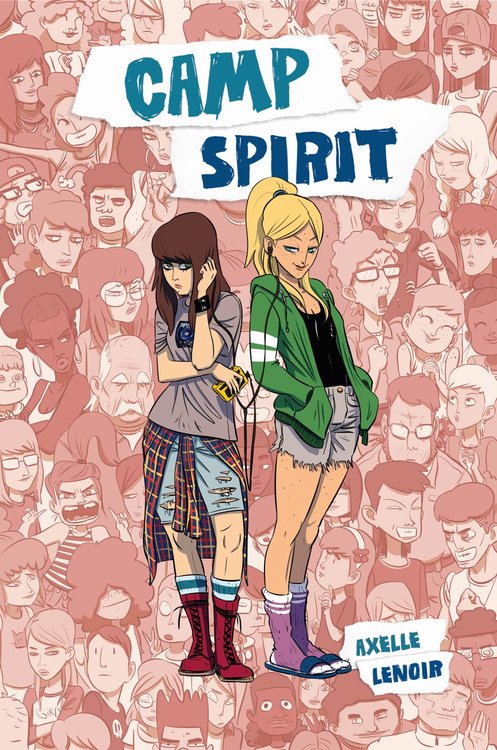 It's the spooky LGBTeen hard-rock rom-com that's as wild as a hot summer night.
"Funny and believable, with wonderful expressions and amusing dialogue... There's a lot readers will enjoy about this coming-of-age camp comedy: romance, a dose of paranormal horror, and laugh-out-loud shenanigans." — School Library Journal
"There's plenty to delight in... weirdly adorable." — Library Journal
"Camp Spirit balances laugh-out-loud gags... with the tenderness of a budding queer romance and a bananas paranormal subplot. The artwork is bright and expressive, particularly in the characters' eyes, and there is a lot of great coloring with dappled light and shade." — YALSA
"At first glance, a light and frothy comedy, but little by little it transforms into something wild." — BDGest
"Axelle Lenoir weaves a sympathetic story around a very endearing heroine. Inside: tons of humor and a beautiful accuracy in human relationships, but also a veil of mystery that makes us even more eager to read to the end!" — Canal BD
"Perfect light reading for the summer, proving that the classic blend of fantasy and teenage comedy still works!" — BoDoi
"Axelle Lenoir is still a teenager at heart… Camp Spirit is a summer read that makes us relive our first emotions of adolescence with a smile." — Le Journal de Québec
Summer camp is supposed to be about finding nirvana in a rock garden… But Elodie prefers Nirvana and Soundgarden. Can she confront rambunctious kids, confusing feelings, and supernatural horrors all at once?
Summer 1994: with just two months left before college, Elodie is forced by her mother to take a job as a camp counselor. She doesn't know the first thing about nature, or sports, of kids for that matter, and isn't especially interested in learning… but now she's responsible for a foul-mouthed horde of red-headed girls who just might win her over, whether she likes it or not. Just as Elodie starts getting used to her new environment, though — and close to one of the other counselors — a dark mystery lurking around the camp begins to haunt her dreams. -- a 208-page, full-color softcover graphic novel with 3" FF, 7" x 10"
Reviews
---
Related Titles