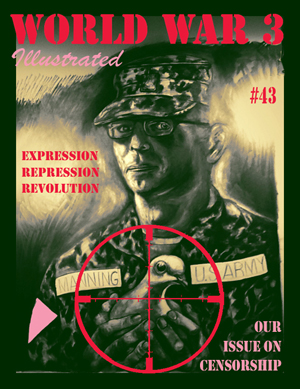 WORLD WAR 3 ILLUSTRATED #43: EXPRESSION / REPRESSION / REVOLUTION
Edited by Seth Tobocman, Carlo Quispe and Rebecca Migdal
For the July 2012 issue of World War 3 Illustrated, we have invited artists and writers to address the topics of censorship and repression in all forms, from the most personal to the most political, from the banning of works of art to the busting of demonstrations to the self-censorship of our own thoughts. Our international group of artists this issue includes: Sue Coe, Mike Diana, Peter Kuper, Magdy El Shafee, Kevin Pyle, Seth Tobocman, Gianlucca Costantini, Blu, Ganzeer, Sandy Jimenez, Frances Jetter and many others. With stories about Occupy Wall Street, Julian Assange, The Comics Code Authority, Bradley Manning, Art School, David Wojnarowicz, A.R.A., the Arab Spring and many other controversial subjects. Published by WW3 Illustrated and distributed by Top Shelf. -- A 112-page perfect bound softcover anthology (color covers, B&W interiors), 7" x 9"