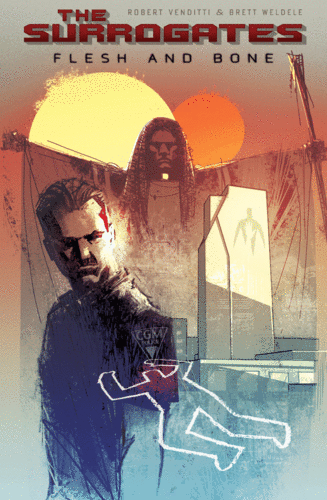 THE SURROGATES is now a major motion picture from TOUCHSTONE PICTURES, starring BRUCE WILLIS, VING RHAMES, RADHA MITCHELL, and ROSAMUND PIKE. Now on DVD and Blu-Ray!
"Flesh and Bone reads like Philip K. Dick writing an episode of The Wire ... a smart, compelling and adult work asking questions with no easy answers." -- io9
"Venditti and Weldele manage to craft an exciting futuristic crime story while composing a profound, morally complex dialectic . . . . It takes a graphic novel about robots to find out what it means to be human." -- Dan Trachtenberg, The Totally Rad Show
"Surrogates is gritty, compelling science fiction with a story that grabs you immediately and hangs on long after it's over." -- Mark Frauenfelder, Boing Boing
"The Surrogates: Flesh and Bone is a spectacular read, both for fans of the original series and newcomers. Venditti and Weldele build an engrossing story, delivering a complex world that mirrors our own in many ways." -- Chad Nevett, Comic Book Resources
"It's like an episode of Law & Order set 30 years in the future. Clever dialogue, a thought-provoking plot and nice art, to boot. ... My surrogate gives it two thumbs up." -- Dan Lennard, People Magazine
"If The Surrogates dipped its toe into the tipping point of techno-social change, Flesh and Bone deftly splashes about in the pool." -- UGO.com



Check out the video trailer for Flesh and Bone created by artist Brett Weldele!
In a dark downtown alley in Central Georgia Metropolis, a juvenile prank goes too far and a homeless man is killed. When the ensuing investigation reveals that the attackers aren't who they appeared to be, justice depends on the testimony of a single witness -- a street snitch with a history of providing information to a uniformed cop named Harvey Greer. Harvey is placed on special assignment to track down the informant, but others have their own designs, including a wealthy socialite and an ex-con turned religious leader known to his followers as The Prophet. As days pass and anger among the anti-surrogate population grows, the city stands on a razor's edge. Will punishment be exacted in a courtroom... or on the streets?
Set fifteen years prior to the events of the first volume, The Surrogates: Flesh and Bone sheds light on the past that binds the cast together. From the streets of Central Georgia Metropolis to the boardroom of Virtual Self, Inc., it takes us on a journey through a city struggling to come to grips with its present. As much a cautionary tale as a story of suspense, this book reminds us that tomorrow will be determined by the choices we make today. -- 144-Page Full-Color Graphic Novel, 6 5/8" x 10 1/8", Diamond: FEB098170
Reviews
---
Related Titles