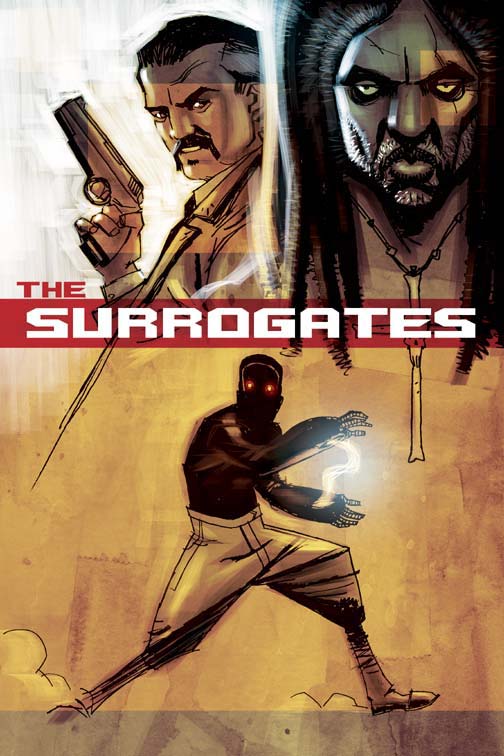 "A classic sci-fi tale, in a similar vane to William Gibson or Harlan Ellison." -- Hilary Goldstein, IGN
"Venditti has woven a fascinating story … one that I'm eager to follow." -- Shawn Hoke, Comic World News
"Let me tell you, folks … this is a rockin' super-hero series." -- Filip Sablik, Diamond Comics
The year is 2054, and life has been reduced to a data feed. The fusing of virtual reality and cybernetics has ushered in the era of the surrogate, a new technology that lets users interact with the world without ever leaving their homes. It's a perfect world, and it's up to Detectives Harvey Greer and Pete Ford of the Metro Police Department to keep it that way. But to do so they'll need to stop a techno-terrorist bent on returning society to a time when people lived their lives instead of merely experiencing them. Welcome to The Surrogates, a daring, five-issue, full-color miniseries from Top Shelf Productions.
In the tradition of William Gibson and Philip K. Dick, The Surrogates is more than just an action story with sci-fi trappings. Applying familiar tropes in unfamiliar ways, The Surrogates is about progress and whether there exists a tipping point at which technological advancement will stop enhancing and start hindering our lives. It is also a commentary on identity, the Western obsession with physical appearance, and the growing trend to use science as a means of providing consumers with beauty on demand.
The Surrogates also represents a number of firsts. For writer Robert Venditti, the miniseries is his first published work. For Top Shelf, the award-winning literary publisher best known for such seminal graphic novels as From Hell, Blankets and Owly, this is their first foray into mainstream comics, as well as their first in-house book. Venditti began working for Top Shelf on April 3rd, 2002, during the "twelve-hour miracle," when he helped pack the thousand orders that came in that day, and since then he's become the publisher's first permanent staffer. Also an aspiring comics writer, Venditti gave the script for The Surrogates to Chris Staros and asked his advice on marketing it to more mainstream publishers. After reading it, however, Staros and co-publisher Brett Warnock were so impressed that they did one better: having long been on the lookout for a mainstream project worthy of bearing the Top Shelf logo, they decided to keep The Surrogates for themselves.
To fulfill the art duties, Top Shelf turned to up-and-coming artist/colorist Brett Weldele. Staros and Weldele first met during a portfolio review at Savannah College of Art & Design (SCAD), where Staros recognized the talent in the studying artist's work. Since then, Weldele has worked on such high-profile projects as The Last Straw Man & The Clockmaker for Image and Julius for Oni Press. Now Weldele has come full circle, producing work for Top Shelf that is both innovative and edgy, combining the best of mainstream and indy influences. Augmenting the visuals is the unifying design concept of the graphic design firm Bissel & Titus, who deliver supplemental articles, mock advertisements, and product brochures so authentic you'll think surrogates are already available at an authorized dealer near you. The result is a fully realized creative endeavor, one that immerses the reader in a time and place not far from, and yet so much unlike, our own. Featuring young talent, inventive storytelling, and a subtextual narrative driven by characters all too human, The Surrogates is mainstream comics the way they ought to be. -- 32 pages, Full-Color Comic Book
ORIGINAL FIRST PRINTING
---
Related Titles