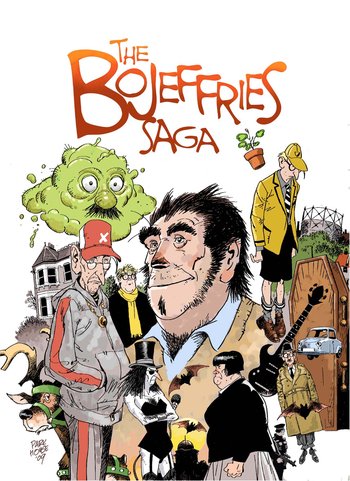 The Bojeffries Saga
by Alan Moore and Steve Parkhouse
ISBN 978-1-60309-063-6
People have described The Bojeffries Saga as being about "urban decay" or "the demise
of the nuclear family," as if getting a handle on this oblique entity would somehow make it fair game for intellectual scrutiny. But what the Bojeffries set out to do was simply poke fun at
the British -- which is what the British do best.
This edition includes the evolutionary development of the principal characters, as well as an all-new story (as if the Bojeffries were living in modern times). Alan and Steve both agree that modern Britain is on a fast track to nowhere, yet Alan's affectionate and penetrating understanding of human nature creates a kind of desperate poignancy in the characters; and Steve's deft and articulate line work brilliantly echos this throughout the collection.
It's all there, untutored, unpolished, ramshackle and always on the edge of collapse. Very much like Britain itself.
A FUTURE RELEASE!
---
Related Titles