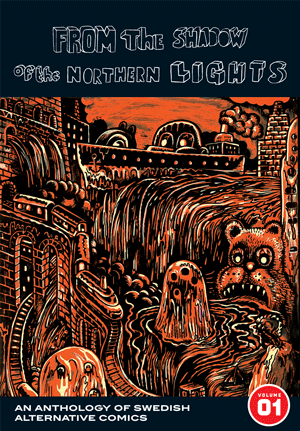 THE SWEDISH INVASION!
Originally inspired by the counterculture work of Robert Crumb, the comical aspect of MAD and the storytelling of the master director Ingmar Bergman, the Swedish magazine Galago began as a publication of political satire during the late 70s. In the three decades since, it has grown to become the flagship of the Swedish alternative comics scene. The anthology, FROM THE SHADOW OF THE NORTHERN LIGHTS, gathers 200 pages of some of the finest comic artists Galago and Sweden has to offer, including contributions from David Liljemark, Marcus Ivarsson, Mats Jonsson, Knut Larsson, Kolbeinn Karlsson, Liv Strömquist, & Loka Kanarp.
The Swedish comics community -- after years of hard work -- has developed into one of the most important comics scenes in the EU, on par with the indy scenes in the U.S. and France. Pick up this anthology and see why. -- 200 pages, 6 5/8" x 9 5/8"
IN PRINT!
Reviews
---
Related Titles