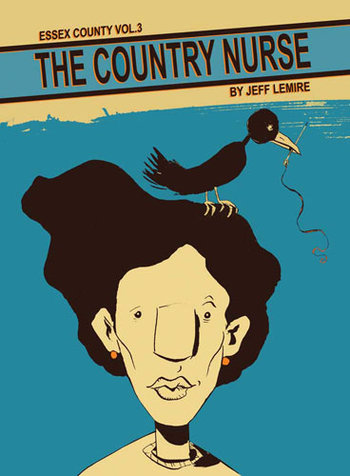 Named one of the year's Top 10 Graphic Novels by Booklist!
"This is the comics medium at its best." -- Booklist (starred review)
"The power of Lemire's hushed, deliberately paced storytelling is in his black-and-white linework: raw, scratchy and sometimes minimalist, it conveys a lot with a handful of ragged lines." -- Publishers Weekly (starred review)



"Jeff Lemire's Essex County trilogy, from Top Shelf, is a quiet, somber, haunting masterpiece... Lemire is writing about loneliness and regret, and I'm at a loss to explain how he manages to illustrate the devastating toll they takes on his characters even as he inspires his readers." -- Steve Duin, The Oregonian
"Volume 3 in the Essex County series establishes Jeff Lemire as one of the most elegant graphic novelists of our time. The complexity, the nuances, the pacing and the magic of this Canadian series elevates it to the status of Spiegelman's Maus and Craig Thompson's Blankets. The Country Nurse is a deeply important and unforgettable human story, one that can be returned to again and again for inspiration and strength. It also confirms Top Shelf Productions as a publisher of stories that move us to awe." --Richard Van Camp, author of The Lesser Blessed and Angel Wing Splash Pattern
"Lemire creates the kind of beauty that art can invent from sorrow. ... The Country Nurse is the closing chapter in a truly exceptional graphic novel trilogy." --Leroy Douresseaux, Comic Book Bin
The Country Nurse is the final volume in the critically acclaimed Essex County trilogy of graphic novels set in a fictionalized version of Lemire's hometown in Ontario, Canada. The Country Nurse follows a day in the life of Anne Quenneville, this peculiar farming community's traveling nurse. As Anne checks in on her favorite patients, we finally discover how all three volumes stitch together a portrait of how loss and regret push and pull at the fabric of family in small town life. -- 128-Page Graphic Novel, 6 1/2" x 9"
Reviews
---
Related Titles