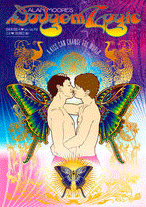 The incredible Manchester artist John Coulthart contributes a positively psychedeligasmic cover to the fourth issue of the wild new underground magazine edited by Alan Moore, Dodgem Logic! "A Kiss Can Change the World," the cover proclaims (with a same-sex focus that Alan has explored before, to great effect)... and if you stare at the colors on this wraparound cover for long enough, you'll certainly start to see the world differently! The issue also features a Free 'Bohemia' Poster, articles by Dick Foreman, Robin Ince, Barney Farmer & Lee Healey, a helping of Mustard magazine, Steve Aylett, Steve Moore, an amazing Melinda Gebbie gallery plus a lot more besides! Oh... Alan's in there somewhere as well. A sumptuous psychedelic issue indeed.
Published by Mad Love/Knockabout (and available from Top Shelf as well). -- A 64-page perfect-bound magazine
For more information, visit the all-new Dodgem Logic website.
---
Related Titles