August 3, 2006 / More →
God bless Alex Robinson, ever the bridesmaid, never the bride. Well, that's not actually true. I'm talking here about The Eisner's, the Oscars of the comics industry (but without the glitz and glamour). Both Box Office Poison (in 2002) and Tricked were nominated for Best Original Graphic Novel … hands down THE Big award of the night … but alas...
Well fuck em' is say, Alex! What do "they" know anyway!
Alex DID win the Eisner a few years ago, for Talent Deserving of Wider Recognition. And deservedly so.
(Following are the pages from Alex's sketchbook, while we sat at the banquet eating stale chips and guacamole. Bravo!)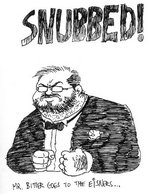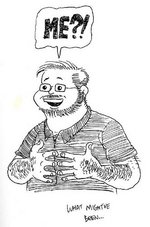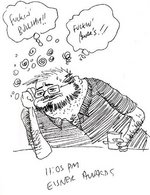 ••••••••••••••••••••••••••••••
In other news, James Kochalka is touring in support of his new album, so snap to attention, people!
"I'm going on a mini-tour to drum up interest in Spread Your Evil Wings and Fly. This tour will be acoustic-duo style James Kochalka Superstar... just me and my guitarist Jason X-12."
Fri 8/25 CAMBRIDGE, MA -- Middle East upstairs, 472 Mass. Ave. * w/ Neil Hamburger, Morgan Murphy, World's Greatest Sinners * JKS/X-12 on first @ 9pm!! * http://www.mideastclub.com
Sat 8/26 PHILADELPHIA, PA -- Tritone, 1508 South Street * other acts, set times TBA * http://www.tritonebar.com
Sun 8/27 NEW YORK, NY -- Cake Shop, 152 Ludlow St. (btwn Stanton & Rivington) * w/ Monsterface, Dream Bitches * show starts early !! 7pm * http://www.cake-shop.com/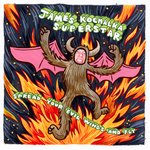 Rock!!
---
July 31, 2006 / More →
I didn't score nearly as many books as i usually do at San Diego ComiCon, but i did come away with a few assorted gems.
First and foremost, my most favoritest find, by far, was an unassuming sketchbook, found just across the isle in Sam Hiti's modest little booth. It's called Ghoulash, and holy shit is this some of the most incredible work to come out of the U.S. in a long long while.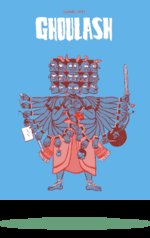 Actually, to call it a mere sketchbook is not accurate. While each image in the book is standalone, the renditions are fully realized, in a gorgeous lush style. There are many influences i see, including European ink-studs like the French Beaudoin and Blutch, and the Spanish Max. From North America i see maybe shades of Jay Stephens, Paul Pope, Mignola and perhaps even Bruce Timm.
But Sam's work is entirely his own, and the depth of his imagination is just huge; bordering on Kirbyesque even. At least visually. If there is one weakness to my mind, in Hiti's work, it's that he lacks the narrative focus (for now) to create a truly timeless piece of graphic fiction. (This is not dissimilar to Pope's work. And like Pope, the very prowess of his visuals can and does carry a weak story.)
His last big book, End Times: Tiempos Finales, is literally a visual tour de force, and yet ultimately it's just not very affecting as a narrative. A good story editor might go a long way in helping Hiti better understand the nuts & bolts of timing, story logic, etc.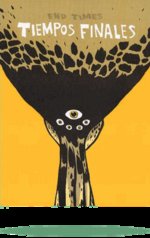 Still, i think Sam has the gift, and has the potential to become on the stars in the firmament of greats. I'd give my left pinky to publish virtually anything he touches. (Sam, do you have any need for a severed pinky finger?)
---
July 28, 2006 / More →
•Â Yeah, so San Diego absolutely rocked the house. (Except for the brutal heat and humidity. A 10 minute walk from hotel to convention hall worked me up into a sweaty lather.) If you want a full round-up, i'd wager Spurgeon most likely has links to the best one can find, over at Comics Reporter.
• The fine gentlemen from Regent Printing (Robert Conte and Stephen Bomgaard), who did a flawless job printing Lost Girls, took Chris, Melinda and myself out to dinner on the night i arrived in San Diego, to celebrate this momentous occasion. The company was fabulous, the filet mignon was perfect, but my hangover the next day was excruciating. Needless to say i got caught in the moment, drinking several margaritas, red wine, and port for dessert. Let the good times roll, eh?
• We ended up selling all 500 copies of Lost Girls (which were airmailed to San Diego from Hong Kong), and only gave away ONE single comp! (To Wildstorm maestro, and frequent Alan Moore editor Scott Dunbier.) Artist Melinda Gebbie was in attendance, and was gleefully signing books all weekend. Having been working in a virtual cave for years wrapping this project up, i think Melinda was genuinely surprised by the delightful response she received.
• Back on the food front, one of my favorite things about this con; had a fancy dinner one night with Jeffrey Brown at Sally's, on the promenade over by Seaport Village. (Where i bumped into Atlantis Fantasy World proprietor Joe Ferrarra, his lovely wife Dottie, and Paul Chadwick.) Ahi tuna, seared rare of course, melted in my mouth, but the bartender was totally out of his league when i asked for a Mint Julip. Ate dinner on Eisner's night with Aaron Renier (who WON the Eisner for Talent Most Deserving of Wider Recognistion!) at the fabulous Indigo Grill, up in the Little Italy neighborhood. Being a little off the beaten path, this is mostly a locals restaurant, but well worth the effort tracking down. The ribs and corn salsa are one of life's greatest simple pleasures. Plus, every girl on staff so very easy on the eyes.
Another great night of dining was with the "40-and-Over-Club"... myself, Renee French, and Garret Izumi. We grabbed a table outside at Seaport Village, found some grub, and had some seriously inspirational conversation. Renee is a natural storyteller, and her stories truly have to be heard to be believed. My lips are sealed. The more i get to know Renee, the bigger fan i become. And Garret, well, he's one of the first people i ever knew in the biz, and one my favorite people on the planet.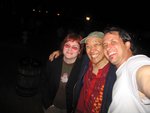 • I'm not a star-fucker by nature. I've waited tables and/or made cocktails for Tommy Lee Jones and Benicio Del Toro, as well as basketball legend Wilt Chamberlain. To me, they were just regular guys.
But over the weekend, i came back to our booth after a pee break, or whatever, only to find one of my absolute favorite comics author of ALL TIME standing in line to get Andy Runton's signature on some Owly books. Yes, that's right, it turns out that he and his lady are HUGE fans. Now, normally i'm not one to blithely introduce myself to a celebrity i'd love to meet, unless an opportunity naturally presented itself. (Like, say at a party or even at a signing.)
But after suffering from a painful 5-minute bout of anxiety trying to ascertain what i should do, i calmly realized that, hey, i am the publisher of this book after all, and so i introduced myself as such, professed myself as a big fan, and to my surprise struck up a nice 10 or 15 minute conversation. Both Grant and his partner were charming to the end. I remained cool on the outside, but was so excited, i really can't recall much of what we talked about besides All-Star Superman and rock-star artist Frank Quitely.
••••••••••••••••••••••••••••••
• Meanwhile, on an unrelated note, go here for a short interview with International Comics Man-on-the-Scene John Weeks.
John also started a new Comics non-profit called "Our Books."
• Also, feast your eyes on this smashing print Jeremy Tinder created for Lollapalooza. Sweet! (Jeremy's new book Cry Yourself to Sleep was recently given an excellent review by our good friend Greg McElhatten, over at iComics, so don't dally true believers, and get your ass on over there.)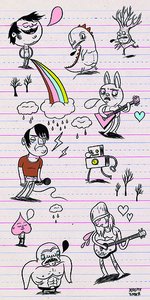 •Â This is way late, but cool as hell all the same. Staros picked these up for me when he attended Book Expo a few months ago. These are catalogs by Drawn & Quarterly and Fantagraphics. Made specifically for the book trade, they're not widely seen. Two beautiful catalogs by two of the most important publishers working today.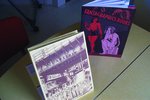 ---
July 19, 2006 / More →
Off in the morning to the greatest freak-fest on planet earth, and like every year, i'm giddy with excitement. What's not to love about fleets of fat Klingons, leather-skinned & way past their due-date, aging "models," hordes of pony-tailed sweathogs in their full-length black leather jackets, and 40 year-old men dressed up like Sailor Moon?
I've been doing this show on and off now since i first went down with my pal Steve Ryan in 1991, and we were pitching projects to the Kevin Eastman pipe-dream, the money black-hole known as Tundra. We went again in 1994, and i haven't missed a show since 1996.
Chris, Rob (Venditti) and Andy (Runton) are already there and set up. Many thanks, guys. I don't envy those cats; for some reason the organizers refuse to turn on the air-conditioning during set-up, despite the bazillion dollar per-square-foot rental space vendors pay for the luxury.
This year, however, we'll be displaying fewer of our backlist books in general, and more of the frontlist and brand new books. (Hope to freaking god that Jeffrey Brown's new book shows.) So set-up should be a little easier.
I'll be honest... i just don't know what to expect about the debut of Lost Girls. The artist, Melinda Gebbie will be there signing, all the way from Northampton, England, and the press so far has been great. But this book … at the risk of sounding like i'm talking out of my ass … is absolutely unique in comics history. Highly intellectual, deeply spiritual, hard-core porn? At $75 a pop? Keeping fingers crossed.
I hope i sleep tonight.
---
July 18, 2006 / More →
I'd seen this funky looking magazine/book at numerous stores for a while now, called Modern Arf, edited by Craig Yoe. Not know exactly what it was, and broke to boot, i passed. Luckily fate came to my rescue, in the form of Reading Frenzy proprietress Chloe Eudaley, who sold me a copy of volume one for half price, because it had a dinged cover.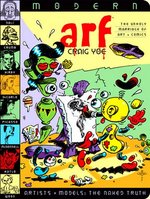 I just bought the second issue (both volumes are published by Fantagraphics) at Reading Frenzy, and i'm now a certified convert. This publication is a veritable treasure trove of cool comics weirdness. Yoe is excavating long-lost and forgotten gems that truly deserve the light of day. (With some perfectly suitable contemporary work sprinkled throughout, for zest.) He's the freaking Indiana Jones of Comics.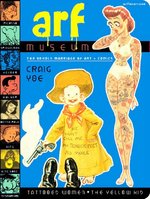 Arf also treads into the realm of sister media, like editorial cartoons, and fine-art illustration. A philosophy that i love, and one that gets overlooked, in the larger context of comics history. The focus and bent is not unlike that of another fine publication, Comic Art, but the difference is in the presentation. Where Comic Art might expend a great deal of energy and space talking about a given subject, Arf is more prone to just throw it up on its oversized pages in all it's inky beauty, with maybe one tiny text caption of explanation.
Kudos to Craig on curating one of my favorite new things in comics in a very very long time.
•••••••••••••••••••••••••••••••••••••••••••••••••
Meanwhile, i just finished reading easily the most succinct short essay on The Conservative Agenda, ever. In fact, i'd be interested to read a Conservative response to this. The title of the piece is Bush Is Not Incompetent. If politics or truth don't float your boat, just skip this.
---