This is gonna be one hella long blogpost, kids. But i'll be disappearing here shortly for the weekend so wanted to bang this out before there's no turning back. Merry Christmas!!
• The holiday cards keep rolling in, so i'd better do my best to share the spirit. Here's just a smattering.
Dean Haspiel

• Sam Henderson has a new comic, Free Ice Cream, available at Wow Cool!
• Another This Week in History is up at the Veeps blog.
• Jenny Jaeckel's self-published Siberiak is awesome. Check out her Tumblr site for excerpts from the book and ordering info. (Note the assists by my very good friend, Josue Menjivar!)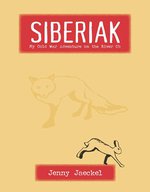 • Tom Spurgeon talks with Peter Birkemoe from The Beguiling. (Who, along with Chris Butcher) run one of the very best comics shops in the world.
• Finally, Darren Hayes, i don't know who the heck you are, but you just made me weep. This is what my own mom taught me the holidays were all about. Thank you.
www.darrenhayes.com/home

---
December 19, 2011 / More →
Chris Pitzer walks us through his first nine years at the helm of his company AdHouse books. Damn, has it really been that long? Big ups to Chris, his awesome wife Lisa (who dutifully attends a great deal of the conventions Chris exhibits at), and of course the wonderful authors he's worked with over the years.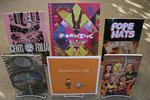 ---
Courtesy of James Kochalka, Merry Boo everyone!!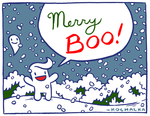 • Listening to Inkstuds' Robin McConnell talk with Nate Powell as i write this. Nate talks Any Empire and his other new book (with Mark Long and Jim Demonakos), The Silence of Our Friends.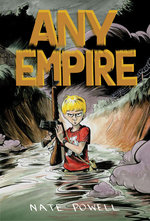 • Check out the new This Week in History over at the Veeps blog!


• Eric Skillman gets some love on The Electric Playground for his awesome Liar's Kiss.

And while we're on the subject, Eric's process blog for Branded To Kill and Tokyo Drifter is a designer's dream. Holy shit, any one of his in-progress/abandoned designs is print worthy.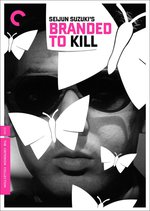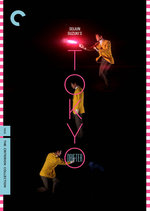 • This trailer for Tom Scioli's forthcoming American Barbarian (AdHouse) is wicked cool!

• And by all means, please support Rich Tommaso to help get his book The Cavalier Mr. Thompson to press!

---
Check this Wayne (Veeps) Shellabarger cover art for the forthcoming issue of Bay Guardian.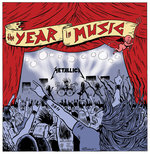 • And speaking of San Francisco, my old pal Steve (Bughouse) Lafler sent this bit o' news:
Mini Cartoonist-Palooza
Holiday Sale & Concert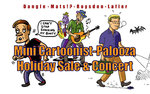 Bay Area cartoonists Lloyd Dangle, Mats!?, Jeff Roysdon and Steve Lafler join together to bring cartoon art gift items to the Mercury Cafe in Hayes Valley on December 21 from 6-9 p.m. for a festive and convivial evening.
Lafler and Scott Hoover bring their band The Dick Nixon Experience into the Mercury, rounding out the evening's entertainment with some hard driving "Oaxacabilly" music.
The Mercury Cafe is located at 201 Octavia St., San Francisco.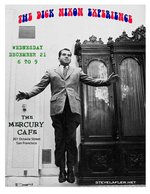 ---
Eddie Campbell punks art spiegelman, sorta kinda...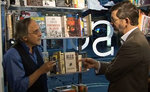 • I finally read Craig Thompson's Hababi last week. Wow. Masterful comics storytelling, and unbelievably gorgeous. Powerful mojo. Big ups to you, Craig.
• Finally, not comics, but related in that, if the human race isn't around for much longer, then there's no one i can sell our comics too. I often comment on my big crush on author, journalist Naomi Klein. But more than anything, i respect her for her courage and her ability to communicate radical truths that need to be heard. These are 20 of the best minutes you could possibly spend, her talk titled Addicted to Risk, courtesy of the wonderful Ted Talks.
---