I had the rare opportunity to hang with my friend, and rising star, Emi Lenox recently. She's on fire. Here is a killer snapshot she took of 50 hand-drawn bookmarks that were made for people who pre-ordered Emitown Volume 2.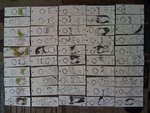 Also, make sure to head over to Floating World Comics tomorrow night, Thursday, February 2, 6:00-10:00 p.m. for the original art show featuring work by Emi and other rising comics star Tally Nourigat!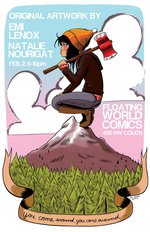 • The prolific Nate Powell will be touring in support of the First Second graphic novel The Silence of Our Friends (written by Jim Demonakos & Mark Long).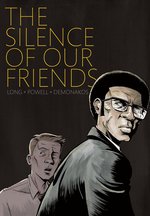 Fri 2/3: SEATTLE WA—Book Release Party & Artwork Exhibition @ Roq La Rue Gallery (2312 2nd Ave.), 6-8 pm. Food! Drinks! Books! Pages!
(https://www.facebook.com/events/328478533840350/)
Sat 2/4: SEATTLE WA – Discussion & Signing @ Fantagraphics Books (1202 S. Vale St.), 6-8 pm. (Mark & Jim only)
(http://www.fantagraphics.com/fantagraphics-bookstore-gallery-2.html)
Fri 2/10: SAN FRANCISCO CA – Discussion, Signing, & Art Exhibit @ Mission Comics And Art (3520 20th St.), 7-9 pm.
(https://www.facebook.com/events/323086007723659/)
Sat 2/11: SAN FRANCISCO CA – Discussion & Signing @ SFPL Anza Branch (550 37th Ave.), 2:30-4 pm.
Sun 2/12: SAN FRANCISCO CA – Discussion & Signing @ Cartoon Art Museum (655 Mission St.), 1-3pm.
(http://cartoonart.org/)
Mon 2/13: PETALUMA CA – Discussion & Signing @ Copperfield's Books (140 Kentucky St.), 4-6pm.
(https://www.facebook.com/events/285580794824716/)
Tue 2/14: LAFAYETTE CA – Discussion & Signing @ Lafayette Library (3491 Mount Diablo Blvd.), 7-8 pm.
Wed 2/22: WASHINGTON DC – Discussion & Signing @ Watha T. Daniel Shaw Library (1630 7th St. NW), 7-9pm. (Nate only)
Thur 2/23: TAKOMA PARK MD – Discussion & Signing @ Takoma Park Public Library (101 Philadelphia Ave.), 7-9pm. (Nate only)
Sat 2/25: WASHINGTON DC – Discussion & Signing @ Politics & Prose (50515 Connecticut Ave. NW), 1-3 pm. (Nate only)
(https://www.facebook.com/events/146440758800848/)
Sat 2/25: SILVER SPRING MD – Discussion & Signing @ Wheaton Library (11701 Georgia Ave.), 4-6 pm. (Nate only)
• Finally... HOLY CRAP! Lord of the Rings freakin' LEGOS!! I can't believe how cool this is.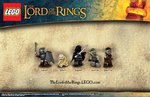 ---
January 27, 2012 / More →
• Chris Staros will be at STAPLE! in Austin, TX March 3-4. Top Shelf is an offical sponsor this year, and Kagan McLeod will be with Top Shelf as an invited special guest of the show. Here's a boss ad designed by our own Chris Ross.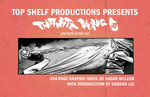 • Call for submissions! Slovenian comics juggernaut Stripburger is calling for contributions to their next big project. Take it away:
Forum Ljubljana, Institute for Art and Cultural Production, Metelkova 6, Si-1000 Ljubljana, Slovenia
tel. +386 1 2319662, fax. +386 1 4338074, burger@mail.ljudmila.org / stripburger.org
WORKING TITLE!
Comics of the theme of Work
Gather all, ye scurvy comic scribblers, scratchers and drawers!
This year's special edition of Stripburger is dedicated to work in all its forms. Yes, the W-word.
In these turbulent times we're witnessing changes to the paradigm of work. Once it used to be a part of a daily survival strategy, then a way of expressing oneself, nowadays we cannot distinguish it from leisure time anymore. How can we define work in the first place? Is it a rational guided process aimed at some tangible goal, or is it any human activity where new things are created? Is it only paid labour, remunerated by a wage or salary, what about voluntary work? Is it the work that made the human species, or is it the other way around, that we as humans tend to put significance into our creative activities and call that work? What about art? Is an artist creating or working? What's the difference between these two terms in his or her case?
Many questions can be asked about the nature of work in our contemporary society. Due to the fleeting nature of its definitions we've assembled a list of terms, clues and starting points, all somehow connected to the concept of work, which could serve as sources of inspiration for you, dear artists, when you try to tackle this heavy issue. We're expecting socially engaged comics, but also intimate meditations on the issue of work, status and rights of workers, on the artist as a worker, then humorous submissions as well, even mischievous are most welcome! Let them not be politically correct, PC is for pussies, we're expecting full-blooded comics that will become often quoted referential material in the future, or at least fun to read!
Work as:
means of survival
effort, toil
a characteristic human need
a necessary evil
joke, fun, goofing-off
»He who does not work, shall not eat as well!« - a Slovenian proverb
work as godly activity – »creatio ex nihilo«
work vs. Rest
waiting for work: Unemployment office
work vs. antiwork
working at home
manual vs. intellectual work
taboo of work/banned work
»a Sunday kind of work«
»precarious, temporary, part-time, seasonal work
workoholism
internship
strike/denial of work
legal vs. illegal work (moonlighting, etc)
voluntary work
trade unions
history of work
exploitation of workers: sweatshops, slavery, forced/compulsory work
gyms: working out
the division of work/labour
work and gender
work and age
work and sexuality (prostitutes and man-whores, etc)
work today vs. work in the past (manufactories, guilds, etc)
»Work less, create more!«
stigmatisation of the non-working
»gastarbeit« work: work by more or less temporary immigrant workers and
whatever it works for you
Please feel free to work on some other ideas.
A traveling exhibition is planned at the release of the anthology and also some other things like workshops …
Deadline for submissions: 31st May
TEHNICAL DETAILS:
book wil be size: 235x170 mm
So send the works no smaller then A4 format(21x29,7 cm)
print: black and white
Files should be:
lineart: at least 600 dpi resolution, 240 mm height
grayscale: at least 300 dpi resolution, 240 mm height
TO BE SENT TO:
burger@mail.ljudmila.org
Stripburger / Forum Ljubljana, Metlekova 6, SI – 1000 Ljubljana, Slovenia, Europe
---
January 17, 2012 / More →
Comics Alliance highlights James Kochalka's American Elf in a survey of autobio comics, here.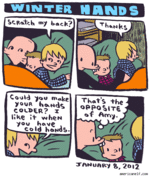 I love their assessment of James's work: "American Elf is the great granddaddy of diary webcomics, and one of the many reasons why James Kochalka is awesome enough to be the first ever Cartoonist Laureate. In four colorful panels, Kochalka captures the small moments of his daily life, from mundane moments with his two sons to his wife's miscarriage. There's a fearlessness to Kochalka's comic -- he'll include something as simple as cooking dinner or as personal as blowing up at his family."
Dear readers, let me just say to you — especially those of you unfamiliar with James' comics — this man is a national treasure. The fact that he's not more widely known is a fucking crime. His comics, ranging from his all-ages books like Johnny Boo, Dragon Puncher, Pinky & Stinky, and Monkey vs. Robot, to his strictly adult fare like SuperF*ckers, and finally to his sublime American Elf are literally PURE COMICS. (And how wicked cool is the name of every single title i just listed?) American Elf is truly a sublime experience... he captures the essence of the life of the middle class American like no other. No one else does comics remotely like James, and i'd wager that anyone would be able to find something within his broad range of themes and memes to like.
I don't make blatant pleas to buy Top Shelf comics too often. (Maybe i should?) But for the sake of all this is Right and True in this universe, go get yourself some Kochalka. You won't be disappointed.
---
• Oh, that Kevin Cannon... check him out At Length. The Classics Illustrated Comics Project.
• Complex Magazine's 25 Best Comics of 2011 list is out. Top Shelf has three, count 'em THREE books on it! We've got:
Nate Powell's Any Empire.
Kagan McLeod's Infinite Kung Fu.
Rob Venditti & Mike Huddleston's The Homeland Directive.
• Eric Skillman drew this wicked cool piece of art to celebrate the new year. Also at his site he has a terrific breakdown of the work he did in 2011.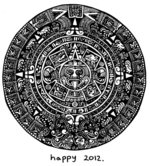 • Finally, this is so cool i just have to throw it out to the world... the endpaper artwork for Ed Piskor's forthcoming graphic novel Wizzywig.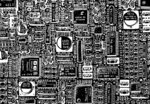 ---
December 27, 2011 / More →
I do hope y'all had a swell holiday!
Straggler Rob Ullman got this card in just in time for Christmas, but after i made my last Christmas post. Dang-diggity, the guy can really draw sexy!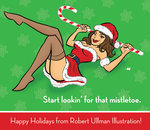 ---