"James Kochalka, mark my words, is our Proust."
• SPX was amazing this year. I hadn't been since the 2008 election cycle, and the return trip was energizing. My thanks to Warren Bernard, Kevin Panetta, Mike and the crew. I FINALLY met two of the people i publish, in Jennifer Hayden and Jess Fink (NSFW!), both of whom are super cool. It really is an honor to work with so many authentic and exceptional people.
Also got to meet and hang with Andrew Aydin, who is co-authoring March, with Congressman John Lewis.
Top Shelfers Grant Reynolds, Tom Hart, and Nate Powell were all on hand, either at the booth or their own tables. (Look how fancy Nate looks here with Andrew Aydin and Rep. John Lewis. Nice suit, m'man!) And of course, Leigh Walton and his girlfriend Leah rocked the booth all weekend.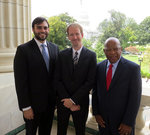 Saw a lot of people briefly: All of the Fantagraphics crew (Groth & Thompson, Eric Reynolds, Jacq Cohen, and newbie Jen Vaughn), Tom Galambos, Jim Rugg, Dan Zettwoch, Theo Ellsworth, and man, so many more people. Current intern Joyana McDiarmid, former intern Andy Kettler, Jesse Reklaw, Hazel Newlevant, and on and on. If only there was more time. Sigh...
Had the very good fortune of fine conversation with: Annie Koyama, Sean T. Collins, Tom Spurgeon, Chris Pitzer, Ethan Rilly, Renee French, Warren Craghead, Tom Neeley, Sam Arthur (NoBrow), Jim Dougan, Chris Duffy.
Gratitude to everyone with whom i crossed paths.
• Nate Powell's Frech Edition of Any Empire looks pretty rad, i'd say. And did you know, he's been publishing comics for twenty years! WTF?!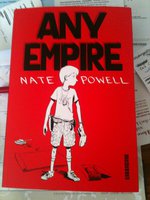 • I've been immortalized in another diary comic, this time in Jennifer Hayden's Rushes blog.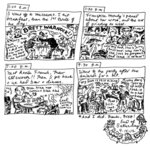 • How gorgeous is Garret Izumi's Chinese Calendar. (I know know, 2012 is almost over… it's not my fault! My sister had been holding onto this for months. Really. You can ask Garret.)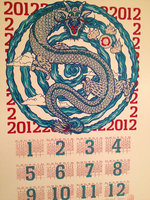 • Scott Allie with an outstanding blog on comics storytelling.
---
• And in other news, Minneapolis-based collective Paper Darts is releasing the 4th swanky issue of their gorgeous magazine! "More than double the size of Paper Darts' previous print magazines, Volume Four is obscenely huge, featuring a swelling handful of authors, artists, and musicians who have made a blood oath vowing to explore nonconforming perspectives of art and culture."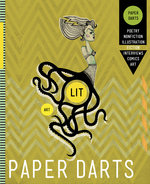 These folks are full-up with enthusiasm, their previous issues blew my mind with killer art and writing, and... I'M IN this new issue! Whoo hoo! (Full disclosure: I have a super crush on the founders of this magazine. But let not this dissuade you from tracking down the new issue.)
They're having a swell launch party October 11. Learn more here. Wish i could attend!
I heart Paper Darts!
---
Diana Thung's graphic novel August Moon is headed to press, and while it's been a long time coming (thank you for your patience, Diana), this is a book i'm very very proud to be associated with. I've been a fan of Diana's work ever since i saw her debut, Captain Long Ears. (Published by Slave Labor.) There's something about her art, ideas, and stories, a wonderful magic realism that speaks to me. I'm reminded of Miyazaki especially.
Also, big ups to Diana and Chris Ross on a gorgeous cover. This is a real beauty.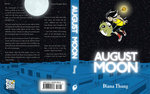 • And now, for you Kochalkaholics! One terrific review of two Dragon Puncher books.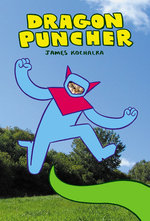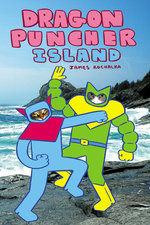 • And check it; with SPX looming, and the digital release of Tom Hart's Hutch Owen: Let's Get Furious imminent, we'll be doing a swell protest poster to help spread the word. Tom designed the front, and Chris Ross did the back (with all the text).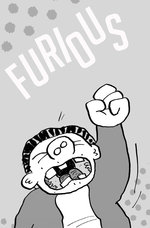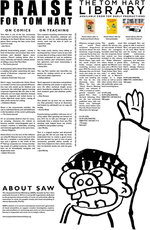 ---
Oh, yeah... Veeps are all the rage right now, as the internet is all aflutter with Paul Ryan's bullshit acceptance speech, riddled with lies and mistruths, last night at the RNC. Yeesh, what a douchebag. (Don't get me wrong, i'm equal opportunity in my loathing of 99% of our politicians... but man, those GOP types are extra special douchy.)
Check out this Bill Kelter / Wayne Shellabarger interview on the Unnamed Sources podcast, available at iTunes.
Meanwhile, man, we are totally closing in on finishing our Veeps film, fours years later... more to come.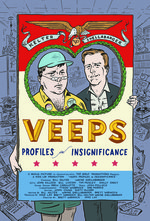 • Stephen Theaker gives James Kochalka's Monkey vs. Robot some love (for the digital edition) at Theaker's Quarterly. Now, i'm one of Kochalka's biggest fans, and for my money, Monkey vs Robot sits up there in my own pantheon of favorites, alongside Pinky & Stinky (all-ages), SuperF*ckers (decidedly not all-ages), and American Elf. So if you have some sort of digital reader and a few bucks burning a hole in your pocket, give this terrific, timeless parable a chance.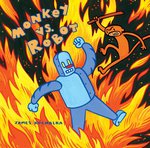 ---
August 24, 2012 / More →
That would be here in Portland, OR. Veeps author Bill Kelter is interviewed in the newest issue of the Portland Mercury, to be more accurate, courtesy of Alison Hallett. (Thanks Alison!)
Bill talks a little about GOP Veep candidate Paul Ryan. "We're early in the game, but Paul Ryan could seriously disrupt our entire franchise. Teddy Roosevelt and Walter Mondale were fairly sober and serious men, but there was just enough to glean from their regional affects to support the two centuries-strong thesis of the peculiar nature of the American vice president. Like [Ryan] or not, even many Democrats concede that he's smart, articulate, and fit. It's very un-vice presidential."
They also briefly discuss the Veeps movie. (It's SOOOOO close to being in-the-can.) Meanwhile, here is Veeps artist Wayne Shellabarger's sweet poster!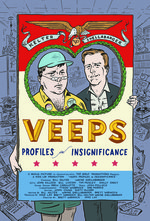 ---