January 17, 2012 / More →
Comics Alliance highlights James Kochalka's American Elf in a survey of autobio comics, here.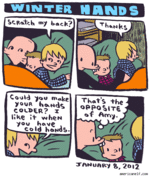 I love their assessment of James's work: "American Elf is the great granddaddy of diary webcomics, and one of the many reasons why James Kochalka is awesome enough to be the first ever Cartoonist Laureate. In four colorful panels, Kochalka captures the small moments of his daily life, from mundane moments with his two sons to his wife's miscarriage. There's a fearlessness to Kochalka's comic -- he'll include something as simple as cooking dinner or as personal as blowing up at his family."
Dear readers, let me just say to you — especially those of you unfamiliar with James' comics — this man is a national treasure. The fact that he's not more widely known is a fucking crime. His comics, ranging from his all-ages books like Johnny Boo, Dragon Puncher, Pinky & Stinky, and Monkey vs. Robot, to his strictly adult fare like SuperF*ckers, and finally to his sublime American Elf are literally PURE COMICS. (And how wicked cool is the name of every single title i just listed?) American Elf is truly a sublime experience... he captures the essence of the life of the middle class American like no other. No one else does comics remotely like James, and i'd wager that anyone would be able to find something within his broad range of themes and memes to like.
I don't make blatant pleas to buy Top Shelf comics too often. (Maybe i should?) But for the sake of all this is Right and True in this universe, go get yourself some Kochalka. You won't be disappointed.
---
• Oh, that Kevin Cannon... check him out At Length. The Classics Illustrated Comics Project.
• Complex Magazine's 25 Best Comics of 2011 list is out. Top Shelf has three, count 'em THREE books on it! We've got:
Nate Powell's Any Empire.
Kagan McLeod's Infinite Kung Fu.
Rob Venditti & Mike Huddleston's The Homeland Directive.
• Eric Skillman drew this wicked cool piece of art to celebrate the new year. Also at his site he has a terrific breakdown of the work he did in 2011.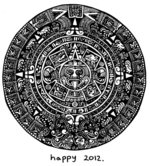 • Finally, this is so cool i just have to throw it out to the world... the endpaper artwork for Ed Piskor's forthcoming graphic novel Wizzywig.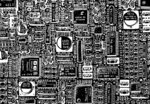 ---
December 27, 2011 / More →
I do hope y'all had a swell holiday!
Straggler Rob Ullman got this card in just in time for Christmas, but after i made my last Christmas post. Dang-diggity, the guy can really draw sexy!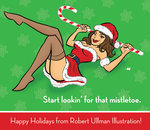 ---
This is gonna be one hella long blogpost, kids. But i'll be disappearing here shortly for the weekend so wanted to bang this out before there's no turning back. Merry Christmas!!
• The holiday cards keep rolling in, so i'd better do my best to share the spirit. Here's just a smattering.
Dean Haspiel

• Sam Henderson has a new comic, Free Ice Cream, available at Wow Cool!
• Another This Week in History is up at the Veeps blog.
• Jenny Jaeckel's self-published Siberiak is awesome. Check out her Tumblr site for excerpts from the book and ordering info. (Note the assists by my very good friend, Josue Menjivar!)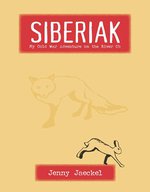 • Tom Spurgeon talks with Peter Birkemoe from The Beguiling. (Who, along with Chris Butcher) run one of the very best comics shops in the world.
• Finally, Darren Hayes, i don't know who the heck you are, but you just made me weep. This is what my own mom taught me the holidays were all about. Thank you.
www.darrenhayes.com/home

---
December 19, 2011 / More →
Chris Pitzer walks us through his first nine years at the helm of his company AdHouse books. Damn, has it really been that long? Big ups to Chris, his awesome wife Lisa (who dutifully attends a great deal of the conventions Chris exhibits at), and of course the wonderful authors he's worked with over the years.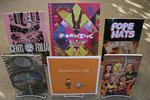 ---
Courtesy of James Kochalka, Merry Boo everyone!!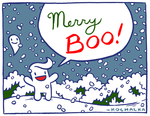 • Listening to Inkstuds' Robin McConnell talk with Nate Powell as i write this. Nate talks Any Empire and his other new book (with Mark Long and Jim Demonakos), The Silence of Our Friends.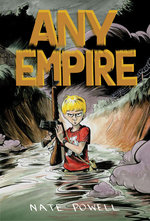 • Check out the new This Week in History over at the Veeps blog!


• Eric Skillman gets some love on The Electric Playground for his awesome Liar's Kiss.

And while we're on the subject, Eric's process blog for Branded To Kill and Tokyo Drifter is a designer's dream. Holy shit, any one of his in-progress/abandoned designs is print worthy.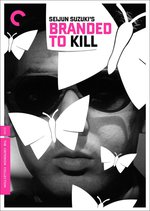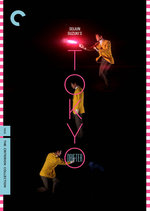 • This trailer for Tom Scioli's forthcoming American Barbarian (AdHouse) is wicked cool!

• And by all means, please support Rich Tommaso to help get his book The Cavalier Mr. Thompson to press!

---
Check this Wayne (Veeps) Shellabarger cover art for the forthcoming issue of Bay Guardian.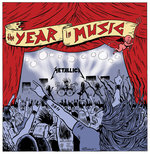 • And speaking of San Francisco, my old pal Steve (Bughouse) Lafler sent this bit o' news:
Mini Cartoonist-Palooza
Holiday Sale & Concert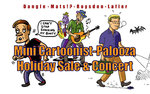 Bay Area cartoonists Lloyd Dangle, Mats!?, Jeff Roysdon and Steve Lafler join together to bring cartoon art gift items to the Mercury Cafe in Hayes Valley on December 21 from 6-9 p.m. for a festive and convivial evening.
Lafler and Scott Hoover bring their band The Dick Nixon Experience into the Mercury, rounding out the evening's entertainment with some hard driving "Oaxacabilly" music.
The Mercury Cafe is located at 201 Octavia St., San Francisco.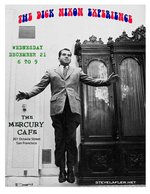 ---
Eddie Campbell punks art spiegelman, sorta kinda...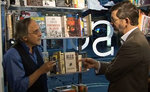 • I finally read Craig Thompson's Hababi last week. Wow. Masterful comics storytelling, and unbelievably gorgeous. Powerful mojo. Big ups to you, Craig.
• Finally, not comics, but related in that, if the human race isn't around for much longer, then there's no one i can sell our comics too. I often comment on my big crush on author, journalist Naomi Klein. But more than anything, i respect her for her courage and her ability to communicate radical truths that need to be heard. These are 20 of the best minutes you could possibly spend, her talk titled Addicted to Risk, courtesy of the wonderful Ted Talks.
---
Cheers to Nate Powell and his wife Rachel! They are now that proud parents of beautiful wee little Harper Powell, arrived on this world at 8:59 p.m. on the 5th of December. Nate writes: "She's healthy, well-adjusted, and ludicrously cute. I'll start her off on basic inking skills and then move to more advanced photoshop techniques soon..."
---
Hey kids! Harvey Pekar's Cleveland is listed in the brand spankin' new issue of Diamond Previews — order code DEC111207 — and not only that, but Joyce Brabner has a giant-sized interview in there as well! You can read it right here.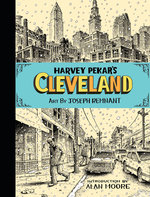 I've said it before, and i stand firmly by it, but i think this is one of Harvey's best books ever, and the art by Joseph Remnant is outstanding. A perfectly complimentary pair!
• Meanwhile, check this!... Kevin O'Neill is selling his original artwork for LXG! Read more about it at Paul (The Man at the Crossroads) Gravett's blog.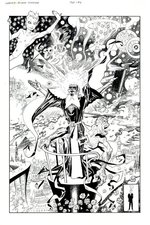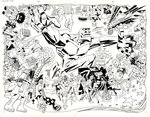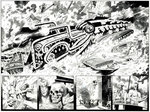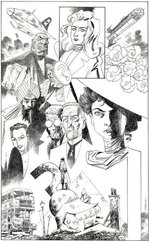 ---
November 28, 2011 / More →
I feel like one of those late night cable access car-salesmen! But really, this is totally good stuff we're offerin' up here, kids! Seriously, if you're ahead of the curve and are buying comics for the digital device of choice, it don't get much better than this. Hell, it makes me want to get an iPad for myself!
Top Shelf Cyber Monday Sale: 30% off everything!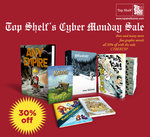 • "A Bit Amish" Comics Legend Alan Moore Goes Online To Honor Harvey Pekar at Fast Company!!
That's really cool!... they even provided a hyperlink to the Cleveland graphic novel on our website!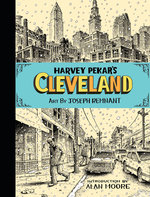 ---
As my partners on the Veeps film and myself find ourselves on the home stretch, i thought this would be a good time to showcase some more work by one of the two key players in our drama. As you may have read in last week's Hey, Bartender blog, Bill Kelter recently took a transformational road-trip. Meanwhile, Wayne Shellabarger too has been busy. Pretty soon (come on now!) Wayne is supposed to have his own website up, which will feature tons of rarely seen comics, posters, and miscellaneous art. Stay tuned.
Here's a 7" record cover Wayne did for San Francisco band Born Petrified. Subtle. Understated. Beautiful.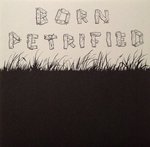 Wayne also did the film poster for a little comic-book short called, Souls of Splendor. It was filmed at Amazing Fantasy in the Sunset District... terrific shop. Check it!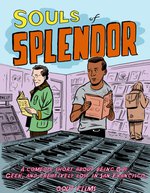 ---
Veepster Bill Kelter waxes nostalgic on "The Cradle of Insignificance," in his new Veeps blog post. Some tasty travel writing and veeps history.
• Steve Lafler's swell new music video!

• Nate Powell -- On The March!! Does this guy ever sleep? From Nate himself:
My site has been totally redesigned! It also features links to the new digital versions of both graphic novels.
I just did the cover for the band Good Luck's new album, Without Hesitation. It's out on No Idea Records, and the artwork was a collaboration with photographer Ben Rains.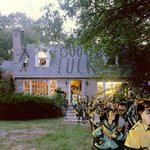 My forthcoming graphic novel The Silence Of Our Friends (written by Mark Long and Jim Demonakos, published by First Second Books) is "Certified Cool" in this month's Previews, and will hit stores in January!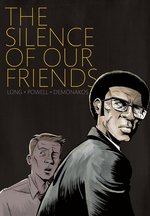 I'll be going on a two-week tour in February, doing discussions, presentations, and signings for The Silence Of Our Friends-- dates aren't set yet, [stay tuned].
I also finished a novel/graphic novel hybrid with writer Cecil Castellucci called The Year Of The Beasts, to be released in May 2012 on Roaring Brook Press.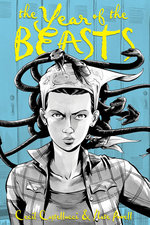 ---
November 14, 2011 / More →
As part of the digital week, the amazing James Kochalka will be doing a Reddit AMA today! Go over and ask him anything!
EDIT
BIG ROUND OF APPLAUSE FOR THE AWESOME JAMES KOCHALKA! Take a look at his responses here.
---
MIX. Minneapolis Indie Expo. So much fun was had at this show. Lots of great catching up with friends. Met new ones, like Grimalkin Press' Jordan Shiveley. Little children literally freaking out over our Kids Club books. I try to travel light, but did come home with some good loot, including new stuff from Joe Biel at Microcosm, a sketchbook (and dinner!) from Annie Koyama, two new issues of Jon Lewis' True Swamp from Tom K.'s new press, Kevin Cannon's Beard Hero, and Tim Sievert's new mini-comic, The Clandestinauts. And more from Chris Pitzer at AdHouse. And some rad stuff from the impossibly cute posse of girls at Paper Darts.
Super props to Andy Krueger and Sarah Morean for rocking another great show.
Oh, and speaking of Tim Sievert, here's the wraparound cover i commissioned from him, for my new Fantasy/Sci-Fi themed sketchbook. Sweet!!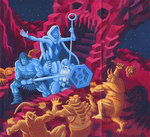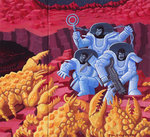 Stumbled across a nice little used bookstore called James & Mary Laurie Booksellers, on Nicollet Mall. Picked up a bitchin' book on Hollywood Westerns, a gorgeous, fully painted book on extinct animals, and a wonderful little illustrated book drawn by the great great Maurice Sendak, titled How Little Lori Visited Times Square (1963).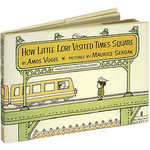 On the food front, found and ate at terrific all-sustainable eateries every day. They were all outstanding. Restaurants included: Red Stag Supperclub, Spoonriver, Brasa, and Sea Change.
• This isn't under the radar, but neither is it widely known that Renee French is working on a total revamp of her classic, out of print book The Soap Lady. Here's some notes she's been making in this massive undertaking. "I'm working on cleaning up the missing pages of handwritten text for the soap lady redux book. I have it stuffed with little postits."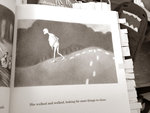 • Geekdad talks Top Shelf Kids Club with Leigh Walton at Wired.
• Jeremy Eaton continues his spectacular metamorphous with his new art blog. His work is crazy good and always worth checking out.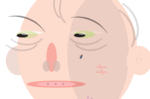 • Here's a rough cover sketch for Jeffrey Brown's forthcoming, A Matter of Life graphic novel.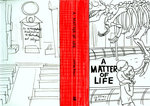 • Finally, in the whirlwind world of Jennifer Hayden, she's got a lot going on! [Aspiring cartoonists take note. This is textbook self-promotion.] Check it:
"Thursday, November 10, 7:30 p.m., I'll be speaking on a panel, "Backgammon, Blackberries & Barbarians" at the Princeton Arts Council in Princeton, NJ, with two other Princeton graphic novelists Galit Seliktar Barak (Farm 54) and Mike LaRiccia (Too Fast). The moderator will be children's author and graphic novel editor Galen Longstreth.
"Saturday, November 12, 8:00-11:00 p.m., it's the rescheduled-due-to-snow-in-October launch party for UNDERWIRE at Bergen Street Comics in Park Slope, Brooklyn! Yeah! Booze, bubbly, books, family members, live music, Sharpies, outta control.
"Wednesday, November 16, 7:00 p.m., my first UNDERWIRE reading in NYC, at BookCourt in Brooklyn! Dean Haspiel will MC, and I'll be joined by George O'Connor, reading from his gorgeous book Hera: The Goddess and Her Glory, and Leslie Stein, reading from her cool book, Eye of the Majestic Creature.
"Friday, November 18, 8:15 p.m., I'll be participating in a "Literary Death Match" at Bardot in Miami, FL, which I hope doesn't involve any actual death. I'll be competing with Mat Johnson (Pym), T.M. Shine (Nothing Happens Until It Happens To You), and Sandra Beasley (Don't Kill The Birthday Girl), hosted by Todd Zuniga. Judges will be Chuck Palahniuk (Fight Club, Damned), Dean Haspiel (Bored to Death), and Justic Torres (We the Animals).
"Sunday, November 20, 11:00 a.m., I'll be speaking on a panel at Miami Book Fair International called "2011 Favorites and New Classics", with Vera Brosgol, Shannon Wheeler, and Matt Phelan, moderated by John Hogan and Jeff Newelt.
"Sunday, November 20, 4:00 p.m., I'll be speaking on a panel at Miami Book Fair International called "Comics and Autobiography" with Jason Shiga (Empire State) and Mark Kalesniko (Freeway), moderated by John Hogan (editor, Graphic Novel Reporter.)
"And check out my new blog post I wrote for Trip City, concerning chicken broth and motherhood.
And you can also check out my new webcomic S'Crapbook there, "Moments of Shirley"
---