Out today: LEAGUE 2009 and LOVELY HORRIBLE! Plus news on Welder, Wizzywig and more...
June 27, 2012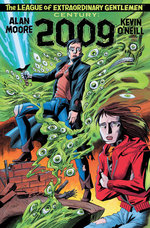 Grab these two gems today!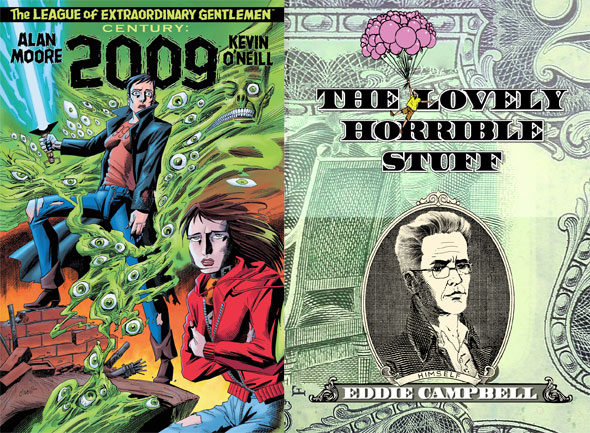 THE LEAGUE OF EXTRAORDINARY GENTLEMEN (VOL III): CENTURY: 2009
by Alan Moore and Kevin O'Neill
The cataclysmic conclusion of the best-selling saga of everyone's favorite British band of metafictional marauders, the League of Extraordinary Gentlemen! In this chapter, the tattered remnants of the League face a fully-grown Moonchild amid middle eastern wars, nuclear anti-Muslim terrorists, and more. -- an 80-page full-color softcover, $9.95 (US).
THE LOVELY HORRIBLE STUFF
by Eddie Campbell
"A seriously playful look at a subject of universal concern: money... Campbell's efforts go beyond the standard autobiography or journalism... [he] is every bit the master of his medium." -- Booklist (starred review)
Award-winning graphic novelist Eddie Campbell (From Hell, Alec) presents a delightful autobiographical voyage into the financial wilderness. With his trademark blend of research, anecdote, autobiography, and fantasy, Campbell explores how money underwrites human relationships -- from the imaginary wealth of Ponzi schemes and television pilots, to the stone currency of the Micronesian island of Yap. -- a 96-page full-color hardcover, $14.95 (US).
Hot off the press and heading to your store!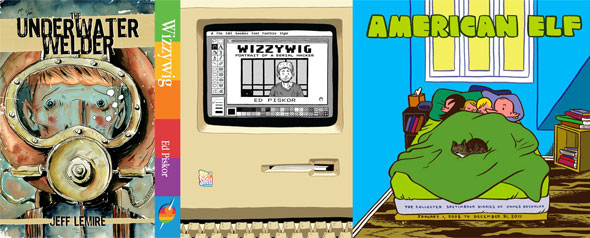 IN STORES JULY 4TH:
WIZZYWIG: PORTRAIT OF A SERIAL HACKER
by Ed Piskor
Inspired by the incredible stories of real-life computer hackers, Wizzywig is the thrilling tale of a master manipulator, Kevin "Boingthump" Phenicle -- his journey from precocious child scammer to federally-wanted fugitive, and beyond. In a world transformed by social networks, data leaks, and digital uprisings, Ed Piskor's debut graphic novel reminds us how much power can rest in the hands of an audacious kid with a keyboard. Named "the next big thing in graphic novels" by Rolling Stone magazine! -- a 288-page deluxe hardcover, $19.95 (US).
IN STORES JULY 25TH:
THE UNDERWATER WELDER
by Jeff Lemire
From the award-winning writer/artist of Essex County and Sweet Tooth! As a deep-sea welder on a Canadian oilrig and a soon-to-be father, Jack Joseph's life is full of pressure... But he's about to discover something deep on the ocean floor that will change the course of his life forever. Equal parts blue-collar character study and mind-bending mystery, The Underwater Welder is a graphic novel about fathers and sons, birth and death, memory and reality, and the treasures we all bury deep below the surface. -- a 224-page deluxe softcover with French flaps, $19.95 (US).
IN STORES JULY 25TH:
AMERICAN ELF BOOK 4: The Collected Sketchbook Diaries 2008-2011
by James Kochalka
It's the long-awaited return of James Kochalka's massively influential and deceptively ambitious autobiography, American Elf! Every day of his life is captured in a single comic strip, sometimes profound and sometimes silly, but always full of the earnest Kochalka passion that led Hi-Fructose to call him "an unrelenting force, sure to solve the oncoming energy crisis," and earned him the title of Cartoonist Laureate of Vermont. This volume collects four years, from 2008-2011. -- a 384-page softcover, $24.95 (US).
Pre-order now in the current Diamond PREVIEWS catalog: Upside Down by Jess Smart Smiley, and the new printing of Pat Grant's hit Blue!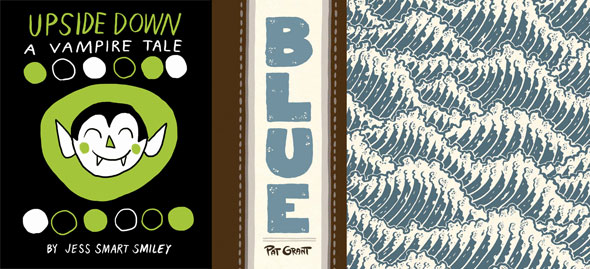 Finally, we're very happy to welcome a new face to the Top Shelf family, and to the Top Shelf Kids Club: the charming and talented Jess Smart Smiley! His new book Upside Down: A Vampire Tale has been introduced in our Kids Club sampler at Free Comic Book Day, and now it's coming to your store, in time for Halloween this fall!
UPSIDE DOWN: A VAMPIRE TALE
by Jess Smart Smiley
--ISBN 978-1-60309-088-9
--144-page graphic novel
--deluxe 2-color softcover with french flaps, 6" x 9"
--$9.95 (US)
--for all ages (especially kids 8 and up)
"I really enjoyed Upside Down! It has a goofiness that reminds of Joann Sfar, and the simplicity of its art is like a sophisticated version of Ed Emberley." -- Gene Luen Yang, author of American Born Chinese
Harold is a friendly young vampire who lives in a piano and loves candy. Pretty normal, huh? ...until he sets out for a dentist appointment that turns into the biggest adventure of his life! Now he'll face bats, witches, magic spells, vampire frogs, mad scientists, and so much more! It's a wild magical romp for all ages, just in time for Halloween.
Also solicited: a new printing of the surprise Australian hit Blue, by Pat Grant!
BLUE
by Pat Grant
--ISBN 978-1-60309-153-4
--96-page graphic novel
--deluxe 2-color softcover, 9.4" x 6.6"
--$14.95 (US)
--for mature readers (16+)
"A sea-polished, perfect nugget of a book." -- Craig Thompson, author of Blankets
"Stunningly accomplished...a surf-punk-scored reflection on old friends and the roots of racism. Grant's Blue is a wholly original, enormously entertaining comic, heralding a new talent that we may be enjoying for decades to come." -- Noel Murray, The AV Club
A fascinating blend of autobiography and fiction with a sci-fi twist: in a seaside Australian town struggling with alien tentacle-creature immigration, a trio of aimless teenagers skip school to go surfing, chase rumors of a dead body, and avoid dealing with their own fears.