Sean Michael Wilson is back in the U.S...
September 23, 2010
pimping AX: Alternative Manga. This time in MPLS!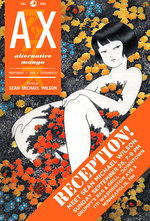 WHO: Open to the public
WHAT: Reception with Sean Michael Wilson, editor of AX: Alternative Manga (in stores this month from Top Shelf Productions)
IN CONNECTION WITH: The 10th annual "Schoolgirls and Mobilesuits: Culture and Creation in Manga and Anime" conference at the Minneapolis College of Art and Design
WHEN: Sunday, September 26 2010, 7-9 PM
WHERE: Grumpy's Bar & Grill - Downtown, 1111 Washington Ave S, Minneapolis, MN 55415
CONTACT: Michael Drivas at Big Brain Comics, 612-338-4390
or Leigh Walton at Top Shelf Productions, leigh@topshelfcomix.com
• Also, folks, make sure to support one bitchin' cartoonist, Jed McGowan, and pre-order his new graphic novel Lone Pine, available NOW in Diamond Previews. Order code: SEP10 0742. This puppy comes courtesy of our fine friends at AdHouse Books. I've read it. It's awesome. But it now!