June 7, 2007
Alex Robinson will be doing a short fantasy comic for us later this year, called Lower Regions. (You read it here first, folks.) If you've never had the opportunity to read Alex's fantasy stuff (like the strip "One Gold Coin," in his mini-comic Tales of Action and Adventure), then you are in for a real treat.
Here is Alex's rough of the cover for Lower Regions... sweet!!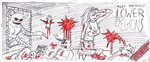 • Comic Geek Speak did a swell multi-person podcast review of Blankets.
• Gregory Benton just returned from a trip with his lady to Italy. Here are some gorgeous sketchbook drawings. Thanks Greg!
Compiano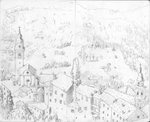 David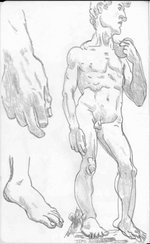 Firenze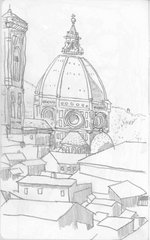 Milan Airport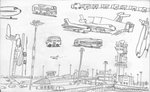 Minotaur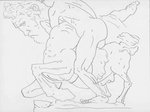 Minotaur 2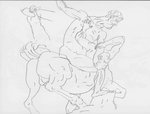 Piacenza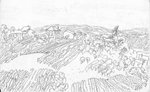 Roma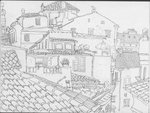 • I just found out Jeffrey Brown will be doing a signing at Giant Robot in New York, the night before MoCCA!! Nice.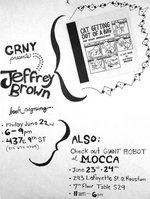 Friday, June 22, 2007, 6:00 pm "" 9:00 pm
Giant Robot Gallery
437 East 9th Street
Between 1st Ave. & Ave. A, in the East Village
New York, New York 10009
(212) 674-GRNY (4769)
gmy.net
• The new Diamond Previews is out. Here's what i'll be picking up (in addition to my Marvel, DC, Dark Horse, and Image books, too numerous to list).
P. 212: AdHouse Books' The Ride Home, by Joey Weiser. I've read this book, and i LOVE IT!! Order this book above all else! It won't disappoint.
P. 216: Alternative Comics' Miriam, by Rich Tommaso. I've been a fan of Rich's work for over a decade now, and i dig everything he does.
P. 230: Archaia's Inanna's Tears, written by Rob Vollmar, whose Bluesman i really enjoyed.
P. 239: Avatar has new issues of two new Warren Ellis series, Doktor Sleepless and Black Summer, and they both look AWESOME! Don't tell him i said this, but while i'm a "wait-for-the-trade" guy, that should not discourage you from picking these up, if you're a floppy reader.
P. 269: Derf (of Derf in the City) self-publishes My Friend Dahmer. I've read this too, and it's super. At only three bucks, it's soooo worth it.
P. 299: Fantagraphics releases two books i'm salivating for in Steven (Ribs!) Weissman's Mean, and a bitchin' looking Hank Ketcham cartoon art collection, Where's Dennis?
P. 324: Microcosm gets it right, and after years of fuckery, amazing ink-stud Nate Powell's work is FINALLY back in print, with one of the year's most important collections, Sounds of My Name. Sounds effectively compiles the entirety of Nate's Walkie-Talkie series and miscellaneous stories. In a just world, this will end up on next year's Eisner ballot for collected edition of previously published material. Nate's lush world is dazzling dreamy stuff.
P. 395: Rock star comics crit, Douglas Wolk gets his first book, Reading Comics and What They Mean. Also, Paul (The Man at the Crossroads) Gravett's FOURTH luxurious retrospective, Cult Fiction. These are certain to both be "must-have" tomes in the reference library for any of the comics cognoscenti.
P. 362: Our own book, Super Spy, by Matt Kindt. This book is really really really really good.
Matt's doing a special promotion if you pre-order his book by June 30!! Free ink & watercolor sketch!!

• Craig Yoe's third Arf masterpiece, Arf Forum, is out and again, i'm floored by this incredible deluxe magazine. This is a near-perfect effort, and somehow reminds me of Mazzuchelli's classic anthology Rubber Blanket. If you've never had the Arf Experience, well then get on it!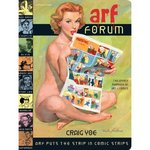 • Jim Mahfood released a small print-run mini at APE a few months ago, called Ask For Janice. In which he rolls out, documentary comics style, the story of the Beastie Boys / Dust Brothers masterpiece, Paul's Boutique. He follows up with annotations of every song on the record. Choice.
• Also debuting at APE and which i finally just read, Greg Means' Tugboat Press Papercutter #4. Featuring, Sarah Oleksyk, John Porcellino, Venessa Davis, and Nate Beaty, Greg kicks down with yet another might issue of my favorite ongoing anthology in all the land. Papercutter rules!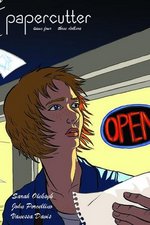 • I read the first two issues, absolutely adored them, and then decided to wait for the trade of Warren Ellis' fabulous detective series FELL. Wow! Image did a limited hardcover, and it's really impressive. The tpb looks beautiful as well. With art by Ben Templesmith at his finest, this is great shit, and i can't wait to dive in. Oh, and Warren's smashingly "widescreen" geekfest, Ultimate Galactus Trilogy came out in oversized hardcover from Marvel. I read these in trade form, and this collection is even bigger, with big action art, and big big ideas. Fun stuff.
• Was on a four-day holiday this last weekend in Bend, and i made time to visit what i believe to be their only real comics shop, Pegasus Books, owned and operated by Duncan McGeary. To be honest, for a small town comics shop, i wasn't holding my breath for anything spectacular. Oh how very wrong i was. This is a truly excellent comics shop, and one that actually competes with the best that Portland has to offer.
While it's a little cramped, the space is used wisely, and the layout couldn't be better. The first section you see when you walk in the door, is real-world genre art and reference books for Fantasy, Film-Noir, Crime Fiction, Sci-fi, etc. But what makes this section brilliant is how he segues these genres into the like-minded material available in comics. So the horror section becomes the horror comics section.
Also right there at the front of the shop is the kid's section. A no-brainer, i think, but i'm amazed at how many comics shops give kids (only the freaking FUTURE of the industry), short shrift.
I was really impressed, and showed my enthusiasm by dropping some serious dough there, picking up the following: the new issue of Wizard; a Marvel Adventures Avengers ashcan, written by rising start Jeff Parker; the out-of-print Thor: Vikings, by Garth Ennis (which i read while The Kid was napping, and LOVED it!!); also by Garth Ennis, the first tpb of Boys, with art by Darick Robertson; a totally impossible to find Spanish language collection in the Todo Max series, El Canto Del Gallo, by world class cartoonist (and super nice guy) Max; and finally, an art book called The Paperback Art of James Avanti.
The paperback artist field is one i'm relatively new to (having only recently "discovered" the incredible Robert McGinnis), and this book is outstanding. Commercial artists like Avanti and McGinnis should be as widely recognized as stalwarts like Rockwell, and maybe, with rich books like these, someday it may happen.
Anyway, if you find yourself in Bend, Oregon for a little R&R, yuo could do worse than to visit this fine store, at 105 Minnesota Avenue. Duncan also writes a fun blog.
• Hoops talk... if you don't like basketball, then move along.
Also while on holiday this last weekend with the wife and kid, and we went to visit some friends one evening. At one point i asked the husband if he minded if i popped on the tube so i could see a basketball score. (Game 5 in Detroit.) He said he was an ex-hoops lover, and not having seen any playoff action for a few years, said sure.
We found the right channel JUST IN TIME to see Lebron BLAST past defenders like they were standing still, with a mere :03 seconds left in regulation, and throw down a thunderous slam dunk, to tie the game. Damn, it was epic.
Then, over the course of TWO overtimes, i witnessed before my very eyes, a literal changing of the guard. Where the Cavs were hungry and aggressive, the Pistons looked tired and almost disinterested. What the heck happened to Tayshon Prince? Or Chauncy Billups? They certainly didn't act like they came to play at all.
The Cavs do indeed however have an excellent defensive philosophy, and after learning that coach Mike Brown worked under Spur's coach Gregg Poppovich, it all makes sense. The Finals will be a slow as molasses, grind-it-out defensive affair, to be sure.
It's interesting though. As great as The Spurs and the Cavs are defensively, i was struck more than anything while watching the Suns, the Jazz, and the Pistons all lose their respective series... i truly believe that as important as defense is to winning a championship, even more important is the WILL to win. And all three of these teams looked like deer in the headlights, as they were taken out of their comfort zone, and their will to win slowly ran dry, like a deflating basketball. Where were Leandro Barbosa, Shawn (The Matrix) Marion, and Boris Diaw in the Phoenix series. Or Andrei (AK-47) Kirilenko and Mehmet Okur in the Jazz series. (Props to rising star, point guard Deron Williams, for keeping his team even remotely close in any given game. His will to win was palpable... sadly, other rising star Carlos Boozer was wildly uneven in the series, and not as affective as they would have liked.)
Yes, great defense can slow down good players. But a WILL TO WIN allows GREAT players the ability to crush great defense. Just look at the Spurs' Tony Parker, Tim Duncan, and Manu Ginobli, the Holy Trinity of guys who want to win. They will NOT be stopped. Or LeBron... man, after his timid first two games, he came out reborn, a man on a mission, and nothing could stop him as he dismantled the dazed Pistons. Beautiful, man.
Meanwhile, back in Portland, Blazermania is starting to explode again to a fever pitch not felt since the days when we had not only great players, but stand-up, likable players too. In the early 90s, the nucleus was Clyde (The Glide) Drexler, Terry Portland, Jerome Kersey, and Buck Williams. They made two Finals appearances, but just couldn't make it over the hump. The home town STILL loved them all the same.
Then General Manager (Sith Lord) Bob Whitsitt came along, with total disregard for the character of the team's personnel, and thus began the long hard road to converting the Trailblazers into the Jailblazers. Can you say Isaiah (J.R.) Rider, Rod Strickland, Rasheed Wallace, Bonzi Wells, Rueben Patterson, Qyntal Woods, and Zach Randolph? Thugs all.
(That said, when he's behaving, i actually really appreciate 'Sheed's game quite a bit. Ditto Zach.)
Then you've got Damon Stoudamire, who while not a hardened criminal per se, was stupid enough to go through an airport security metal detector with skunky weed wrapped in TIN FOIL shoved into his pants!! Good god, what a dumb-ass!
Now along comes the miraculous first draft pick, and (presumably) Greg Oden, the greatest Big Man in a decade or more, plus some excellent, stand-up, youthful players like Brandon (Rookie of the Year) Roy and LeMarcus Aldridge, and things are looking up up up. Plus with the rumor mill spreading word that Zach Randolph is now nothing but trade-bait, perhaps for once (now that they could be legitimate contenders AND he's no longer their "number one"), he'll get off his ass, shed some of that "baby fat," learn to play defense, quit whining, and play with purpose. (It's a long-shot, but damn this kid has so much natural talent.) Hopefully the 'Zers will keep forward Ime Udoka (a real balls-to-the-wall hustler and stellar defender), guard Freddie Jones (a native Portlander and former high-flying Duck), and center Joel Przybilla (who is a great baller when he's healthy).
As for the rest, i couldn't care less who goes. Nothing personal, but i could totally live without underachiever Darius Miles, aging players like Raef LeFrentz and Jamaal Magloire (who i LOVED back when he played with Mashburn and Baron Davis back in Charlotte), or the much over-rated Martell Webster.
While Phoenix is still my favorite team, it sure would be nice to once again scream, "Go Blazers!"