May 31, 2007
Off in the morning for a short family vacation, to central Oregon. Bend, to be precise, sagebrush and pine on the wind, the high dessert. It's been a long time. Looking forward to it.
•Â Last night i read a neat column by Robin Etherington at Comic World News, about BD Fugue, a comics shop in Lyon, France.
Check this shit out... they have a full bar!! And they also have one of the best blogs ever.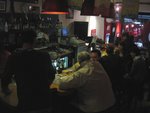 This is the first post of his new column, "Comics Have Never Been So Much Fun." Robin, you're off to a great start! This is a phenomenal feature.
• Jim Mahfood event.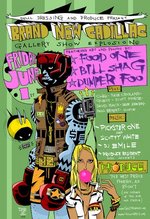 • One of Wayne (I'm Totally Helpless) Shellabarger's pals, RW Hessler adapted and directed a radioplay of Robert Bloch's Notebook Found in a Deserted House. I listened to this on the drive home from APE a few months ago, and i will say it was spectacular. A superb adaption. Oh, and Wayne did some killer cover art for the disc. Check out The Hermetic Order of Arcana for more information.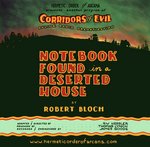 • I finally had some time to dive into the Comics Issue of Nerve. Full confession, i loath reading comics on a computer screen. Really. It's nails-on-the-chalkboard to me. I can't stand waiting for a page to slowly load, little by little, like a curtain descending. That said, there is some seriously excellent work here. Kudos to the editors, and of course the creators.
Stands-outs were the Paul Pope strip, excerpted from his forthcoming book through the brilliant AdHouse Books. And an outstanding new piece by Andi Watson. Good god, Andy just keeps evolving in front of our very eyes. In this particular strip, "Haunted, "the story is vintage Andy and a delight, as always of course, but his art takes a loose, Euro turn, with a real cartoony style a la, la Ligne Claire, and 50's-ish blocky colors via Photoshop. Man, this is a masterful treat.
Plus the likes of Chynna Clugston, Jim Mahfood, an insanely wicked page by Leah Hayes, and interviews with Alison Bechdel, Peter Bagge, and Evan Dorkin. There are essays, articles, and in the archives section, a Lost Girls interview with Alan Moore.
In fact, there's so much great content here, i'm going to have to bookmark this, and keep dipping into it as time allows.
My secret desire though, is to have a printed version of this in my hands. Feel the pulp in my hands, breath deep the intoxicating ink... a guy can dream.