LUPUS and A RADICAL SHIFT OF GRAVITY Bring Existential Sci-Fi to Fall 2019!
August 21, 2019
Feeling unsteady? It's time for A RADICAL SHIFT OF GRAVITY!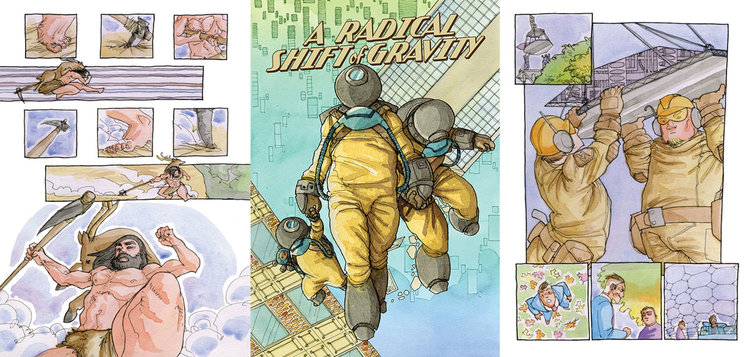 Against the wondrous backdrop of massive planetary transformation, this stunning watercolor graphic novel explores one family's struggle to stay grounded.
The world is changing. Gravity, a force everyone takes for granted, has begun to disappear. As a young journalist, Noah spends his days documenting the wondrous and terrifying shifts in the world around him.
But Noah's life is changing, too. Falling in love and raising a rebellious daughter adds new meaning to life in this mysterious floating world. As he covers the invention of new sports, interviews experts, and even journeys into space, each experience shapes how Noah views the world and, in turn, his relationship with his family.
And as his daughter grows older, Noah faces the challenge every parent dreads and dreams of: letting go.
A Radical Shift of Gravity is a science-fiction fable: a graphic novel that explores the ties that bind a family together, the forces that threaten to pull them apart, and the quiet beauty of a world where everyone is floating away.
A Radical Shift of Gravity

by Kate Glasheen and Nick Tapalansky

ISBN 978-1-60309-458-0 • Diamond: JUL190817

$24.99 (US) • full-color interiors • for mature readers (16+)

a 224-page softcover graphic novel with flaps • 6.5" x 9.25"

SHIPPING NOVEMBER 2019! • Read a 4-page unlettered preview.

Preorder from your favorite bookstore or comic shop!
Journey into the great beyond with Frederik Peeters' LUPUS!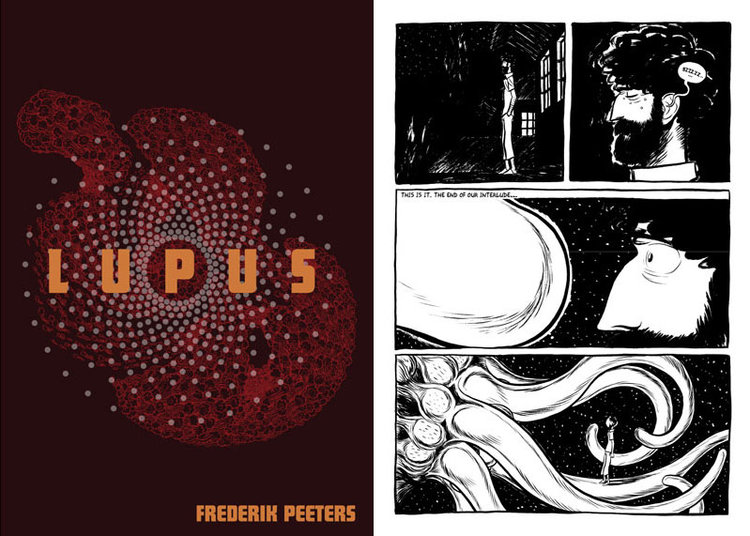 Winner of the "Essential" Award at the Angoulême International Comics Festival!
"Frederik Peeters is without a doubt one of the leading auteurs of his generation. While Lupus contains all the elements of the sci-fi genre, this master of subtlety, tone, and composition gives us an introspective tour of the palette of human relations... a true must-read of graphic novels." — Canal BD
"Magnificent… Peeters treats us with a touching story of love and humanity, crafted with the skill of a jeweler." — Jean-Louis Musy, Kiblind
"A science fiction story that dismantles the flat conventions of the genre, using its creative possibilities to draw a lucid and eloquent meditation on the challenges of growing older and the fundamental disorientation of a human being confronting infinity." — Juan Manuel Díaz de Guereñu, University of Deusto
"A beautifully realized comic-epic-romance... Its easy juxtapositions of the mundane and the spectacular are genuinely moving and the completion of the story is wonderfully satisfying. This is both a well-crafted page-turner and a book that rewards multiple re-readings. Does that make it a masterpiece? I suppose it probably does." — Bart Beaty, The Comics Reporter
Award-winning Swiss graphic novelist Frederik Peeters (Blue Pills) soars to new heights with an existential interplanetary epic that never strays far from the human heart.
Lupus Lablennorre is a man on the run. Like a cosmic Odysseus, he wanders from planet to planet, haunted by his past and orbiting around a woman.
It starts as a fishing trip with his old pal, Tony. Their friendship has started to feel different lately, and not just because of the drugs. Picking up Sanaa, a beautiful runaway, only complicates the situation. When tragedy strikes, they're forced to flee to new worlds, each offering many ways to disappear. But Lupus will find that the tendrils of friendship, love, and family are not so easily severed.
Armed with astonishingly expressive brushwork and a dreamy, intimate narrative, Frederik Peeters drifts on the solar winds to a new understanding of memory, guilt, isolation, and connection.
Lupus

by Frederik Peeters

ISBN 978-1-60309-459-7 • Diamond: AUG190836

$29.99 (US) • black & white interiors • for mature readers (16+)

a 392-page, softcover graphic novel with flaps • 8.66" x 11.41"

SHIPPING DECEMBER 2019! • Read a 7-page preview.

Preorder from your favorite bookstore or comic shop!
The new color FROM HELL presents: "The Best of All Tailors."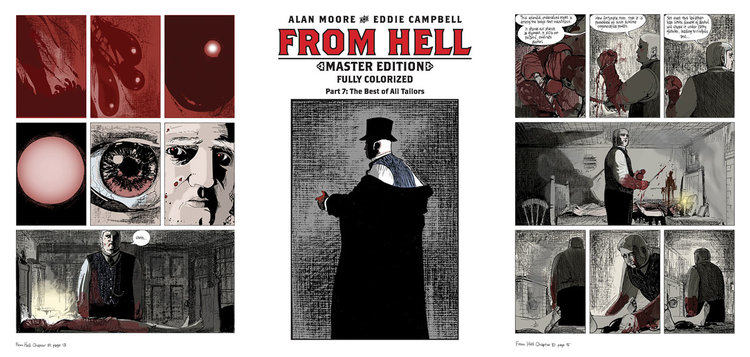 From Hell: Master Edition #07 (of 10)

by Alan Moore & Eddie Campbell

Diamond: JUL190818

$7.99 (US) • full-color interiors • for mature readers (18+)

a 48-page, full-color, prestige-format comic book

SHIPPING SEPTEMBER 2019!
The Ripper's bloody work reaches its horrific climax.

And afterwards… there is only descent.
The award-winning bestseller FROM HELL, often ranked among the greatest graphic novels of all time, continues to take on haunting new dimensions, enhanced with new impressionistic colors by Eddie Campbell himself.
This volume contains Chapter 10, as well as all the original annotations.
Co-Published by Top Shelf Productions (US) and Knockabout (UK).