Digital Titles: Thrillbent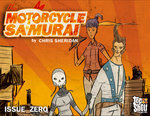 Get in on the ground floor of something spectacular: Issue Zero of Chris Sheridan's MOTORCYCLE SAMURAI!
This Comic-Con special release sets the stage for our saga: a grueling desert wasteland, a mysterious stranger bound and hooded on the back of a motorcycle, and a tough-as-nails warrior out to …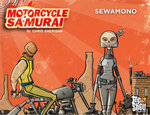 Smoke rises in the desert as the White Bolt, prisoner in tow, comes to the town of Trouble. The town is celebrating a Jubilee the way any town in the middle of nowhere would, with fisticuffs and fireworks in a way only Chris Sheridan and The Motorcycle Samurai can bring!
The Motorcycle Samurai: …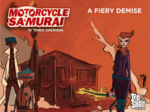 "It's about bloody time. Let the flood begin."
The titanically tense buildup finally explodes! Can the White Bolt and the Parker boys stop Boss Frankie Parker before she sets the world on fire? Find out now, as Chris Sheridan brings his potboiling plot to a dynamite finale.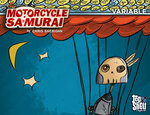 Who is this masked woman? Who is The White Bolt? Who is THE MOTORCYCLE SAMURAI?
Praised as "whimsical and dramatic" by ComicsAlliance, Chris Sheridan brings us a San Diego Comic-Con Special Release of MOTORCYCLE SAMURAI: VARIABLE. In a post-future desert setting, we get the true tale* and origin …