Uwe Heidschötter
Uwe Heidschötter (born 1978) is an acclaimed director, character designer and comic illustrator. His directorial debut, the short The Little Boy and the Beast (2009) and his TV movie The Gruffalo's Child (2011) have received countless awards at prestigious festivals such as The NY International Children's Film Festival, Chicago Film Festival, Annecy, Prix Jeunesse and Cartonn d'Or. He designed characters for Kahlil Gibran's The Prophet (2014), Revolting Rhymes (2016) and for Portand's stop-motion studio Laika. He is the illustrator of Box.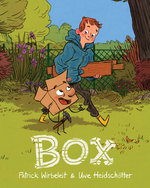 by Patrick Wirbeleit and Uwe Heidschötter
Winner of the Leipzig Reading Compass Award!
"Charmingly illustrated, engaging and funny. Whisks you away on an enchanting adventure and leaves you pining for more." — Suzanne Lang, author of the New York Times Bestseller Grumpy Monkey
"A book about a boy and a box as buds? Brilliant!" …
$9.99 (US)
$4.99 (US) DIGITAL
Details
ISBN 978-1-60309-449-8 - Diamond: FEB190751