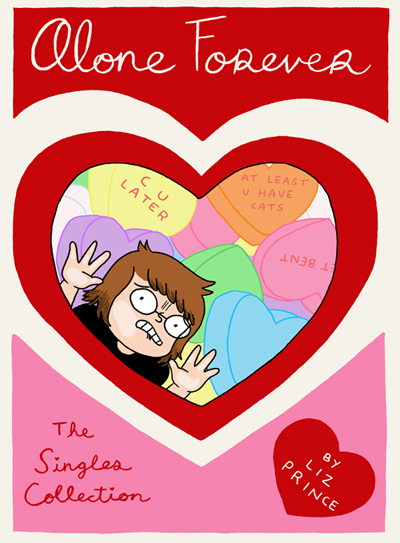 "The gags make readers laugh in the moment, but there are insights that stick around long after the book goes back on the shelf." — The AV Club
"Liz Prince is a dab hand at hiding the iron fist of irony and sarcasm in the velvet glove of a gorgeous cartooning style." — Broken Frontier
"Don't let the simple style of Prince's art fool you; she's a natural in comic book storytelling." — Comic Book Resources
Liz Prince, author of the world's cutest relationship comic, Will You Still Love Me If I Wet the Bed?, returns with a new comic about being -- gasp! -- SINGLE. At last bringing her popular webcomic to printed form, Alone Forever explores the joys of flying solo, free to focus on what really matters: comics, punk rock, and cute boys with beards.
Drawn in Liz Prince's ultra-charming style, filled with self-deprecation and cats, there's something for everyone to relate to in this celebration of self-reliance in the age of OkCupid.
It's the perfect gift for any friend! …If you want that friend to immediately respond, "Wait, what are you saying?!"
-- a 104-page softcover graphic novel, 6.5" x 9"
Reviews
---
Related Titles