Patrick Wirbeleit
Patrick Wirbeleit (born 1971) is an illustrator and author living in the countryside just outside Hamburg. He is quite tall and has nearly fifty children's books and comics to his credit. However, he finds people are generally more impressed when he touches the ceiling without even standing on tiptoes. Patrick created the annual award for the best illustrated children's book cover published in Germany. He is the writer of Box.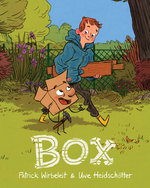 by Patrick Wirbeleit and Uwe Heidschötter
Winner of the Leipzig Reading Compass Award!
"Charmingly illustrated, engaging and funny. Whisks you away on an enchanting adventure and leaves you pining for more." — Suzanne Lang, author of the New York Times Bestseller Grumpy Monkey
"A book about a boy and a box as buds? Brilliant!" …
$9.99 (US)
$4.99 (US) DIGITAL
Details
ISBN 978-1-60309-449-8 - Diamond: FEB190751