Shawn Daley
Shawn Daley is a Ringo Award nominated cartoonist and chiptunist from Toronto. Majoring in audio production and working a number of years in the recording industry, he began to focus on telling stories through comics in 2015 with his debut, TerraQuill Collected. Since then his published works include Samurai Grandpa and Ogre.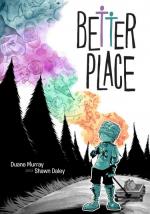 by Duane Murray and Shawn Daley
This sidekick misses his superhero... After hearing that his grandfather has gone to a "better place", a boy sets off on a grand adventure to find him, dressed as his favourite comic book character.
Dylan just moved to a new house, with no friends, and a mother who doesn't have time for him. …