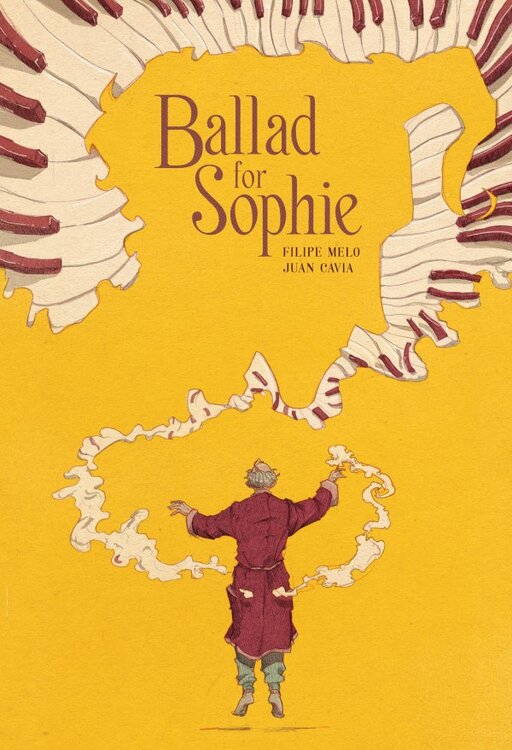 One of the American Library Association's Top 10 Best Graphic Novels for Adults!
Nominated for four Eisner Awards!
Nominated for two Harvey Awards!
Nominated for five Ringo Awards!
Nominated for the American Cartoonists Society Reuben Award (Graphic Novel Division)!
Watch Juan Cavia's cover come to life with the tender theme music of writer/pianist Filipe Melo!
★ "A moving saga of artistic rivalry, guilt, and redemption." — Publishers Weekly (starred review)
"One of the most self-assured and satisfying books of the year, gloriously drawn and colored, full of twists and turns, authentic emotion and peak craftsmanship." — Rob Salkowitz, Forbes (Best of 2021)
"Melo's twisting and suspenseful story is well matched by Cavia's bright and sensitively rendered cartoons... in a full palette that evokes light, emotion, and memory." — Booklist
"Emotionally dense, texturally rich and humming with humanity, Ballad for Sophie is a moving portrait of the ways in which art can both save and doom us." — Bookpage
"In Ballad for Sophie, an interview turns into a life story, full of drama and doubt, regret and hope. This stunning collaboration between Filipe Melo and Juan Cavia will sweep you off your feet and surprise you with its unexpected ending." —Christy Peterson, Vintage Books, Vancouver, WA
"An achingly beautiful tale. I was engulfed by Ballad for Sophie and burned through the book in a single sitting... the perfect balance of story and art that is a rare find indeed." — Biff Bam Pop
"A very special book... This is easily the best rendered graphic novel for the year, or at least it should be on everyone's end-of-year top ten lists." — Comics Grinder
"Probably the most talented and productive duo in the recent Portuguese graphic novel scene." — José Mário Silva, Expresso
When a young journalist prompts a reclusive musical superstar to finally break his silence, he pours out an astonishing saga of rivalry and regret, starring child prodigies and bitter old men, beautiful dancers and demonic managers, Nazi commandants, compassionate nuns, and lifesaving animals.
Ballad for Sophie is a sweeping tale that spans the twentieth century, packed with all the drama of a rock & roll biopic and more twists than a night at the opera. Filipe Melo and Juan Cavia have composed a stunning graphic symphony exploring a lifetime of ambition, betrayal, compassion, anguish, long-buried secrets, and flying pianos.
"It only took one song to change everything."
1933. In the small French village of Cressy-la-Valoise, a local piano contest brings together two brilliant young players: Julien Dubois, the privileged heir of a wealthy family, and François Samson, the janitor's son. One wins, one loses, and both are changed forever.
1997. In a huge mansion stained with cigarette smoke and memories, a virtuoso who hasn't played a note in decades is shaken by the unexpected visit of an interviewer. Somewhere between reality and fantasy, Julien begins to relate a complex and moving story about the cost of success.
When all is said and done, did anyone ever truly win? And is there any music left to play?
-- a 320-page, full-color softcover graphic novel with 3" French flaps, 6.75" x 10" (portrait)
Reviews