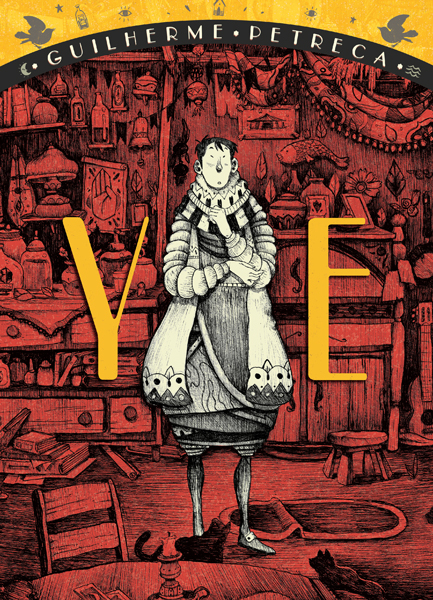 One of AV Club's Best Comics of 2019!
"A story whose pleasure lies not only in appreciating the beauty of its artwork, but in deciphering what lies hidden in its metaphors." — Nerd Geek Feelings
"Beautiful and unique… Ye delicately portrays how difficult it is to find oneself in the world and, more importantly, how to control our insecurities." — Conexão Comix
"Here are Eastern European cultures, medieval myths, works of fantasy, the Sandman stories of Neil Gaiman, and the drawings of Hayao Miyazaki… It's one of the year's most interesting works." — O Grito
Ye is a curious young man, named after the only sound he knows how to make. His voice must have been stolen by the Colorless King, the source of all the world's sorrows — terrifying, unrelenting, all-taking and never-giving. Now, Ye must embark on a long voyage over land and sea, past grizzled pirates, a drunken clown, and more, to find the famous witch who can help him defeat the Colorless King. What he discovers may be a lesson for us all.
Young cartoonist Guilherme Petreca won Brazil's prestigious HQ Mix Award for Best Artist due to the unforgettable imagery on every page of Ye, his first full-length graphic novel. In the tradition of The Little Prince, The Neverending Story, and A Wrinkle in Time, this graphic fable will leave young and old readers awestruck and eager to relive the journey. -- a 176-page, full-color softcover graphic novel with French flaps, 6.5" x 9"
Reviews