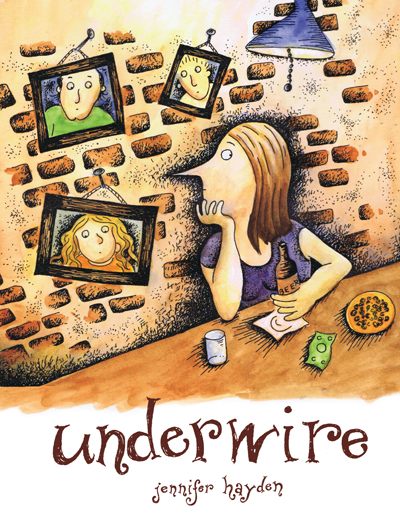 "Hayden's work reminds me of why I began drawing comics, and why I continue. They're comforting, straightforward and strongly connected to life." -- Gabrielle Bell, author of Lucky and Cecil & Jordan in New York
"Underwire explores the funny, and often absurd, aspects of being a lady. Cheers to the artist for spotlighting female characters... and, hopefully, getting more women psyched about comics." -- Whitney Matheson, USA Today
"Hayden's cheerful profanity and scratchy lines give the work a homey, intimate feel... Hayden's stories are like comfortable, lived-in jeans--not the most stylish or flattering, but the ones you want to spend time wearing." -- Publishers Weekly
"We observe as she watches her 12-year-old daughter learn how to hold her temper; we feel her impatience when the kids won't go to sleep and let her drink and chat the night away with old girlfriends; and we can't help but identify with her view of aging, which isn't so much graceful as it is graced by good humor and undaunted optimism... This is a book with plenty of staying power." -- Booklist
"The central character is the author herself, and she's a joy. She's bawdy, messy, raucous, and entirely human — as likely to sit around with her friends, slamming wine and gossiping, as she is to lament over her son leaving for college... Hayden is seriously fun, alive, and inspiring — as an artist, a writer, a woman, and a human being. Brava!" -- Under the Radar
"Jennifer Hayden just rolls with the punches in Underwire... reading it left me wanting more. Like a hippie Erma Bombeck, Hayden drinks and gossips with her friends, lusts after her husband, enjoys her children, and deals with everything from head lice to separation and death with wisdom and humility." -- Brigid Alverson, CBR's Robot 6
"With a busy black-and-white palette of comforting cartoon grit, Hayden recalls Robert and Aline Crumb in this offkey anthem to misfit domesticity." -- Adam McGovern, Comic Critique
Sometimes you just gotta pick yourself up by your brastraps.
Underwire collects the wise and witty autobiographical comics of an captivating new voice: Jennifer Hayden, cartoonist and politically incorrect mother of two. She may not have all the answers, but she's not gonna let that stop her from enjoying the prime of her life -- her forties!
Since its internet debut at ACT-I-VATE.com, Underwire has attracted praise for its sharp tongue, enchanting style, and warm wisdom. These everyday observations -- about womanhood, parenthood, growing up, and rocking out -- add up to something not only funny, but also quite profound. After a few stories, you might even feel like a member of the family.
Now, for the first time in print, Top Shelf presents twenty-two stories from the beloved webcomic, plus seventeen new pages of comics and art created exclusively for this collection. -- an 80-page softcover graphic novel with french flaps, 6.5" x 8.5"
Reviews
---
Related Titles