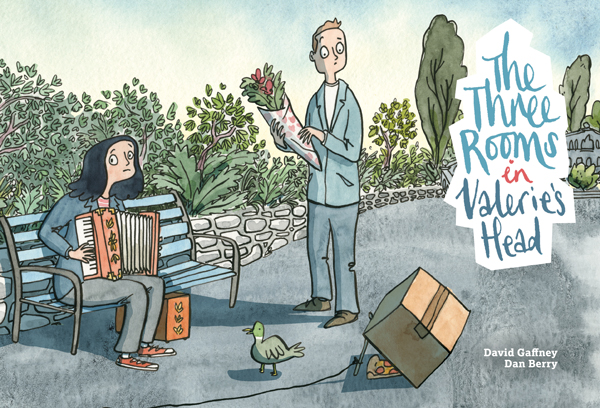 "Lightly balanced between writer and artist, each the right amount of crazy... Snortingly funny." — NPR
"Ingenious... Valerie's poignant romances open larger vistas where music and imagination offer wit and insight beyond the grayness of daily life." — Library Journal
"Funny and weird... Valerie exhumes her love life by hanging out with all of the guys that didn't work out, and the one that might still." — Barnes & Noble, Best Comics of February 2018
"A wonderfully offbeat, dark comedic delight... The turn of Gaffney's phrase, and the skillful use of expression and flow in Berry's art, perfectly capture both the surreal ridiculousness of it all and the sadness that underpins the tale." — Comicon
"Enthrallingly weird... [its] grounding core gives this off-kilter graphic novel welcome emotional depth." — Booklist
"What we have here is a collection of witty, poetic, mischievous, flash fictions woven together with the device of Valerie's exes... Berry's a master cartoonist, adept at conveying movement and physical expression... it's packed with wit and artistry." — Slings & Arrows
"Funny, poignant, surreal and still warmly emotional and human — a delight to read." — Forbidden Planet
Praise for David Gaffney & Dan Berry:
"One hundred and fifty words by Gaffney are more worthwhile than novels by a good many others." — The Guardian
"Dan Berry's delicate drawings perfectly outline a world that is funny and also a little sad." —Eleanor Davis, author of How to Be Happy
"Delightful… a beautifully coloured heartfelt comic." — Comics Beat
"Witty, clever and poignant, Gaffney's micro fictions work as funny routines, moving insights and illuminating character sketches, often all at the same time." — Time Out
"Exquisitely structured for maximum satisfaction and laugh-out-loud comedy… Dan Berry's cartooning is delicious." — Page 45
Valerie has a rich interior life. Serially unlucky in love, to feel better she imagines that her previous boyfriends are dead and that their bodies are kept downstairs in the cellar in a strange, mummified state. Every day she brings them upstairs and speaks with them about what went wrong.
What follows is a series of peculiar, funny, and sometimes disturbing short tales about inept lovers, weird obsessions, and socially malfunctioning men who repeatedly fail to build a relationship with poor Valerie.
Apart from Stanley. Stanley was special.
Could he be the one to save her?
The Three Rooms in Valerie's Head is a dark comedy about relationships, memory, loneliness and obsession and is the first collaboration between ultra-short fiction writer David Gaffney and comic artist Dan Berry. -- a 120-page full-color softcover graphic novel with French flaps, 9.5" x 6.5" (landscape)
Reviews
---
Related Titles