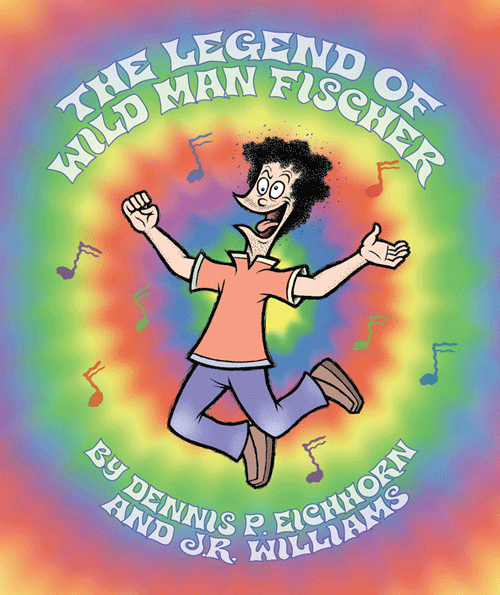 "If Skip Spence and Rodd Keith can enjoy posthumous revivals, why not Wild Man Fischer? What's extra cool about Wild Man Fischer is that he's still alive. … Larry "Wild Man" Fischer staggered onto the scene with a double album, An Evening with Wild Man Fischer, produced by Frank Zappa in 1968. Though the record never elevated Wild Man to more than a cult status, it's a tribute to his fans that his cult status hasn't waned in 36 years. … The Legend of Wild Man Fischer is a product of its authors' adoration and engaging enough to make new fans out of the uninitiated. At 64 pages, it's a quick read about a guy who's hard to forget." -- Richard Melo, Too Much Coffee Man



"Larry Fisher! A madman's madman. Truly the Vincent Van Gogh of modern music!" -- Bob Burden, Creator Flaming Carrot & Mystery Men



Larry "Wild Man" Fischer, the reigning king of "Outsider Music," is a legend in the entertainment industry. Often featured on Dr. Demento's radio show, Fischer is a former street busker who was first recorded by Frank Zappa, and later by Rhino Records. Fischer and his offbeat but soulful music are held in high regard by a pantheon of musical mavens that includes Solomon Burke, Tom Waits, Eric Clapton, Janis Joplin, David Byrne, Jim Morrison, and Rosemary Clooney. Fischer's zany exploits and unique accomplishments are chronicled in this outstanding collection of cartoon stories, essays, and never-before-published photographs. -- $7.95 (US), 64-page graphic novel, Diamond: JUN042871



Also, be sure to visit: www.derailroaded.com, where you can see the trailer to the feature-length film on Larry Fischer. This film will debut at the South by Southwest Film Festival in Austin, Texas (March 11 - 20) and was filmed and produced by our friends, the Ubin Twinz.
Reviews