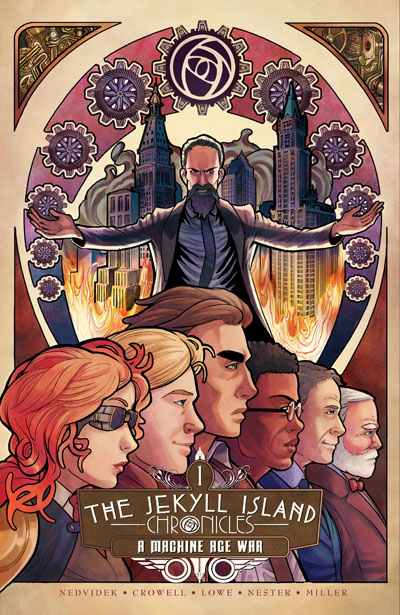 Named one of the "10 Books All Young Georgians Should Read" by the Georgia Center for the Book!
"An alternative-history steampunk treasure… Consider this historian impressed." — Matt Kim, Inverse
"The Jekyll Island Chronicles... shines a bright light on alternate history in the comic medium with its deep characterizations of historical figures and innovative takes on technology and politics... leaves the reader shivering with anticipation." — Jeff Provine, BlogCritics
"A real page-turner… if you're a fan of the steampunk genre or love alternate timeline history books, this is definitely the book for you." — Jason S. Lockard, Rogue Cinema
"Sharp… Heroism here is not just about might but also about justice, humility, and compassion… this is a fantasy pulled out of a real Southern location with quite the history." — Bulletin of the Center for Children's Books
At the beginning of the twentieth century, 1/6th of the world's wealth vacationed in and around the tiny Georgia island of Jekyll. Captains of industry like Rockefeller, Vanderbilt, Morgan and Carnegie all called the Jekyll area home. The Jekyll Island Chronicles uses this place of grandeur and elegance as a backdrop to explore an alternate history between the World Wars.
It was a time of great social, political and technological upheaval. A time of ingenuity and anarchy. A time when some of the most brilliant, and horrible, minds of the 20th century would confront each other. And a time of great new heroes and fantastic new machines.
The Jekyll Island Chronicles: A Machine Age War begins a thrilling new series of graphic novels. Blending elements of historical fact, clockwork technology, and dieselpunk style, they span an age of furious mechanical advancement while exploring the span of man's soul – whether good or evil.
-- a full-color softcover graphic novel with French Flaps, 176 pages, 6.875" x 10.435" (portrait)
IN PRINT! (PUBLISHED MAY 2016)
Reviews
---
Related Titles