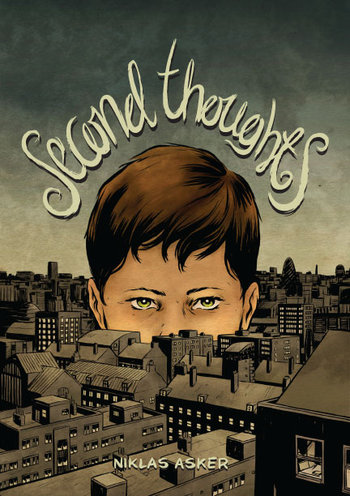 THE SWEDISH INVASION!
Charlie Kaufman meets Sofia Coppola in this stunning debut from Sweden!
"Niklas Asker's debut hits just the right notes of longing, passion and tender reflection about those other lives and other loves that might have been. Like that special, meaningful album track or rock video, Second Thoughts will win your heart." -- Paul Gravett, author of Graphic Novels:
Stories To Change Your Life
"Niklas Asker is a young artist whose work puts him right in the center of the new transnational comics culture. His comics combine the best traits of European bandes dessinées and American graphic novels, with a bit of Asian manga thrown in for good measure." -- Fredrik Strömberg, author of Swedish Comics History and The Comics Go to Hell
Jess is a novelist without a novel. John is a photographer running away to New York. Though it lasts only a moment, their brief encounter in London's Stansted Airport will transform both of their lives. How do you measure the distance between satisfaction and settling? At what point does wishful thinking take on a life of its own? ... In SECOND THOUGHTS, the clean, emotional ink-work of Swedish newcomer Niklas Asker guides two characters, in two worlds, through modern city life and love. Reality and fiction overlap in this haunting, deceptive, and inspiring graphic novel about the lives we imagine for ourselves, the lives we imagine for others, and the lives we ultimately must live. -- Softcover Graphic Novel with French Flaps, 80 pages, 6 1/2" x 8 1/2"
Reviews