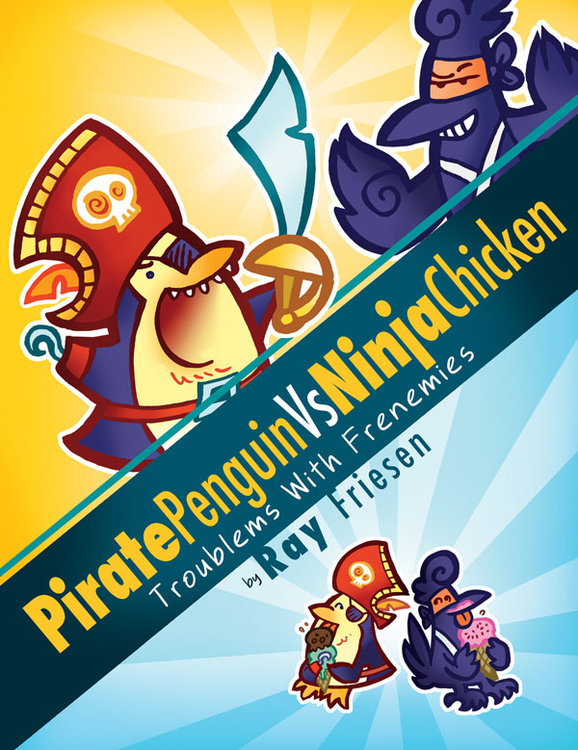 "Ray Friesen is a remarkable cartoonist. He makes the silly funny and the funny sublime. The world seems lighter after reading a Ray Friesen book." — Jimmy Gownley, author of Amelia Rules!
"Ray Friesen is a veritable fount of silliness... Pirate Penguin vs. Ninja Chicken is filled with nonsense, from the copyright page to the comics to the endpages, and it's guaranteed to make your geeklets giggle." — Jonathan Liu, Wired GeekDad
"The humor comes at a furious pace, with sometimes four of five jokes crammed into a single panel. Lots to look at here." — Jesse Karp, Booklist
"A comic book writer/artist of considerable talent and originality." — Midwest Book Review
"The jokey asides and playfully sophisticated take on language are reminiscent of Walt Kelly's Pogo... [a] manic blend of mayhem and adventure." — Ian Chipman, Booklist
"Ray Friesen promises to break new ground in silliness." — Wizard
"The short stories will keep the interest of your most reluctant readers, and the action almost makes it like you are watching a cartoon on TV... Great for fans of Dav Pilkey and Diary of a Wimpy Kid." — No Flying No Tights
Pirate Penguin vs. Ninja Chicken (Book 1): Troublems with Frenemies. So what is this book about? It's about a Pirate Penguin named Pirate Penguin and a Ninja Chicken who isn't (ninjas are too sneaky to let you know their real names. Hint: It isn't Harold.) They are the bestest of friends and also the worstest of enemies all at the same time (just like in real life! Only more cartoony of course.) I think you'll like this book, there are about a bajillion jokes inside, and it's filled with action, adventure and arguments. Sometimes the stories are really teeny, about stuff like ice cream or origami, and sometimes the story gets really epic-tastic, filled with spaceships and giant monsters and evil koalas and stuff (just like real life!). Plus, being about pirates, there are at least 17 swordfights (that's the rule with pirates). You'll just have to go ahead and read it to see if you like it, I've run out of back cover room to convince you how awesome it is anyway. (How awesome? SO AWESOME!) -- a 96-page full color hardcover graphic novel, 6.5" x 8.5", Diamond: APR11-1165



An all-new, ongoing, full-color hardcover all-ages series coming from Ray Friesen and Top Shelf!
Reviews
---
Related Titles