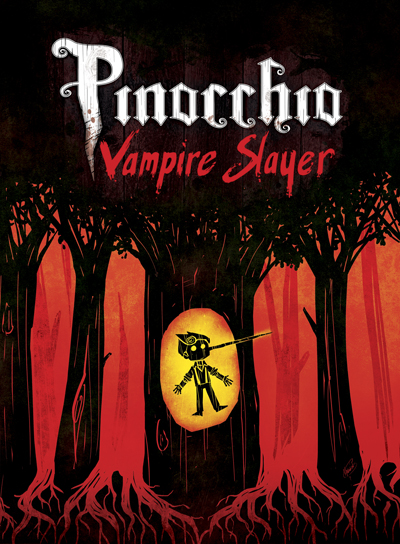 One of YALSA's Top Ten Graphic Novels for Teens!
"It's the greatest thing I've read all year. And you'll notice my nose didn't grow one bit when I said that." — Mark Waid
"Page after page of amazement." — Publishers Weekly
"The premise for this graphic novel is really almost too good to be true… and the execution doesn't disappoint." — Booklist
"Silly but oddly touching." — USA Today
"Outstanding." — Topless Robot
"Sometimes dark, sometimes silly, but always fun, Pinocchio coming of age Batman-style is just the thing for fantasy and horror fans." — MTV
"Really, really good." — Comics Alliance
"Seriously, it's perfect." — Comic Book Resources
This puppet may not be a real boy… but he just might be a real hero.
When bloodthirsty monsters invade Pinocchio's hometown and kill his father Geppetto, Pinocchio discovers a new benefit to his magical nose: telling lies produces a never-ending supply of wooden stakes to combat the vampire hordes! Will Pinocchio be able to defeat these horrors, avenge his father, and save his friends?
So begins Pinocchio: Vampire Slayer by Van Jensen and Dusty Higgins, the critically acclaimed twist on the classic fairy tale. After his first adventure, join Pinocchio as he discovers his lost brothers and sisters in The Great Puppet Theatre, then confronts the terrifying origin uniting both puppets and vampires, the children Of Wood and Blood!
Now, for the first time, the complete trilogy is collected together in a single deluxe softcover edition. Jensen (Green Lantern Corps) and Higgins (Knights of the Living Dead) present a captivating blend of comedy, horror, romance, and adventure, rooted in the original Italian novel but brought - as if by magic - to new life.
-- a 528-page softcover graphic novel with French Flaps, 6.25" x 8.5"
Reviews
---
Related Titles