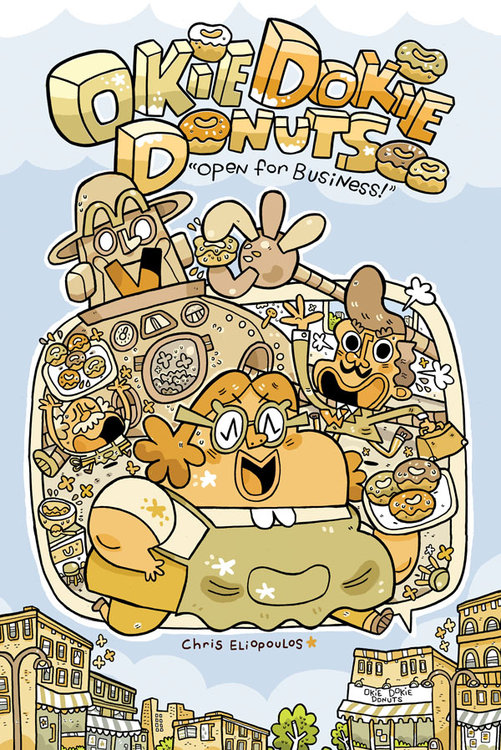 A TOP SHELF KIDS CLUB BOOK!
"Elio consistently impresses me with his supercharged kid-friendly comics. His style is wholly distinct, and everything he does seems to explode with joy and pure fun." -- John Martz, Drawn!
"2 scoops of silly, 5 cups of cute, and a bucket load of fun! Chris Eliopoulos has the recipe for awesomeness and he's used it to cook up a super yummy comic treat. Every panel in Okie Dokie Donuts is filled with charm and playful imagination. It's more fun than a donkey in a pudding factory!" -- Bob Boyle, creator of Nick Jr.'s Wow! Wow! Wubbzy! and author of Hugo and the Really, Really, Really Long String
"Lively and fun... it's hard to resist such a good-hearted book." -- Graphic Novel Reporter
"A mixture of Pablo Picasso and Cartoon Network... laden with eccentric charm." -- The Daily Blam!
"Spirited and delightful... Goofy, witty, and tons of fun." -- ForeWord
"Eliopoulos creates a confection of zaniness, from the breathless slapstick and the wild, blocky art right down to the childlike lettering that fills the speech balloons... As tasty a morsel for humor-starved children as donuts themselves." -- Booklist
"Anyone who enjoys cool comics art should find plenty to love in here. Eliopoulos' panels are jam-packed with busy little-details... and the art is all colored in a limited, doughnut-shop palette of browns, whites, oranges and pinks. Like the snack in the title, the book is small, but sweet and satisfying." -- CBR Robot 6
"Okie Dokie Donuts has the manic energy and sarcastic charm of a Marx Bros. movie, so don't sell it short. You don't have to be a kid to enjoy this sweet treat." -- Comic Book Bin
"Eliopoulos's art is stunningly hip, fun, and a stylish treat for the eyes... His writing is cute and fun, the perfect Saturday morning cereal in comic format." -- Comic Attack
Good morning! Welcome to Okie Dokie Donuts. Run by pastry pioneer and cunning culinarian, Big Mama! Okie Dokie Donuts is the best little donut shop in town! What's her secret? Big Mama rolls in a heaping serving of love into each of her hand made creations! Loyal customers can't get enough of her tantalizing turnovers. But running a donut shop isn't easy! Trouble is always poking holes in Big Mama's fun. But as long as our large and lovely heroine has friends and plenty of chocolate icing, nothing can stop Okie Dokie Donuts from reaching the highest levels of becoming a pastry powerhouse! -- a 48-page full-color hardcover graphic novel, 5" x 7.5", Diamond: APR11-1155



An all-new, ongoing, all-ages series from Chris Eliopoulos and Top Shelf!
Reviews