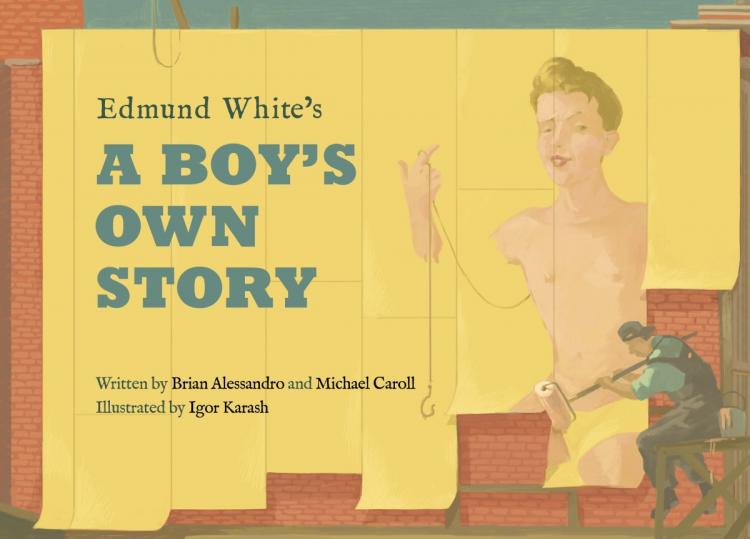 "A provocative coming-of-age story, adapted for a new generation of readers, offering further insight and emotional depth to a landmark work in the panoply of LGBTQ fiction. A true tribute to the original, and to Edmund White's inimitable voice, on the 40th anniversary of his breakthrough novel's publication." —John Irving, author of The World According to Garp and The Cider House Rules
"In this gorgeous graphic adaptation, much of Edmund White's sublimely wrought prose is absent by necessity. But the exquisite, dreamlike illustrations by Igor Karash have their own distinctive power to immerse us in the young narrator's loneliness and relentless self-consciousness—quite a feat in a format that relies on showing rather than telling. This is a vivid and sensuous new take on White's coming-of-age classic." —Alison Bechdel, author of Fun Home and The Secret to Superhuman Strength
Praise for Edmund White's original novel:
"With A Boy's Own Story, American literature is larger by one classic novel." -- The Washington Post Book World
"Edmund White has crossed J. D. Salinger with Oscar Wilde to create an extraordinary novel." -- The New York Times Book Review
"Every so often a novel comes along that is so ambitious in its intention and so confident of its voice that it reminds us what a singular and potent thing a novel can be. One of these is A Boy's Own Story." -- San Francisco Chronicle
"A Boy's Own Story is both a masterpiece in the literature of adolescence and a pivotal book in the history of gay writing." -- Alan Hollinghurst
A Boy's Own Story is a now-classic coming-of-age story, but with a twist: the young protagonist is growing up gay during one of the most oppressive periods in American history. Set in the time and place of author Edmund White's adolescence, the Midwest of the 1950s, the novel became an immediate bestseller, and for many readers was not merely about gay identity but the pain of being a child in a fractured family while looking for love in an anything-but-stable world. And yet the book quickly contributed to the literature of empowerment that grew out of the Stonewall riots and subsequent gay rights era. Readers are still swept up in the main character's thoughts and dry humor, and many today remain shocked by the sexually confessional, and bold, nature of his revelations, his humorous observations and the comic situations and scenes the strangely erudite youthful narrator describes, and the tenderness of his loneliness and the vivid aching of his imagination. A Boy's Own Story is lyrical, witty, unabashed, and authentic.
Now, to bring this landmark novel to new life for today's readers, White is joined by co-writers Brian Alessandro & Michael Carroll and artist Igor Karash for a stunning graphic novel interpretation. The poetic nuances of White's language float across sumptuously painted panels which evoke 1950s Cincinnati, 1980s Paris, and every dreamlike moment in between. A creative adaptation of the original 1982 A Boy's Own Story, in collaboration with Closure Creative, with additional personal and historical elements from the authors' lives. -- a 264-page, full-color, hardcover graphic novel (11.25" x 7.75" - landscape)
Reviews