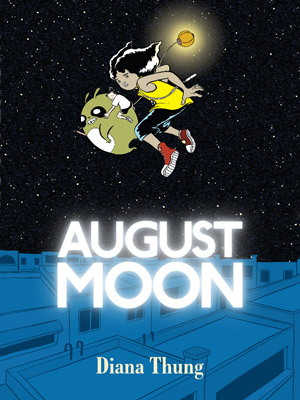 Named one of YALSA's Great Graphic Novels for Teens!
"A dream of a book. August Moon hums with menace and wonder, like the coolest childhood you never had. Diana Thung's work is beautiful in all the right ways, for all the right reasons." -- Junot Díaz, Pulitzer Prize-winning author of The Brief Wondrous Life of Oscar Wao and This Is How You Lose Her
"August Moon did the thing I always hope a book will do: It took me someplace I hadn't been before." -- Hope Larson, author of Mercury and A Wrinkle in Time: The Graphic Novel
"Get ready for surreal delight... Diana Thung creates a magical, mystical adventure for all ages." -- BookDragon, Smithsonian Asian Pacific American Center
"While the details are wonderfully realized, the broad strokes are left intentionally vague, leaving the audience to feel much like the children wandering into a surreal future brimming with intrigue and mystery... ultimately, August Moon is a winsome slice of escapist reading." -- Sean Edgar, Paste
"A fantastic work by a maturing author. Diana Thung expertly transports the reader to a magical place in a story that readers, from young adolescents to adults, will surely appreciate." -- Vik Gill, Spandexless
The townspeople of Calico believe in family. In fact, some say that the souls of dead ancestors watch over this town, and on a clear night, you can see their "Soul Fires" dancing through the sky.
But when young Fiona Gan comes to town with her father, she finds that the Soul Fires are just the beginning of Calico's mysteries. Strange graffiti appears all over town, a huge rabbit-like creature is found in an alley, and a peculiar street boy named Jaden claims to come from the moon.
Now time may be running out, because Fi and her dad are not the only newcomers to Calico. As the Soul Fire festival approaches and a creepy corporation starts to bulldoze the nearby forests, she finds herself drawn into Jaden's battle for the soul of a community.
Diana Thung's debut Top Shelf graphic novel is a true adventure, rooted in the diverse local traditions of Asia and the films of Hayao Miyazaki, with a modern sensibility and a hint of magic.
A 320-page softcover graphic novel, 6" x 8".
Reviews
---
Related Titles