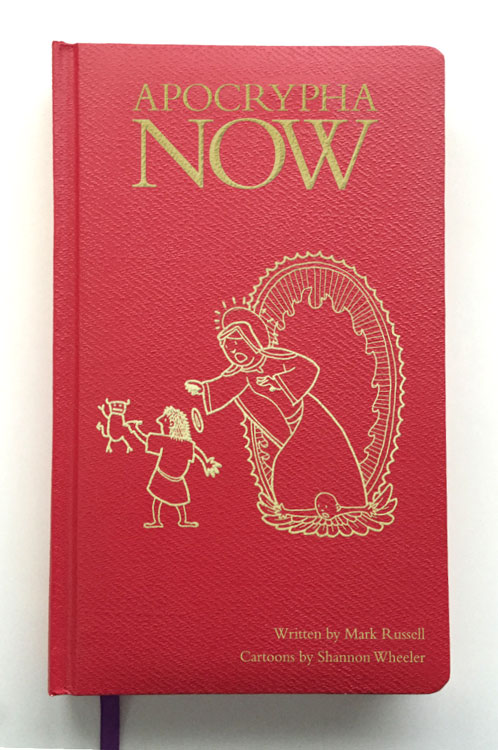 "Accurate yet rib-tickling, these scriptural riffs are perfect for fans of Monty Python's Life of Brian." — Publishers Weekly
"Pairing Russell's irreverent prose interpretations of Biblical legend with Wheeler's droll single-panel cartoons... it's a jam-packed read that turns these ancient texts into engaging, accessible narratives, with a strong sense of humor." — The AV Club
"Apocrypha Now isn't a fraction as disrespectful as it might appear, though much of the source material was deemed heretical when it was stricken from the Good Book hundreds of years ago. But it is completely enjoyable, accessible and educational." — Paste
"Apocrypha Now is everything you never knew you always wanted from the Bible." — Daily Kos
"If you have ever heard of the Gnostic Gospels or Nag Hammadi, and wondered what was up with that, Apocrypha Now is an excellent primer….Fascinating." — Ink 19
In their first collaboration, God Is Disappointed in You, Mark Russell & Shannon Wheeler's faithful-yet-irreverent approach to the Bible sparked an instant connection with readers of all backgrounds. Now, by popular demand, they turn their attention to the parts left out of the canonical Bible, including the Midrash, the Apocrypha, the Gnostic Gospels, and more.
Think of these as the DVD extras to the holy scripture: missing scenes, alternate versions of familiar stories, and long-lost strangeness from Biblical times.
This is what the Bible didn't tell you. And there's more to the story than you can imagine.
— a 196-page, 2-color illustrated prose hardcover (with foil-stamped cover, rounded corners, gilded edges, and satin ribbon), 5 1/4" x 8 1/4" (portrait)
IN PRINT! (PUBLISHED MAY 2016)
Reviews
---
Related Titles