December 13, 2011
Check this Wayne (Veeps) Shellabarger cover art for the forthcoming issue of Bay Guardian.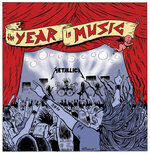 • And speaking of San Francisco, my old pal Steve (Bughouse) Lafler sent this bit o' news:
Mini Cartoonist-Palooza
Holiday Sale & Concert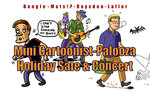 Bay Area cartoonists Lloyd Dangle, Mats!?, Jeff Roysdon and Steve Lafler join together to bring cartoon art gift items to the Mercury Cafe in Hayes Valley on December 21 from 6-9 p.m. for a festive and convivial evening.
Lafler and Scott Hoover bring their band The Dick Nixon Experience into the Mercury, rounding out the evening's entertainment with some hard driving "Oaxacabilly" music.
The Mercury Cafe is located at 201 Octavia St., San Francisco.