with a corncob pipe and a button nose...
December 22, 2007
ITEM! It's not too often i run straight press releases, but when the event warrants i've got no problem at all doing so. This one, for my great friend Bwana Spoons, one of the world's nicest guys, and most amazing creative minds.
Bwana Spoons Art Show at Giant Robot New York
HOW TO DIG A HOLE
December 8, 2007 - January 9, 2008
Reception: Saturday, December 8, 6:30 pm - 10:00 pm
437 East 9th Street
New York NY 10009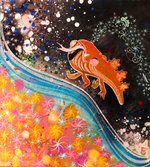 Spoons is a Portland-based artist whose freewheeling style was developed under the influence of underground comics, '60s rock posters, and Japanese rubber monster movies. Starting out with stapled-and-folded zines like My Friend the Micronaut and Ain't Nothing Like Fuckin' Moonshine in the early '90s, Spoons has become a regular in the Northwest street art and indie music scene. Endangered animals caught in mid-thought, kung-fu wizards with gravity-defying eyebrows, and swirling psychedelic backgrounds are only some of the elements found in the well-composed anarchy of his paintings and sculpture. He is also involved in the Grass Hut art collective and gallery.
Although the show is called "How to Dig a Hole," the new paintings, illustrations, and sculptures by Spoons actually address how to get out of one. "What do I fill it with?" he asks. "Blood, guts, tears, dirt, love, and paint."
Giant Robot has been promoting new art and artists since 1994, first with a magazine and then in galleries. The publication celebrated its 50th issue in 2007 with an art show at the Japanese American National Museum in Los Angeles. Currently it presents art shows on a monthly basis in its L.A., San Francisco, and New York City locations.
A reception for Spoons will be held from 6:30 to 10:00 on Saturday, January 12. For more information about the artist, GRNY, or Giant Robot magazine, please contact:
Eric Nakamura
Giant Robot Owner/Publisher
eric@giantrobot.com
•Â Also, here's some pics from a few months back. Brendan Wright, who was interning at the time, helped package up this promotion for Renee French's work. This is all a learning process for us (even ten years in), but this package did indeed generate some good response.