top shelf's civil war!!
March 26, 2007
Marvel isn't the only publisher with a Civil War on their hands. Today, my alma mater Oregon Ducks faced Rob Venditti's repeat champion Florida Gators. A great battle it was, but in the end, the Gator's just proved too big and powerful to handle.
No shame in advancing as far as the Elite Eight in the NCAA Tournament, however. A tip o' the hat to the players and coaches for an amazing season.
• Here's the first in a series of ads our production guy (and former intern) Chris Ross made for my favorite local pub-theater, mere blocks from my house.
• Xeric Award Winning cartoonist Jeff Lemire (Lost Dogs) has launched a new web comic entitled SOFT INSTRUMENTS. The science-fiction/steam punk strip will be serialized regularly on Lemire's new blog. The new project's launch coincides with the release of his new graphic novel Tales From The Farm published in March by Top Shelf Comix.
THE STORY SO FAR...
Welcome to 1997, in a world much different from our own. The rise of the steam age prevented the industrial revolution as we know it from ever having occurred at all. As the world's only steam powered juggernaut, Great Britain spread out and assimilated the rest of Europe into the Anglo-centric super power The Union of European Allies. The cultures and languages of these occupied countries were eventually forgotten or pushed far underground, as the Victorian way was cultivated and held onto as the dominant and accepted culture.
As our tale begins, fabled explorer, scientist, adventurer and Gentleman, Dr. Elezear Zednik is sent to Union Territory #617-03 to investigate a rash of mysterious disappearances among the city's factory workers. As he arrives he is met with hostility and mistrust by the local constabulary...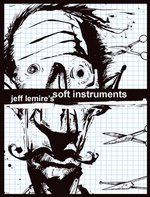 For more details check out Lemire's website.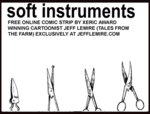 • I'll be attending the Emerald City Con next weekend (March 31 & April 1), and while the show has not developed into the indy-friendly type of show i was hoping it might, based on a fabulous first con, this year they'll have in attendance one of my all-time favorite comic artists EVER. In fact, if he had been more prolific over the years, he probably would have eclipsed the likes of John Byrne and Art Adams for that top spot, not that Art Adams is the picture of prolific. I'm speaking of none other than artist extraordinaire, Michael Golden. This guy's touch is so fucking sweet, he's one of the only artists i'm so hot for, i'll buy a comic he did the cover for, just so i can rip it off and put in in a portfolio. (Two others fit that bill... the afore-mentioned Art Adams, and Mike Mignola.)
As luck would have it, Mr Golden did this year's Emerald City Con poster. Check it out!!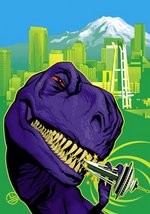 • A bitchin' looking show coming up at Gallery Nucleus, called featuring work from The Ancient Book of War. It's art by Scoot Morse and some of his pals from Pixar.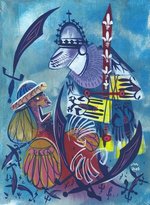 Morse is a freaking genius, and his buddies in animation are pretty much mind-blowing artists all around. As Tom (The Spurg) Spurgeon would say, "If i were in L.A., i'd go to this."
• Farel Dalrymple sent a link to an event here in Portland featuring Jonathan (Fortress of Solitude) Lethem ,with whom Farel is working on Omega Man.
Jonathan Lethem
April 12, 2007
Portland Arts & Lectures
• Meanwhile, two hours south in Eugene, old professor and friend of mine, Ken O'Connell currently has some work hanging at Jacobs Gallery in the Hult Center. He writes:
"Here are some images from the show of my sketchbooks from ITALY and the large, sometimes huge (2 feet by 4 feet) prints, that I have made from the sketches. I scan them at 1200 dots per inch and then enlarge and work on the image in photoshop. Then I printed on Summerset velvet rag paper with pigment archival inks. The paper is hung with eyelets soyou can see the paper without glass or plexi in front of it. The Show is up until April 21."
•Â Finally, feast your eyes on another Renee French piece for the Paris show she''' be in, with Jim Woodring, among others.