sad good-bye
March 20, 2007
• A sad day here at Top Shelf, with the recent news from Andrew D. Arnold, that he's ending his tenure at Time, as one of the most important figures in legitimizing comics into the mainstream, with his exceptional taste in comics, and a decidedly well-received column. His efforts will be missed.
You could do worse than spending some quality leisure time perusing his archived columns.
Best of luck, Andrew.
• The first arc ends for Ed Brubaker and Sean Phillips' Criminal. I loved this issue as much as any, and i HIGHLY recommend this book, but as happens often with serialized pamphlet comics, it seemed to end with a bit of a fizzle. This will read great as a trade, and i'm looking forward the to the next storyline.
Oh, and the mini-roundtable on Neo-Noir was excellent too. One of the reasons this is the ONLY monthly floppy i buy, knowing i'll buy the trade too.
• David Yurkovich (who's Death By Chocolate: Redux comes out in July) was recently interviewed at Comic World News, about his forthcoming Bill Mantlo tribute book.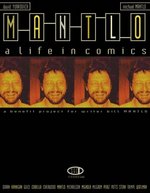 • Rob Vollmar (Author of Bluesman) is scheduled to be on a nationally syndicated radio show on NPR, HERE ON EARTH: RADIO WITHOUT BORDERS, Tuesday May 20th (today) from 3 to 4 PM CST. The show is highlighting the most recent issue of WORLD LITERATURE TODAY magazine that focuses on graphic novels as a literary phenomenon to which I contributed.
You can find out more, including local times and availability here.
The show will be archived on the site and available as an MP3 download for at least a month after the show airs.
• More nifty paintings from Gregory Benton, part of a show at the Aidan Savoy Gallery, 175 Stanton Street (east of Clinton) in NYC.
Deep End
Curated by Alix Sloan
With works by:
Diane Barcelowsky, Gregory Benton, William Crump, Jeffrey Decoster, Andrew DeGraff, Edward del Rosario, Cara Enteles, Marsea Goldberg, Frieda Gossett, Katherine Guillen, Matt Hansel, Jane Irish, Victor Kerlow, Zohar Lazar, Adele Mildred, Russell Nachman, Jennifer Poon, Sally Sloan, Erika Somogyi, Aaron Smith, Eric White and Courtney Wotherspoon
May 3 - June 2, 2007
Reception: Thursday, May 3rd, 7-10pm
• While DC puts out its fair share of really questionable comics, a couple recently solicited trades look fantastic.
Jimmy Olson. Reprints some whacky 60's-era stories. This book will be a great companion to the Bizzaro World and Imaginary Stories collections. (The latter of which also sports a bitchin' cover by the inimitable Brian Bolland.)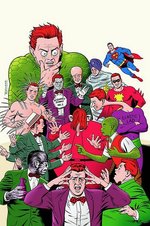 Batgirl. Also circa mid-60's, this baby features gorgeous art by two vets at their prime, Gil Kane and Carmine Infantino.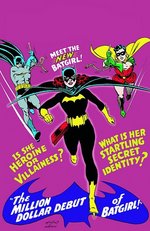 • Last Friday was Steve Lafler's birthday. Happy 50 Steve! And thanks for the great thai food spread! Here's a recent painting Steve did for his new book Cat Suit, and a picture Garret Izumi took at dinner last Friday. We're pretty blessed.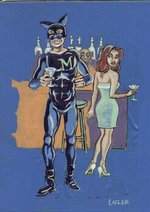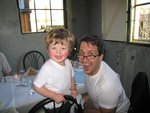 • And finally, as we pass four years of this incredible ill-begotten, oil-induced, cowboy adventure in Iraq, let's not forget the unlucky ones, and what the face of War really looks like. (Photo. Eros Hoagland. New York Times.)