off to see the wizard
March 30, 2006
Leaving early Friday morning for the Emerald City Con up in Seattle, so i won't be posting for a few days.
Meanwhile, our own Rich Koslowski (Three Fingers and The King), sent me an impassioned email a day or two ago, about how much he was blown away by a recent concert he and his wife Sandy attended. With permission, i'm reprinting it below. (Thanks, Rich!)
•••••••••••••••••••••••••••••••••••••••••••
[From an email by Rich Koslowski]
hey friends!
Sandy and i went to the Queen + Paul Rodgers concert last night and i feel compelled to tell you all that you absolutely must see this if you have the chance!
i have been the biggest Queen fan since i discovered them way back in 1982 (ish) when i snuck a wrapped christmas present my older brother, paul, had for me under the tree down to my room, slit it open along the side so i could slide it out and then put it back without being noticed and in the black of night hastily placed it on my turntable and sampled a bit of it before quickly putting it back in its wrapper taping the cut and placing it back under the tree! i only heard one song, "We Will Rock You!", but it was enough! from that day on i had discovered a magical world of music i had never before known. from there i went on to devour anything and everything i could find that they produced...and i loved it all.
when Freddy Mercury passed away in 1991 i was deeply saddened. devestated he was gone and that there wouldn't be any more Queen""""their music, their genius, and the fact that i'd never had a chance to see my favorite band live in concert. but then a couple albums came out posthumously...this helped a little.
when i heard about this concert tour (Queen + Paul Rodgers) a couple months back i was interested and definitely wanted to go but i was more than a little bit...concerned. i had mixed feelings about whether or not it would be any good. I'll be honest, i didn't know if the three remaining members with a new frontman""""established though he was""""would do Queen, as a whole, justice. without freddy?...like i said i was concerned. then i disovered that Brian May and Roger Taylor would be the only two of the three remaining Queen members doing the tour. no John Deacon. i was a little bit more concerned. bummed. i love John Deacon.
so, sandy and i went to the concert last night with more than a little bit of trepidation. we went out for a very nice dinner before going, though, had a wonderful meal, a little wine and started feeling pretty good.
once we got to the venue and saw the vendors handling the tour merchandise i got a little excited. i bought a tour program and a coin with the tour logo on it. the fans were standing 12 deep to buy this stuff by the way. haven't seen that kind of fervor over merchandise in a loooong time.
the crowd was about 5000-6000""""not the stadium sized sold out venues they use to fill back in the day, but strong nonetheless. and the crowd was more...mature than most concert crowds i'm used to seeing (i should mention at this point that i've seen well over 200 concerts) which made us both happy. we knew that we'd be able to comfortably sit and enjoy most of the show. so we sat down and had a beer while we waited the 20 minutes for the show to start, watching the people slowly fill the seats. we were still a bit concerned. we discussed, beforehand, our mutual "mixed feelings" and now we just sat and waited. i was a blank slate...i had no expectations whatsoever. i only hoped that they wouldn't embarrass themselves in any way. isn't that a terrible thought?
the pre-show music was good. set a nice mood. the intro music when the lights went down was surprising. Eminem?! what the ...? but it fit. and it was altered...Brian May? he is a genius with mixing sounds. my heart started pumping...i got goosebumps and a small smile crept across my face. would i be pleasantly surprised tonight?
what happened next completely took me by surprise. i heard the sound of Brian May's guitar start the wonderful "Tie Your Mother Down" riff and i started to cry. not bawl or anything""""i'm far too manly""""but i got choked up. over the course of the next 3 hours i would get "choked up" about 8 or 9 more times. it was the single best concert i have ever seen. sandy agreed. Freddy Mercury can never be replaced but this was, in a way, even better than if he were there. i know that may sound ridiculous to some""""and i would have said no way if you'd have told me that beforehand""""but it's true. this was an inspiring tribute of sorts. inspiring beyond description. and they did it flawlessly. absolute professionals. they didn't go over-the-top with tributes to Freddy, or try and pick a lead singer who sounded just like him...they just went out there and sang the absolute shit out of the best songs ever made. it was so unbelievably moving i can't even describe. the version they did of "Hammer To Fall" is, alone, worth the price of admission...absolutely beautiful.
so, if you're even the most mild of Queen fans (or Bad company for that matter.they did four great BC songs) you really should go see this concert. if you are a bigtime Queen fan you absolutely owe it to yourself to go! after what i saw last night...i would never forgive myself for not going. trust me.
i've never lied to you before.
best,
rich and sandy koslowski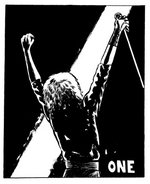 Oh, and for the hard-core Queen fans out there, i highly recommend you head over to cartoonist Mike Dawson's website for a sneak-peek at his forthcoming graphic novel, Freddie and Me, an autobiographical journey of a big Queen fan. It's really kick ass work, and i can't wait to pick this up when it's done.