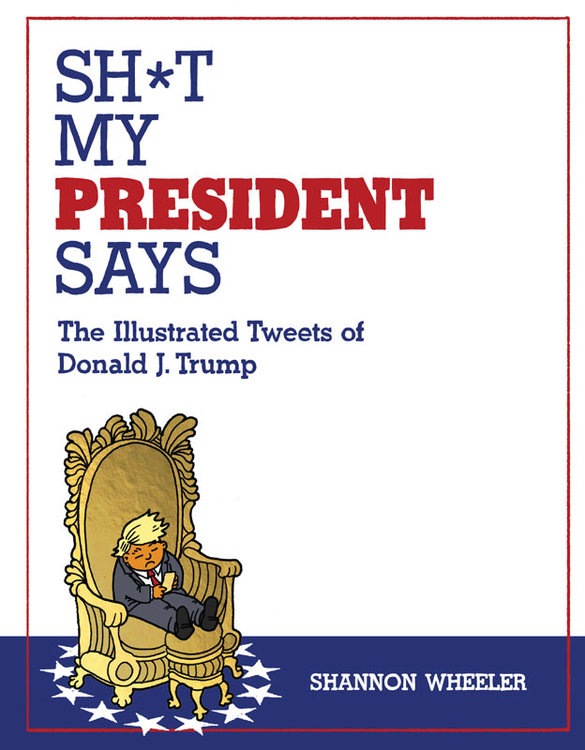 FDR had radio. JFK had TV. Trump has Twitter.
Some people are saying, I don't know, you tell me, but a lot of people are saying this is the greatest book of the year. This guy, Shannon Wheeler, he draws these cartoons for the New Yorker, MAD, the Onion — he's very, very, good, okay? Now he's illustrated the most incredible tweets. Wow! You won't believe what he does with these tweets. I mean, these tweets changed the world, folks. It's true! It's very true. EVERYONE is going to want this book — even the haters and losers (Sad!).
"Shannon Wheeler drew a book I wish I had thought of; that's the ultimate compliment I can offer in 140 characters! #buyit #wheelerisagenius" —Jack Ohman, winner of the Pulitzer Prize for Editorial Cartooning
"A book of cartoons written by a living caricature and illustrated by one of the best cartoonists working. It's like peanut butter and chocolate! Or maybe unregulated toxic waste and chocolate. In any case, it perfectly captures the grim absurdity of life in the darkest timeline." —Tom Tomorrow, creator of This Modern World
Acclaimed cartoonist Shannon Wheeler (The New Yorker, God Is Disappointed in You, Too Much Coffee Man) transforms Donald Trump's most revealing tweets into razor-sharp cartoons, offering a subversive and illuminating insight into the mind of the most divisive political figure of our time. Whether you love him or hate him, this take on Trump will help you come to grips with the man and his ideas thanks to Wheeler's signature mix of slapstick and sophistication. -- a 120-page hardcover book of cartoons, 5" x 6.5"
SHIPPING AUGUST 2017!
Reviews
---
Related Titles