March 27, 2006 / More →
I was recently forwarded an essay written from the School Library Journal, written by a school media specialist (librarian?) who has discovered how absolutely compelling comics can still be for kids (who generally simply don't have any exposure to comics), and what great educational tools they can be.
It's a wonderfully comprehensive article, easy to understand for the uninitiated, and chock full of anecdotes and recommendations. Including several Top Shelf titles: Owly, Pinky & Stinky, and Monkey vs Robot.
The article was written by Allyson Lyga, and published in School Library Journal Vol. 52, Issue #3, March 2006.
Here are two fabulous excerpts. The first provides an example of her firm grasp of what makes the medium tick, while the second is a testimonial which centers on Andy Runton's Owly.
* Brain Food
I always like to say that, educationally speaking, graphic novels give
the brain more of a workout per sentence than any other type of media,
including conventional books. That's because as a reader takes in a
graphic novel's print and art through a series of panels, word balloons,
and captions, the reader's brain is bombarded simultaneously with the
graphic novel's characters, setting, plot, and action. So if a parent or
teacher claims that reading graphic novels isn't much of a challenge for
a child, hand him one. Explain how the brain works to comprehend the
story and how it detects the subtle nuances of the characters' facial
expressions.
* SINCE I STARTED STOCKING OUR SCHOOL LIBRARY WITH graphic novels six
years ago, I've discovered that kids love them...
Of course not everyone thinks graphic novels are wonderful. Some
teachers, parents, and even media specialists wonder if they're even
appropriate for young students to read. Are graphic novels really worth
purchasing? Or do they just pander to kids' wants without meeting their
educational needs? To best answer those questions, let me share a
typical experience I had with one of our third graders, a below-average
reader named Bryonna.
Bryonna checked out a copy of Owly, one of our most popular graphic
novels, earlier in the year. She came up to me before class and held it
up: "I love this book," she said. "It's my favorite book!", I was
thrilled and wanted to know more. "It's a story about friendship, and
there aren't any words in the book," she told me. "I read the story to
my two-year-old sister, and she loved it, too!", "How did you read a
book without words?", I asked her. Bryonna explained that when she
looked at the pictures she thought about the words the characters were
saying and she visualized the words in her head. Then, when she read the
story to her sister, she created the dialogue and story based on the
pictures.
---
March 25, 2006 / More →
No excuses for not posting these last few days, but damn, so much happening. As i wrap up everything on Lost Girls, i needed to make PDFs of each book for Staros to do a final review of... each book as a PDF is over 500MB. This is so huge, it was bogging down my computer so badly, i couldn't perform any other functions. Crazy crazy stuff. Needless to say, this last minute stress is so worth the fact that we're THIS close to sending the book to the printer. It's been a long long time coming.
Meanwhile, waiting for cds to burn and what have you, i got caught up on a little reading.
• Papercutter #2 (Tugboat Press).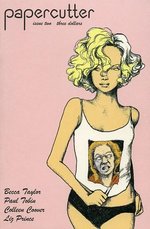 Edited by Greg (Clutch) Means, this is the little anthology that could. I'd say this is the most vital of all current anthologies at the moment -- in part because it's so unassuming, and given it's smaller, mini-comic stature, so much less pretentious in this age of excessive & gratuitous anthologies.
The cover and lead story are by a cartoonist new to me, Becca Taylor, and boy do i love this strip, title "Cherchez la Femme." Told in a unique montage style, and rendered with a fine line and occasional grey-tones, Becca's tale jumps through time and ostensibly tells the tale of a controversial actress's life story. But lurking beneath this simple plot lies a subtext that explores gender roles in Hollywood, the hot & cold trajectory of celebrity, and a scathing indictment of the role of the media in all of this. Excellent.
Next is a fabulous mystery fairy-tale called "Criminal Intent," by Colleen Coover and Paul Tobin, which could almost be called an "Elseworlds" story about Catwoman. It's a simple enough idea, about a hottie cat-burglar who steals not just jewels and what have you, from a small (British?) town, but also the hearts of the townsmen too. But what makes this strip really cook is Colleen's incredible art. Coover is developing a style of magic realism that border's on sublime, reminding somewhat me of Hope Larson's beautiful work. Colleen Coover is the real deal, and i can't wait to see what she does next. That is, after the release of her collected Oni book, Banana Sunday.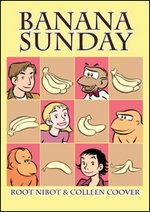 Last up is a cute little 3-pager by Liz Prince, "Ghost Buddies," that stretches her single-page strips as seen in Will You Still Love Me if I Wet the Bed?, and works towards developing a slightly longer narrative. Fanciful and fun, it's great to see Liz getting more of her work out there, knowing that her admiral goal at the moment is finishing school.
•Â Comic Effect #44.
Jim Kingman's Comic Effect is an old-school zine about one man's love of comics, and it can be quite infectious. While he holds the door open for other contributors, ultimately the zine is fully infused with Jim's sensibilities, and his proclivities towards Silver Age DC Comics. There are occasional nods towards a variety of subject matter, including a props for a few Top Shelf books, but for the most part, it's an unapologetic love fest for men-in-tights comics. (Which is why i love this zine so much, being a fanboy myself.)
But the essay that grabbed me most in this issue, is a treatise by Jason Sacks on DCs ill-fated comic book from the late 60's (under the experimental editorship of Carmine Infantino, i believe), of Joe Simon's wacky Brother Power the Geek, #1 & 2. After a little bit of background, Sacks goes on at length to describe the contents of what can only be called a Dada-esque ride, comparable to some of the more esoteric works by our contemporary madman Grant Morrison.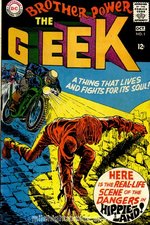 Now, i realize there's probably zero chance that DC would ever collect these two issues into one prestige format book, but for the record, i'd buy it!!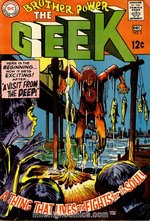 •Â Not sure if anyone cares, but here's what i'll be looking to pick up come June, from the new Diamond Previews catalog. But first, can i just say how absolutely freaking stupid the new "Spider-Man" costume looks. Wow. This is really really lame. (I haven't read anything about it actually... certainly none of the comics. And i don't intend to, no offense to the WFH creators.)
From front to back.
DC COMICS:
Absolute Kingdom Come. This is how Alex Ross (whose work is fascist, according to some) should be seen. Especially the wildy over-the-top shit like this. (His "serious" comics, with Paul Dini are played WAY too straight, and suck pretty bad, for my tastes.)
Seven Soldiers of Victory vol. 4. I'm waiting until this is all collected before i dive in, which is how i prefer to read finite projects.
Showcase Presents Elongated Man. Worth the price of admission for the Gil Kane Batman back-ups alone. Wacky wacky stuff. This is a perfect example of why i'm liking DC's b&w phonebooks so much more than the Marvel Essentials. (Plus they have better trade dress and overall production values.)
MARVEL:
The Eternals oversized hardcover, by Jack Kirby. 'Nuff said.
Daredevil vol. 5 oversized hardcover. The end of Bendis' definitive and superlative run. Just amazing comics. (I hear The Brube is doing well out of the gate as the new writer taking over with this title. Looking forward to it... here's hoping Marvel will continue with the hardcover collections.)
FF / Iron Man: Big in Japan tpb. Seth Fisher's final major work, drawn on location in Japan. Worth buying for the pictures alone.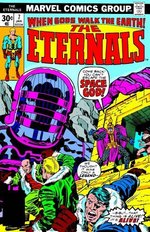 DARK HORSE:
B.P.R.D: The Black Flame. Guy Davis is amazing.
The Artist Within. Greg Preston's BRILLIANT collection of photographs of cartoonists in their own studios. This is a book that got away from us... we simply dropped the ball with Greg, and he (rightfully) bailed to Dark Horse. I literally cannot recommend this book enough. Every portrait is a masterpiece. Order one now.
The Comics, by Jerry Robinson. I've been looking for a good-condition copy of this highly regarded historical tome for years, and now the wait is over. Beautiful cover too.
IMAGE:
Fear Agent: Re-Ignition tpb, by Rick Remender and Tony Moore. Tony Moore blew me away with his work on the early issues of Walking Dead, and Rick made me laugh my ass off at WonderCon this year, so i'm jumping in blind.
(maybe) The Drowners, by Nabiel Kanan. I've heard nothing about this, and since his work is hit or miss for me, i'll wait until i hear something about it. Anything.
AdHOUSE:
- Skyscrapers of the Midwest, by Josh Cotter. A new issue of some fabulously deranged comics. Gets under the skin, it does.
DRAWN & QUARTERLY:
Get A Life, by Dupuy & Berberian. One of the French greats, by a team who is virtually flawless. Can't wait to be reading this. Good job D&Q.
Maybe Later, also by by Dupuy & Berberian. A production diary of sorts, breaking down the odd way in which they divide their duties.
FANTAGRAPHICS:
Pussey!, by Dan Clowes. The only collection of his Eightball oeuvre i don't already own, FINALLY back in print. Goddamn funny comics.
Bardin the Superrealist, by Max. Fanta gets into the euro-reprint game, this one by the Spanish master.
Comics As Art. A history of Fantagraphics, by ex editor-in-chief of the Comics Journal, Tom Spurgeon.
Passionella and Other Stories, by Jules Feiffer. I have a battered old softcover edition of this, and would love to have a nice new hardcover. Kudos. (This is hands-down my favorite era of Feiffer's career. His acerbic handle of the neurosis of the Cosmopolitan 50s is wonderful.)
IDW:
Tommyrot: The Art of Ben Templesmith. When this guy is on, he's astounding. In the Impressionist school, his work on the 30 Days of Night trilogy (with Steve Niles) rocks.
VANGUARD:
- Wally's World. Vanguard has a varied track record with their production values. If this looks good, who can't resist an illustrated biography of Wally Wood.
(Publisher unknown)
- Art Out of Time, edited by Dan Nadel. Well Nadel is really cranking out some great stuff these days … including a feature on Renee French in the current issue of Print magazine. And this glorious looking art book, highlighting 30 (mostly) unknown American comics artists from the first 2/3rds of the 20th Century looks to be a must-have reference. (Crossing my fingers that the production values kick my ass. But if it's as nice as Nadel's zine, the Ganzfeld, i have nothing to worry about.)
Still want to mention some nice comments about Andy Runton's Owly series in a recent edition of the School Library Journal. Next time.
---
March 22, 2006 / More →
Continuing my critique of the Comics Journal #273, i was into the Firing Line section; there two more reviews in here, including a rather ambiguous one of our own Legend of Wild Man Fischer (by Dennis Eichhorn and J.R. WIlliams). But it's a review for John Porcellino's brilliant graphic novel Diary of a Mosquito Abatement Man … published by La Mano and originally serialized in John P.'s seminal mini-comic King Cat.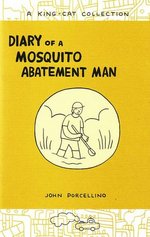 For the uninitiated, King Cat is one of the greatest comics ever, mini-comic or not. There is a humanism that runs deep in Porcellino's work; an appreciation for the natural world and a sense of place; a compassion for life. I'm reminded of Sand County Almanac, Ralph Waldo Emerson, Aaron Cometbus, Neil Young, and Pablo Picasso. And yet he so so uniquely singular. His book has been regularly coming out for longer than i've been reading indy comics (going on 20 years or so), and is up to issue #66, by my last count. If you have never read this work, you're really missing out.
Moving back to the review, which was a glowing review, and fairly interesting... until a throw-away comment turned the writer's argument upside down.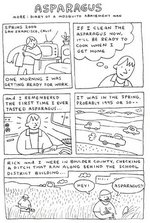 [Oooops! I have to run out for a happy-hour date with a couple pals, throw down a pint or two, and i'll continue then.]
Mmmm.... beer.
O.k, back to the Porcellino review. Near the very end of this review, the writer comments on how he feels that John P.'s intent was, that any sense of awe about life in general is misguided, but in this case only because of one isolated series of events in John's career killing bugs. The reviewer, Tim Kreider writes, "In this haunting coda Porcellino renounces the Kochalkan pose of wide-eyed-wonder-at-the-magic-of-the-world as so much self-deluding bullshit..."
At this point, i have to ask, who is the self-deluding bullshitter. It is here where Kreider betrays his grasp at the bulk of Porcellino 's work in his attempt to (for whatever personal reasons) bash on themes that both Porcellino and Kochalka share, and disrespect the work of James Kochalka.
Kochalka is indeed somewhat of an optimist. But a cursory glance at virtually any single issue of Porcellino's King Cat with yield an strikingly similar world view. That there is indeed magic in the every day.
To check myself, i just pulled out my run of King Cat comics, and the second issue i grabbed (#54) leads offf with a story titled "Secret World." The narrative is basically a wordless montage of images of John, his cat Kukok (named after former Bull's forward, the Eastern European player Tony Kukoc), and his pal Zak, as they coast through the day … romping through fields, walking to the city, drinking coffee and enjoying the moment. The last page has the only narration, which reads, "The secret world is the ordinary world. Buddha nature is always fully formed."
And John P/'s comics are FULL to brimming with this very "wide-eyed-wonder-at-the-magic-of-the-world." So to use a derogatory reference to the comics of James Kochalka, whose themes virtually mirror those of John Porcellino, in order to support a singular and specific observation by John P. in Diary of a Mosquito Abatement Man, is bullshit of the highest order.
Kreiner's hatred for Kochalka either outweighs his appreciation for John P., or else he's simply not very familiar with his oeuvre. Either way, it makes for a poor, biased and self-defeating review. So sad.
To wrap the TCJ series here, i'll just say that Dirk Deppey conducted an amazingly entertaining interview with Eddie Campbell, erudite and raconteur to the end. What impressed me most about this affair, was how well researched Dirk was in his preparation.
Prefacing the interview is an appreciation for Eddie's work in general, and a nice piece by Rob Vollmar titled "The Importance of Being Bacchus."
In the end, as always with the Comics Journal, any specific problems i have with this issue are super-ceded by the general excellence throughout.
NEXT: Second issue of Paper Cutter #2, and Comic Effect #44.
---
March 20, 2006 / More →
Cleaning up scanned pages in Photoshop of the digital From Hell files Eddie Campbell sent to me, made from master photocopies he made back when the book was first finished. (He's sold all of the originals long ago.) Most of you have probably heard the troubles we've had trying to get From Hell back into print, after a long long wait, so i'll spare you the details. (And if you haven't let me know, and maybe i'll post to the blog about it.) Needless to say, it's a real bummer that we don't have the book in print for the first crush of heat for Alan Moore, emanating from "V" For Vendetta.
Anyway, i working away and thought i tune into Meet the Press for a little background noise while i'm doing so. Wow, what an episode.
*** Spoiler Alert!!! Balls Found to Reside in "Journalist" Tim Russert's Scrotum After All***
First on was General George Casey. Now, i've seen Casey on television many times before, but it's been a while. He normally holds himself together pretty well. But lo and behold, Russert came out with guns blazing on this, the third anniversary of the Iraq war. He asked pointed questions, held his ground, and held Casey to account for rosey statements made in the past about how smashingly everything had been going.
What i witnessed would have been amusing, but given the implications, i'd have to say my emotions are now running a little more to the disturbed side. Casey was literally squirming in his seat, stuttering and talking in circles. At one point his eyes started nervously darting off-camera, as if looking for a safety line from one of his handlers. Very very surreal, and decidedly not a feel good moment. Read the transcript here.
(Second up was Congressman Jack Murtha, his balls firmly in place, continuing his plea to reassess the situation, redeploy the troops in the region, and figure out a better plan … ANY plan … before more American troops are needlessly endangered.)
And now onto more thoughts on the Comics Journal #273. Continuing a tour through the Newswatch section. (Last episode i mentioned the first entry in Newswatch, the very well considered and executed piece on creator contracts with corporations, and the like.) Moving along we have a short piece on the news that the Harveys are, once again, changing venue, from MoCCA to Baltimore. A decent piece, especially considering i don't recall reading anything remotely in depth about this anywhere else. The Harvey Award deserves some stability. Best of luck to Marc Nathan with this endeavor.
(For the record, while i agree that MoCCA had some problems, and the price tag was WAAAY too steep for attendees, and the sit-down meal a bit extravagant, i have to confess that i had a rip-roaring time the last time i attended, two years ago, hanging out with Chris [AdHouse] Pitzer and Robbie [iDW] Robbins. Maybe it had something to do with the really hot girls walking around with free samples of various liquor concoctions, paid for by some fancy vodka manufacturer. I think it was Ketel One or Skyy. They just kept coming around. It wasn't my fault. At any rate, needless to say i got a wee bit tipsy, and i must say i had more fun at this show than i've ever had at the faaar tooooo loooong Eisner Awards.)
Next in Newswatch, a piece on the struggling, yet "restructuring" Alias Comics Enterprises. It seemed a good set-the-record-straight type of affair, but to be honest, that was one story i haven't been keeping up on, so i'm hardly qualified to formulate a response.
And now we're up to Journal Datebook section, edited by Greg Stump. For those who don't read the Comics Journal, this is one reason (IF you consider yourself a hard-core comics lover) you should. Basically shorter news soundbites, you find more not-quite-mainstream news information here than most of the web-comics content combined. (Although to be fair, Tom Spurgeon is graciously filling this gap quite nicely at his superb Comics Reporter site, with similar type news items that no one else deems otherwise newsworthy.)
Headlines include: Robert White, Artist for Archie Comics, Dies; Luckovich Causes Stir with Iraq Cartoon; and (Zak) Sally Leaves Low (indy rock band) to Focus on Solo Endeavors. (More on Zak Sally's publishing imprint, La Mano next post, in my response to a review of John Porcellino's stellar Diary of a Mosquito Abatement Man graphic novel.)
In the Firing Line section (reviews) this issue, several entries, the first a really ambiguous slam/appreciation (?) about being a Neil Gaiman fan. Perplexing stuff. This is the sort pseudo-intellectually, poorly reasoned, ultimately meaningless type of dross that always seems to bring TCJ down a notch or two. Even if valid points might be made, the snarky attitude just serves to distance the reviewer from the reader.
Next in the Firing Line, Rich Kreiner offers ample evidence as to how good and why Frank King's sublime Gasoline Alley was so amazing. And believe me, it really really is spectacular work. Go pick up Drawn & Quarterly's first collection of the daily strips, titled Walt & Skeezix. (You can thank me later, it's really that good.)
(So tired... More to come.)
---
March 18, 2006 / More →
As i mentioned a few days ago, i thought the blog would be a great venue for me to spill some thoughts on the second most recent Comics Journal; the one with the Eddie Campbell cover feature, #273. (They are releasing these way too fast for me to keep up.)
First, let me just say up front that i LOVE the Comics Journal. I think it's fair to call the Comics Journal, since the time that Gary Groth bought the Nostalgia Journal about a hundred years ago, was and is the single most important journalistic magazine about the comics medium and business that we've ever seen in North America. It's been coming out consistently for much longer than i've been reading (i started reading in earnest in about 1990 or so), and even when it was suffering its weakest and meanest incarnation (under Milo George, IMHO), with lame interviews, untimely news, and vitriolic reviews, there was still enough going for it to make it downright vital. And now, under the helm of Dirk Deppey, it's reaching towards heights i haven't seen since the Groth years. (Gushing done.)
Issue #273 starts with the ever-lovin' Blood & Thunder, the letters section. Tom Spurgeon (editor of the Comics Reporter), given a chance at the "last word" on a series of critical "report-card" overviews of various comics websites (by news editor Michael Dean) later on in the magazine, shows class by posting his "last word" up front in B&T so that in fact, Michael Dean can have the last "last word" in his own defense. An honorable decision by The Spurg, and indeed his response is very pointed.
(Just for some context; this series of articles were across the board absolutely brutal, accusing each of the websites [including Newsarama, the Pulse, the Comics Reporter, the Beat, and Lying in the Gutters, to name a few] as not living up to Dean's expectations of journalistic integrity as investigative news organs.)
Spurgeon comes out swingin' and in a nutshell blew a gaping hole in Dean's entire conceit (and one to which Dean himself freely admits); which is that not a single of the targets in his reports has ever laid claim to be "investigative" news sources in the first place. Dean then spins large amounts of fuzzy logic (isn't that called Bullshit?) in his defense, and as a result, his wrap up of the entire series has been entirely deflated and rendered all but meaningless.
And THEN, in his introduction to the final segment of "Online Comics Journalism: Does it Exist?," wherein he gives right to the "last word" to the website editors themselves, Dean has the temerity to take that "last word" away from them, by preemptively responding to their responses before the reader even has a chance to read them.
And THIS, in a nutshell, has been my big beef with the Comics Journal since the first issue i ever sat down to; no matter how long an issue may have been been debated (many debates lasting for several issues), and how absolutely wrong or misguided they have been proven to be, they ALWAYS throw in the last word, and NEVER admit to guilt. (It sounds like the Bush Administration, doesn't it? But that's an unfair comparison, since the Comics Journal has never been responsible for so much fuckery and death.)
Every single editor and/or story-writer (who's been the subject of debate) has done it, as far as i can remember. This bias has always left a bad taste in my all these years, beyond journalistic prerogative and leaning towards belligerent.
So anyway, my report card on this series of articles? C-
But then, on the flipside, Michael Dean's first article in the Newswatch section (a self-explanatory piece called "Comics and Corporations: Creativity Under Contract") is superb. A well-researched and well-considered examination of some recently leaked creator contracts, and a bit of reaching back in time to provide context. This is is why i do so love TCJ, in spit of my previous protestations.
And -- oh my!, it's past 2:00 a.m. So tired. Next, i'll start with discussing the Journal Datebook.
See you then.
---
March 15, 2006 / More →
Spent a long crazy weekend in Phoenix, visiting Aunt and cousin and family. Left cold and raining Portland on a 6:30 a.m. flight, looking forward to a pleasant 70 - 75 degrees in the desert, only to arrive, and it's unseasonably f*cking COLD & WET!! (The entire suburb i was in, called Gilbert, was flooding in the margins.) What gives?!
Then to make matters worse, in the middle of the weekend, seven out of ten of us got either a freakishly-timed 24-hour flu, or a nasty case of food poisoning; up all-night for a fun puke-fest, and/or, well, purging while NOT puking, if you get my drift.
And to top off the trip, a handful of outreach calls to the local comics shops (where i surreptitiously first ask if they have BLANKETS in stock), turned out horribly. Absolute bust. Makes me realize the continuous uphill battle small publishers face in reaching direct-market retailers. (To date, by far the best store that i've been to in the Phoenix area is Ash Ave. Comics [Tempe]. If anyone has information on any other really stellar comics shops in and around Phoenix, PLEASE let me know. I'll post it to the blog, and get in for a visit next time i'm down.)
On the plus side of our descent into March Madness in the Desert, i got to watch a couple Suns games (the second of which was a rare win by my hometown Trailblazers, the best underachievers in the league), AND i got to read the second most recent Comics Journal, #273: The Eddie Campbell interview issue.
I'll write about my thoughts on this issue over the next few days. (As my headline said a few weeks ago, I Love the Comics Journal, i Hate the Comics Journal... but mostly i LOVE it!!)
Lastly, GREAT post over at The Hurting about how much Marvel & DC play a sucka's game vying for direct-market market share with their big d*cks, er... i mean "events," but in so doing still manage to keep a boot heel on the neck of the fringes, and diminishing the reach of far too many intelligent, sophisticated, illuminating and beautiful works.
---
March 9, 2006 / More →
My hat is off to reader Chris Rice, who wrote in to inform me exactly who it was that published that fabulous Metropol hardcover i was gushing over while crashing Philip Simon's housewarming party a couple weeks ago. Many thanks, Chris.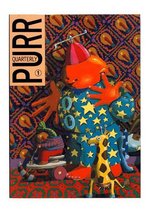 Chris writes:
I read on your blog about the Metropol HC you saw, thought you might like a little more info. It was published by a small company called Blue Eyed Dog in the mid-nineties, a company founded by English journalists Cathi Unsworth and David O'Sullivan. Igor Goldkind was involved as well (as he seemed to be in everything in London between the mid 80s-90s). They didn't last long, although they put out several issues of a wonderful magazine called Purr, a combination of words and comics, which had writing by Harry Crews, Hubert Selby, Henry Rollins, Iggy Pop and others, plus articles about McKeever, Dame Darcy, Edward Gorey, Crews, HR Giger...the list goes on. They put out records too, mainly a series of split 10" editions which included bands like Tindersticks and Gallon Drunk.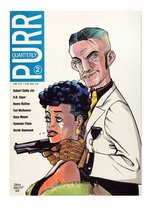 Metropol was their first colletion, with a Richard Kern book scheduled to follow, but something went wrong almost immediately after Metropol came out, and it was the last thing they ever published.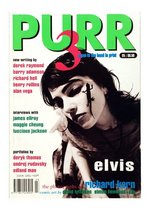 Brett writes:
Damn, i'd love to stumble across an issue or two of this Purr magazine. Looked pretty groovy.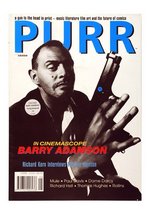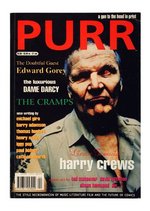 ---
March 4, 2006 / More →
...i love the Comics Journal, i hate the Comics Journal. But really, i do love the Comics Journal.
I've been more strapped for time than any person should be lately, but found some time in the last few days to read a couple issues of "TCJ," starting with issue # 271, featuring a fabulous interview with our own Renee French; including shop talk about her forthcoming Top Shelf graphic novel, The Ticking.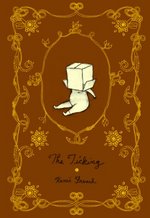 (And speaking of. Holy shit, people, i just got a handful of copies of The Ticking airmailed in from China -- the rest are literally on the slow boat coming across the Pacific Ocean -- and i must say, this is possibly the single most beautiful book we've ever published. The highest props possible go out to Jordan Crane, designer and cartoonist supreme. Seriously, you have to see this luscious, chocolate colored cloth cover hardback, with gold leaf ornament and an embossed central image, to believe it. And it's hands down Renee's magnum opus. Kudos to both Renee and Jordan. The book will be available in maybe a month or five weeks? Depending on when that ship comes in.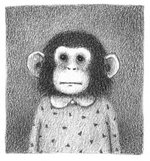 But getting back to the Comics Journal. First, let me preface this by saying that what has made TCJ essential again, is the stewardship of the relatively new editor-in-chief, Dirk Deppey. Yes, there is still an occasional starky tone, and loads of biased, self-righteous reviews, but the meat is back on the bone, and the magazine is vital again. Excellent!
The real reason i was compelled to write this though, is the absolutely delightful, 2-part interview (conducted in two issues, #271 and #272) Gary Groth conducted with Jerry Robinson, known mostly for his (uncredited) work with Bob Kane on the early Batman material. (Alongside the also uncredited Bill Finger.) Sure this is interesting stuff, but i had no idea what a Renaissance Man this dude really was. His illustration work; teaching with Hogarth at SVA; starting his own newspaper comics syndicate; drawing a long-running, six-days-a-week, syndicated comic strip; and, most presciently, as the President of the National Cartoonists Society, his challenging work to free a jailed political cartoonist from prison, for challenging his government in Uruguay.
What a freaking stud, I had NO IDEA!! Many many thanks to Gary and the Comics Journal for this MOST entertaining, enlightening, and inspirational interview.
Oh, and the most recent edition of TCJ has a spirited Blood & Thunder section (letters pages), like i haven't seen since i started reading this most important of industry publications almost 17 years ago.
Viva la Comics Journal!!
---
March 1, 2006 / More →
Drove a couple hours south to Eugene yesterday (with a dislocated rib burning in my back, no less), to see a lecture by Art Spiegelman, for the University of Oregon's Comparative Lit program, and needless to say, i was blown away. This Standing in the Shadow of No Towers / Comics History gig isn't anything people haven't been reading about for years, and i'm presuming this was a variation on the lecture he's given maybe a hundred times … considering the ease and wit with which he spoke … but the timing couldn't have been better, since he included as well a slideshow of, and a fabulous context for, the current and raging Danish cartoons controversy.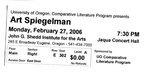 As he pointed out, there's been NOTHING reprinted here in the American (print) media, although it's not too hard to find them surfing around the web a bit. Heretofore i'd seen not a single of these twelve incendiary images. Art filled in so much background into this stunning development (right-leaning editors wanting to intentionally incite a negative response by the nation's Islamic population), that i now have a much greater appreciation for this whole affair, and its developing implications. It sure would suck to have a price on one's head by some angry fundamentalists.
I just checked out Tom Spurgeon's Comics Reporter, and he does indeed have a link to these cartoons.
(As an aside, he also described a similar controversy which happened in the U.S. about a hundred years ago, in which a dispute about political caricatures resulted in proposed …Â and failed …Â legislation that would BAN all political cartoons which casted a bad light on the politico in question, punishable by a year or two in prison, and a $1,000 fine. Wow. And the really crazy thing is how much the climate is tilting that direction again now.)
Art also showcased three cartoons which he banged out last week, just in time to appear in the current issue of the New Yorker* (Feb 27, 2002, cover title "Watch Your Back Mountain" starring Dick & W.). Said cartoons being Art's impulsive response to Iran's "Anti-Semitic Cartoon Contest." (All three using different technique and tones.) This is not a joke. But cooler still, he showed us an as-yet unpublished cartoon that he'd drawn less than a day later (but past the deadline), which responds to what he'd been told was an even more restricting edict for the contest; that the cartoon needed ALSO to refute the existence of the Holocaust.
This sublime full-page piece viewed from a perspective from inside one of the infamous concentration camps, piles of bodies everywhere, shows and a single man amongst many downtrodden prisoners lining up to the gas-chamber, a smile beaming from his happy face, saying something to the effect that, he's not worried, since this isn't "really" happening. Brutal freaking image. I think Art said this will be running in the Nation perhaps? (But don't hold me to it.)
Lastly, peppered throughout the presentation were snippets of Art's autobiographical, comics-form introduction to a forthcoming collection of his long out-of-print Breakdowns material. Can't wait for this!!
I've had so much respect for what he's done over the years (going WAAY back to my love of Wacky Packages), and while i knew that he was a respected comics historian, i was not prepared for such a truly dazzling intellect, nor did i suspect he'd be a real, charming, laid back guy. (I'll admit i was expecting more of the neurotic New York persona he can make himself out to be in his cartoons.)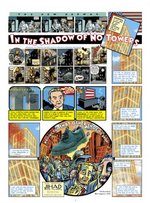 * (This new issue of the New Yorker also has a gorgeous full-page cartoon by none other than the revered Dutch cartoonist Joost Swarte.)
And on a totally different note, the new issue of Mass Appeal i recently picked up, has a tastefully laid out interview with the legendary Dan Clowes. Always nice to see comics bridging over into the mainstream.
Lastly, sad to see another one bite the dust. R.I.P. Speakeasy Comics. There's not much more i can add to this post-mortem, really, so i won't.
Good-bye.
---
February 25, 2006 / More →
Well, not me, but Staros is in NYC right now. As soon as i hear back from him i'll post a brief report. I see mention of this New York show on the newsites already, with lots of the "buzz" announcements that Marvel & DC are fond of doing at established big shows. You know, "This guy goes exclusive...," and "The fifteenth relaunch of that [franchise super-hero] debuts by such & such creative team." Clearly it seems they're hoping to make their home turf work to this advantage as well. While i certainly value using conventions for their publicity value, i'd like to see the Big Two (and the larger mid-size companies) do something a little more creative at these shows. Follow the European vibe and create exhibits which celebrate what we have, in the moment. Ah well... it's late, and i'm rambling nonsense. Must... finish.. blog.
At any rate, tonight was also fun me too, as i got out of the house and met my sister Nicky at Biddy's Irish pub for happy hour, and enjoyed some tasty music by local legends (in the hillybilly/folk/roots scene), Billy Kennedy and Lyne Conover. Haven't seen these folks for a long spell, and it sure was nice to do a little dancin'. These cats can really get down.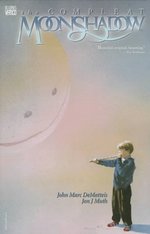 Then it was off to Dark Horse editor Philip Simon's pad (along with his girly Kate), for a smallish housewarming party. One of my favorite things about visiting friends in comics is checking out their bookshelves, anticipating the chance of finding some beautiful treasure i've never seen. Tonight was no exception... the first thing i laid my eyes upon was a fabulous 10-year old hardcover edition (in b&w) of Ted McKeever's Metropol. I never even knew this existed, and didn't catch who published it. He also had a luscious hardcover edition of DeMatteis & Muth's Moonshadow, which … based on the stellar production …Â had to be an older Graphitti Designs edition.
(* Side note, right next to that was an older softcover edition of Frank Miller's Ronin. I Freaking LOVED that book when it came out [and still do, of course], but it got me wondering if DC, or anyone else ever did a hardcover version of that. Anybody ever heard of this?)
Anyway, present at the shindig were a few folks i know, including Mark, the ex-proprietor of the old Dr. Tongue's toy store; Shannon Stewart, current proprietor of the new toy store Missing Link (over on Belmont, across from the old dairy); Craig Thompson and his new gal Julie; and Andy, owner of the portland comic shop Cosmic Monkey.
Philip is from New Orleans, and in honor of his bruised & battered hometown, the hoedown was a full-on cajun affair. He made a homemade gumbo that kicked my ass!! I had already eaten dinner, but it was all i could do to not eat more than the two bowls i harveled down.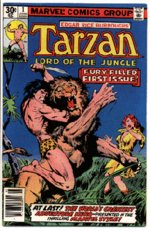 Philip is one cool cucumber, and was recently promoted at Dark Horse. Well deserved, i might add. He's been working on the Joe Kubert Tarzan archival books as of late, and for some reason had a spare copy (which he graciously gave to me) of a French edition, oversized hardcover of the first eight issues of Tarzan, John Buscema drew for Marvel, back in the early 80s. I wouldn't say it was his most enthusiastically drawn comics overall, but the first two issues, which he inked himself are absolutely inspired …Â especially in b&w. Really gorgeous material, rooted in the Milt Canniff / Hugo Pratt school of expressive realism. I did a quick search and found a website that had a couple preliminary sketches John did on this run. Buscema is vastly underrated, i believe. Perhaps he gets flack for How to Draw Comics the Marvel Way. Myself, i love this book.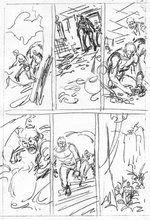 That this book is in French is even better. I cracked it open, to read (in a chest-beating pose), "Je Suis Tarzan!!"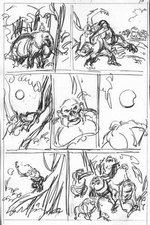 Magnifique!!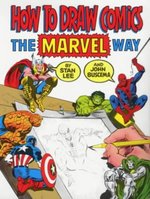 ---
February 22, 2006 / More →
Too freaking busy to write a real post right now. At any rate, let me at least post a few more sketches that Aaron Renier whipped up for two different postcards. One is a general promotional image for his graphic novel Spiral-Bound, and the other is for our Christmas card, due out in 10 months. These are the final round choices, but i'm not telling which ones are the actual final images.
Thanks, Aaron! I hope you don't mind me showing your work-in-progress: )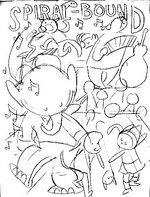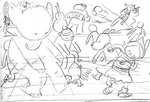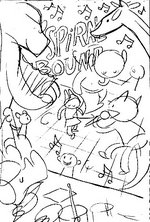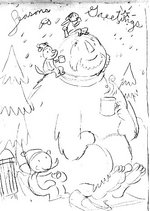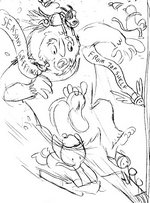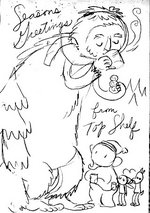 ---
February 18, 2006 / More →
Wow. I have been so pummeled since returning home from San Francisco. (Last of the WonderCon notes to follow.) I thought maybe folks might be interested in knowing exactly what the hell i actually do here at Top Shelf, so i'll make a laundry list of stuff i've done since i woke up Tuesday morning (in addition to being a full-time stay-at-home Dad with a sick kid), or things i am currently wrapping up.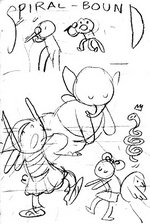 •Â Assembled and emailed out all of Craig Thompson's book covers for the 2007 editions of Novel & Short Story Writer's Market and Artist's & Graphic Designer's Market.
•Â Formatted and emailed Jeffrey Brown's new cover (Every Girl is the End of the World for Me) to Wizard, for inclusion in an upcoming installment of the "Secret Stash" column.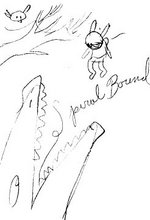 •Â Sent art and cover for Max Estes' Coffee & Donuts to Neil Figuracion, for a review over at Broken Frontier.
• Worked back & forth several times with Rob Venditti, Brett Weldele, and (designer) Jim Titus on finalizing the cover for the trade paperback edition of The Surrogates. (It's gonna be sweet!)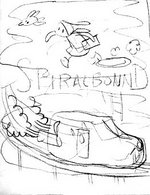 •Â Responded to interview questions from Mark Nevins, for the outstanding Swiss comics magazine, Strapazin.
•Â Formatted and emailed out 10 pages from Alex Robinson's Tricked, for inclusion in the Anne Elizabeth Moore edited Best American Comics anthology.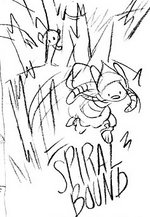 •Â Finalizing details for a big pre-APE signing at Joe Ferrara's Atlantis Fantasy World in Santa Cruz, including Renee French, Alex Robinson, and Jeffrey Brown.
•Â Reviewing and responding to Aaron Renier's preliminary designs for two postcards. One general postcard promoting his book Spiral Bound, and the other, our Christmas card for 2007.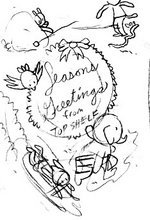 • Brokered a little swap with Arts Editor Natalie Nichols from L.A. City Beat, for a couple copies of their recent all-comics issue.
• Formatted and emailed the inside covers of Derek Kirk Kim's Same Difference and Other Stories to his Italian editor Laureanno Dominguez, at publisher Astiberri.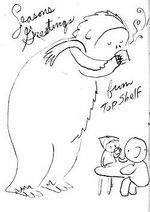 • Putting final touches, writing printers notes, and getting Jeffrey Brown's Every Girl is the End of the World for Me, and Jeremy Tinder's Cry Yourself to Sleep off to our printer Lebonfon in Quebec.
•Â Was invited to Eugene (2 hours south) for a conference featuring art spiegelman at the University of Oregon (my alma mater), and planned for this overnight trip. (Have to clear stuff like this with the wife, after all.)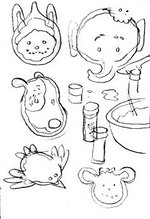 •Â Cried in my beer upon hearing that the Senate Intelligence Committee is trampling our Constitution by rejecting a probe on the "wiretapping" scandal, at the same time that the full Senate voted to re-up the Patriot Act, with it's Orwellian language allowing innocent Americans to be spied on, records searched and the like, for no probable cause.
•Â But then laughed my ass off when i read that Harry Whittington APOLOGIZED to Dick Cheney for the trouble he caused the VP. For, you know, getting shot in the chest, neck and face.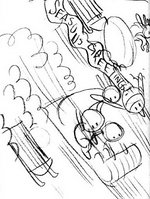 • Working to assemble the new edition of From Hell (AND a new hardcover edition!), and get that sucker back in print.
• Working with my intern Alan on production for Nate Powell's comic Please Release.
• Watched last night's stellar Smallville episode, with the debut of Cyborg. (Which more than made up for last week's super-stinker.)
* Much discussion with Jeffrey Brown and Chris (Staros) on specs for Jeffrey's forthcoming, expanded edition of I Am Going to be Small.
•Â Did several loads of laundry and two shopping trips.
•Â Received and responded to several submissions.
•Â Sending a galley of Jeffrey Brown's Every Girl is the End of the World for Me to Byron Kerman at Playback.
Whew!!!
Wrapping up the WonderCon notes:
Have i mentioned how freaking much i LOVE San Francisco? Well, it's true. That city kicks ass, plain and simple. Better yet, this was the first trip i've ever taken to SF where i didn't use my map once. At the con itself, i was set-up across from Brett at Alias comics. We're two very different publishers, but it was fun comparing notes. Real nice guy. Met new CBLDF hire Greg Thompson on the same night i hung out with a bunch of the cool peeps from Image. Had a REALLY swank dinner, courtesy of my pals Patrick and Jean Guy from Lebonfon. Stayed at my pal Wayne (I'm Totally Helpless) Shellabarger's pad, across the street from Golden Gate Park. (Man, we geeked out big-time on comics. Spent lots of hazy time pouring over that incredible, oversized edition of Windsor McKay's Little Nemo in Slumberland.) Had an amazing BBQ brunch on lower Haight (across from The Toronado.) Met and talked with Swamp Thing scribe Josh Dysart. I can't afford Marvel or DC Comics, so the only issues i have of this run (two of which are written by Will Feiffer) are the ones drawn by Richard Corben. Good stuff.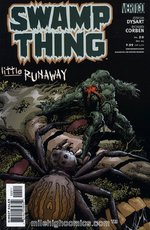 Speaking of not being able to afford Marvel and DC comics, a copy of the deluxe signed & numbered LOST GIRLS by Alan Moore and Melinda Gebbie (as well as comps for ALL our books), to the DC editor who steps up and gets me on their comp list. Schreck? Cavalieri? Dunbier? Any of you guys reading this?
---
February 16, 2006 / More →
... so i can post while i'm away from home. I've certainly lost any momentum i had going on this blog gig. Sorry for the delay, friends.
Back from WonderCon a couple nights ago, only to arrive home to find wee little Carter sicker than a dog, throwing up and, well... that other thing one might encounter when battling a stomach virus.... Yeesh. Poor little guy. Few things are more sad than helplessly watching a 14-month old in this much pain.
So yeah, WonderCon.
The show was certainly well attended. So much so that on Saturday, the Fire Marshall was keeping people from entering at one point. (Rumor was too, that same Fire Marshall was monitoring CO2 levels? What the...? I know comics fans can be geeky as hell, but this wasn't a porn convention!)
That said, for Top Shelf, sales were just o.k. sale. For a company that really relies on convention sales to pay some bills, Friday was a near-disaster. This seemed to be similar for other exhibitors as well. (Of course, the back-issue bin dealers seemed immune to this.)
Saturday was a good day, but it was also a grueling nine hours long. Ouch.
Sunday was looking grim, until i scored some wholesale sales with Last Gasp, Lee's, and Isotope. Love ya!
Theories abound as to why San Francisco comics shows don't seem to generate the kind of sales we see elsewhere. (Even APE -- which you might think would rock for Top Shelf -- is teeming with locals low on the cash flow.) And the truth is, they all have a point to be made. WonderCon in particular though, like San Diego, is as much a multi-media event as it is a consumer comics show. We had Bryan Singer and Brandon (Superman) Routh commanding long lines. (So i heard.) Kevin Smith was on hand, signing... hmmm, i'm not sure what he was signing, but that line sure was long. And on the comics front, the big guns really stole the show, including Grant Morrison, Frank Miller, and Jim Lee. The DC news-machine also seems big at WonderCon.
Another posited explanation for mediocre sales is that San Francisco is still reeling from the post dot.bomb bust a few years back. There's no doubt it hit the local economy square in the jaw, but would it still be this damaging? Any locals have any thoughts on this?
The best theory as i see it, is that the Bay area in general is serviced by no fewer than close to a dozen exceptional comics shops. (Heck, even the book stores kick ass in San Fran. I NEVER make a trip to SF without a visit to Green Apple Books in the Richmond District. Second only to Powell's here in Portland for the selection of new AND used graphic novels.) And so the line goes, that given the availability of not just Top Shelf books, but a wide array of comics overall, any fan of our books will most likely have already picked them up.
This makes sense. It also makes sense when you consider that (oddly) in San Diego, to my knowledge (sorry if i'm mistaken), there's not one single marquee, destination comics shop in the whole of San Diego.
I've got more WonderCon report stuff to cover.... but holy mama i'm so tired. 3:00 a.m... must go... to bed... more on the... flipside.
---
February 8, 2006 / More →
Haven't posted in a few days. My bad. Slammed getting ready for WonderCon (leaving in the morning), down in San Francisco. And unless i find a computer to borror, i might not be able to post yet again for another week or so. We'll see.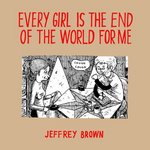 Meanwhile, just put three new books to bed... Jeffrey Brown's epilogue to the Girlfriend Trilogy, called Every Girl is the End of the World for Me. Cry Yourself to Sleep, by Jeremy Tinder. And the long-awaited Tony Consiglio graphic novel, 110Per¢. Damn fine comics, all, if i do say so myself.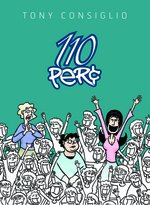 Also, finally finished reading the controversial House of M, and i have to say, i really enjoyed the hell out of this book. I think Bendis "gets it" in a big way. As a LONG-time Marvel Zombie, i think that everything flowed very logically, and as always, his characters were spot on. I can't attest to how this read as a serialized comic, because i don't play that game; but it reads great in trade format.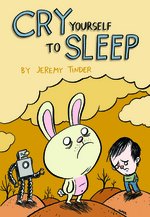 I hear a lot of displeasure in the bloggosphere about this book (and Bendis' New Avengers as well) because he kills characters. Well my friends, in spite of the fact that you don't see it on CNN, people actually die in battle. And with capes like this (Scarlet Witch) who have massively cosmic powers, well... shit happens. That's life. Deal.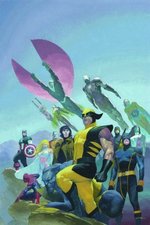 Anyway, after reading this, and reading some of the ideas behind Civil War (HATE that name), i might give that a look see.
---
February 4, 2006 / More →
Super-Spy and Pistolwhip cartoonist Matt Kindt attended Angouleme this year, and has graciously blessed us with a full report, complete with pics. Angoueme (the name of the festival AND the city that hosts it, in the south of France) is the largest and most important comics festival of any sort, in the western world. (I've heard tales of conventions in Japan where the exhibitors alone number in the hundreds of thousands, so i don't think even Angouleme holds a candle to this.) Many thanks to Matt for letting us run his report here at Hey, Bartender.
First, just so y'all know, i have been officially forbidden from writing about politics on this blog. C'est la vie. I'll refrain from rambling on about my loathing at the loss of civic duty in our country, and instead i'll provide a few links to some excellent news-sites and policy-wonk blogs. All i can say is this; stay informed people, contact your congress-person, and vote…it's The People and our very country at stake here.
http://www.talkingpointsmemo.com/
Oh, and for a little insight into the pre-meditated War in Iraq (going back to the mid-nineties), check out the actual website of the neo-con think tank that created it.
http://www.newamericancentury.org/
And now on with the show.
Fun in Angouleme. By Matt Kindt.
It was a 2 hour train ride form Paris to Angouleme. A very cozy small medieval town on a hilltop (untouched by World War II "" I checked the history before we left in case there were any Super Spy ideas waiting to be discovered).
Already, the festival was unlike anything in the US. There wasn't a super-hero t-shirt to be seen and you couldn't tell the comic book fan from the normal citizen. Instead of one big convention hall or center, the publisher and exhibits were spread out in large temporary tents throughout the town. This helped to disperse the crowds a little bit and made it more interesting to walk from tent to tent instead of being stuck in a big smelly convention center all day.
One of the many street paintings in Angouleme.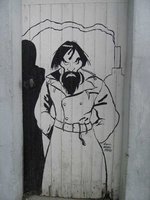 Still a little groggy from the travel and time change I woke up at noon (after dinner till 3am and several episodes of the Indy Spinner Rack podcast to pass the time as I laid there trying to get to sleep).
Street Graffiti in Angouleme.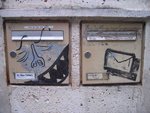 The first thing on the itinerary for the day was a TV interview with the French art channel. The publisher warned me of this ahead of time and I thought, "˜okay, there will be whatever version of a public access channel over there doing interviews'. But is was a legitimate TV station "" Channel 5 which had been on at the hotel earlier and covers all the arts. The journalist (thankfully) spoke English (which isn't always a given) and told me she'd just come from an interview with Jim Lee. This is the first inkling i got that I'd stepped into a bizarro world where comics (and Indy comics) were actually somewhat respected as an art form and of general interest to the public. Strange. The journalist from Channel 5 wasn't just covering a story. She'd been reading (and liked) most of the books she was covering at the festival. She wasn't covering a story about comics "not being just for kids anymore". She was covering adult graphic novels that just happened to be in comics form. After the interview the journalist asked for a sketch (another first). They supplied me with a nice piece of watercolor paper and I sat to draw and the cameraman filmed the entire thing. It was starting to become clear that they loved their comics here.
After the interview it was off to a press conference, which was in a big room in the old historical Hotel DeVille building at the center of town. It was a large ballroom area with tables and chairs. The creators would sit down with their publisher and then wait for interested journalists to sit down as well. Four journalists and a photographer ended up sitting at my table and firing questions at me (in French). Luckily my publisher was there and fielded the questions and translated them for me and then my answers back to them. They sat around the table chain smoking and writing everything down in little dime notepads just like in the old days. They weren't interested in my age or my background or how I got published. They wanted to know my influences. Why was I telling espionage stories? Why were my stories disjointed and told out of sequence. Why weren't there any captions? I mentioned Joseph Heller's Catch 22 as a major influence and I could hear the crickets. Mentioning Tin Tin seemed to make them happy though and I was suddenly happy to have put a few homages to Herge in the Pistolwhip books.
Everyone I talked to and was questioned by really knew comics and what made them work and what didn't. I'd have taken this any day over sitting at a booth across from the Toxic Avenger shouting into a microphone with a crowd gathering around him.
Once I got some free time I started walking around the festival to see what was there. What there wasn't was super-heroes. Anywhere. The large mainstream booths were all the large oversized hardcover full color albums with talking cats, pirates, mysteries, Agatha Christie adaptations, World War II adventure and fantasy. No super-heroes. I guess I knew that going in but seeing a giant booth with thousands of these books made it reality. My publisher would explain to me later that most of those books were crap (like most of everything) but in French you just couldn't tell. All of the artwork and color looked fantastic.
The Indy books were in another long tent that was just packed. On Saturday (the busiest day) you could barely walk through the Indy section. As I walked around there were huge lines as creators sat at tables signing and sketching for fans. I stopped to watch Blutch, a French artist that a friend had recommended. He was doing sketches but these weren't quick doodles and a signature. He had broken out his pastels and his watercolors and his brushes and was doing full-blown illustrations in the front page of his book for everyone in line. We watched for a few minutes and came back at the end of the day and he was still working. Now I understood why my publisher had asked if I minded doing sketches during my signing. I had said "˜sure' since I usually do a little doodle and sign the books anyway, no problem. What they expect from creators in France was a little different.
Okay, this could have just as easily been at Wizard World.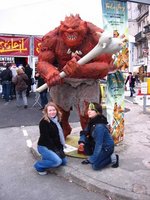 I went out to the art store and bought some nice water color paper and at the signing I did in Paris (a store ironically called Super Heros which carried nothing but Indy books) I spent three hours doing full blown inked and water colored illustrations for the people that came up with books to sign. I was drawing and inking and water coloring faster than I ever had before and I was having a great time. The people expected it but they were just so excited to stand there and watch you draw that it didn't matter. There weren't excited about the toys or movies. They were excited about the comics.
Art from the kids exhibit in Angouleme. The artist that did this page was 10 years old.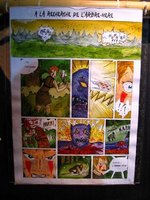 We ended our trip in Angouleme with a trip to the Comic Book Art Museum. It alone is worth a trip to the city. In addition to the rotating exhibits they had a huge archive of original art from the 1800's to the present day. It was amazing. To see the line and brushwork of Charles Burns and Hugo Pratt in person makes all the difference.
Charles Burns Original Art. No mistakes.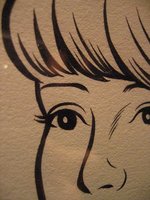 And then walking up to a Hal Foster original Prince Valiant which you've seen forever taking up a few inches of space in the paper since you were a kid. You see page framed on the wall and realize that the original art for those few inches is over three feet long.
Prince Valiant Art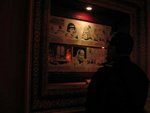 ---