John Lewis' MARCH is the New York Times' #1 Bestseller!
August 23, 2013
MARCH on the airwaves!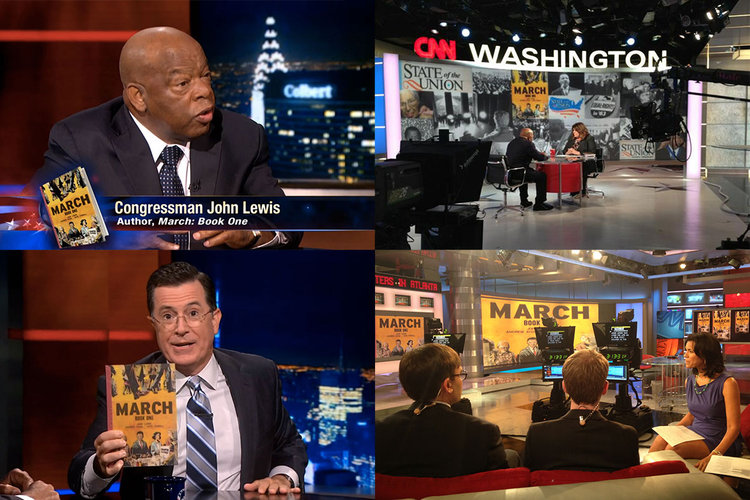 The press response to March has been terrific as well. After the wave of coverage from Comic-Con, we kicked off the book's release with The Colbert Report, then hit public radio! Terrific reports came out of California's KPBS and KCRW, Congressman Lewis was a guest on NPR's "Here and Now," and then he did a full hour on NPR's "On Point" with Tom Ashbrook!
That's not all: stay tuned this Sunday, August 25 and Wednesday, August 28, when you can catch Congressman Lewis on (deep breath) CNN's "Newsroom," CNN's "State of the Union" with Candy Crowley, NBC's "Meet the Press" with David Gregory, CBS's "Face the Nation" with Bob Schieffer, BBC's "World News America," PBS's "Charlie Rose," and CNN's "The Lead" with Jake Tapper! As we celebrate the 50th anniversary of the March on Washington, it's an honor to know that Congressman Lewis continues to look to the future and reach out to new generations through this book.
And it's not just important: it's actually GOOD!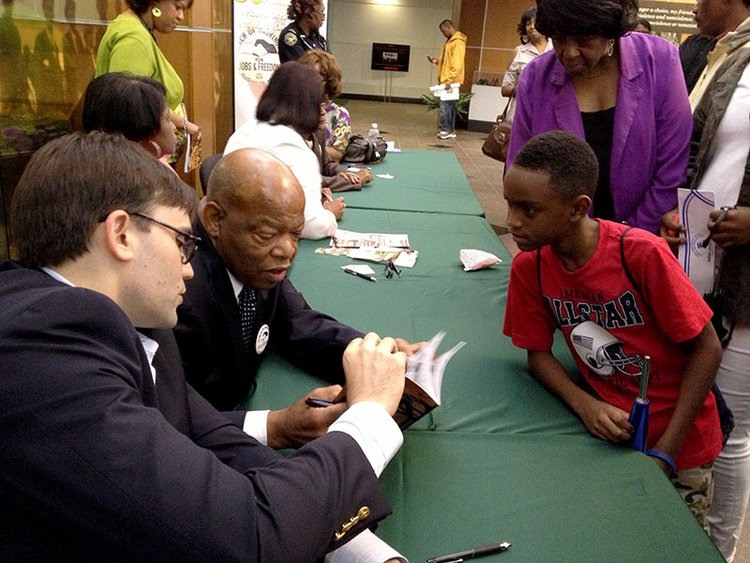 Critics agree that March is terrific entertainment, education, and inspiration in one:
"A riveting and beautiful civil-rights story… Lewis's gripping memoir should be stocked in every school and shelved at every library." — The Washington Post
"Essential reading... March is a moving and important achievement. While it looks a little different than your average comic, it does tell the story of a true American superhero." — USA Today
"An astonishingly accomplished graphic memoir that brings to life a vivid portrait of the civil rights era, Lewis' extraordinary history and accomplishments, and the movement he helped lead... its power, accessibility and artistry destine it for awards, and a well-deserved place at the pinnacle of the comics canon." — NPR
"March offers a poignant portrait of an iconic figure that both entertains and edifies, and deserves to be placed alongside other historical graphic memoirs like Persepolis and Maus." — Entertainment Weekly
"When a graphic novel tries to interest young readers in an important topic, it often feels forced. Not so with the exhilarating March: Book One... Powerful words and pictures." — The Boston Globe
Plus starred reviews from Publishers Weekly, Booklist, Kirkus, Library Journal, & School Library Journal!
Don't miss out on the top graphic novel of the year... Join the MARCH!
Plus: GOD and MONSTER are in stores now!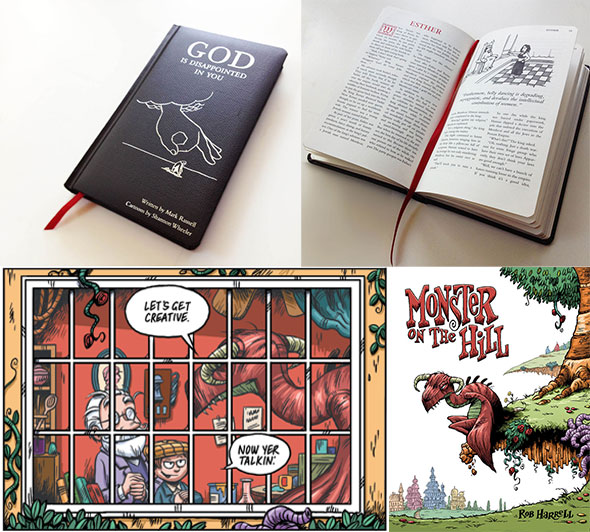 Last but not least, two outstanding new releases are now in stock, so head to your favorite store and load up!
GOD IS DISAPPOINTED IN YOU
by Mark Russell & Shannon Wheeler
"God Is Disappointed in You accomplishes an impressive goal: it takes the holy book—as inscrutable and culturally significant as it is—and makes it readable." — The Rumpus
"The Bible itself may be timeless, but, with its playful ribbing and wit, God Is Disappointed in You is most certainly a book made for this moment." — Culture Mass
"A hilarious book that's often shocking, some times blasphemous, but always funny with a huge heart. This is Sunday School for the information age." — Graphic Policy
MONSTER ON THE HILL
by Rob Harrell
"Really fun, goofy, extremely silly fantasy for readers of all ages, crying out for reviewers and critics to make appalling puns of the 'monstrously good' variety." — Neil Gaiman
"Funny, original, unexpected. And best of all: excellent monsters!" — Jeff Smith, creator of Bone
"A funny, exciting tale of melancholy monsters and eminent Victorians.. like How to Train Your Dragon with a twist of Bloom County and The League of Extraordinary Gentlemen." — The AV Club
"With a deliciously cinematic sense of both framing and pacing, this indie charmer is both quirky and novel... Just plain monstrous fun." — Kirkus Reviews (starred review)
"Harrell's exuberant, cinematic cartooning plays up the fun… the jokes pile up as quickly as the carnage." — Publishers Weekly
"The art is great, the jokes are funny, and the story is as much fun as anything you'd get from Pixar or DreamWorks." — Ain't It Cool News
"Great rollicking fun for the whole family." — Broken Frontier