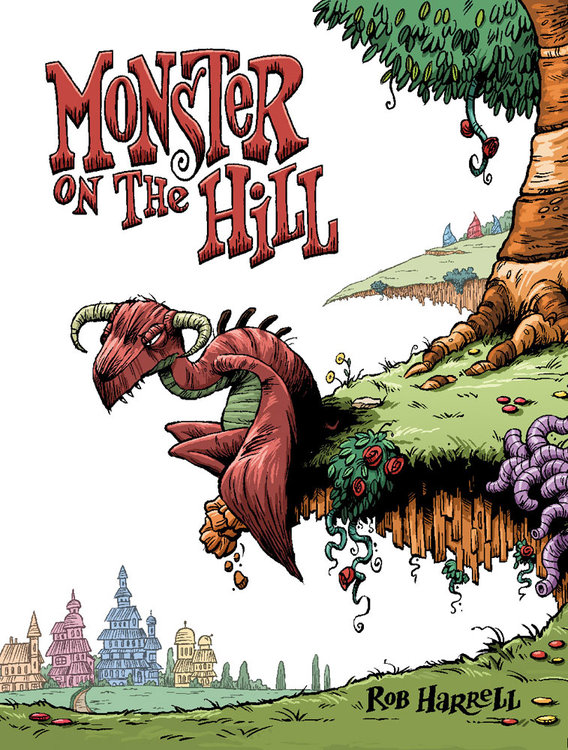 "Really fun, goofy, extremely silly fantasy for readers of all ages, crying out for reviewers and critics to make appalling puns of the 'monstrously good' variety." -- Neil Gaiman
"Rob Harrell has jumped the fence from comic strips to graphic novels with ease, and brought with him wit, strong characters, and last minute twists. Funny, original, unexpected. And best of all: excellent monsters!" -- Jeff Smith, creator of Bone
"Rob Harrell reminds us of a more interesting time when cities took great civic pride in the quality and flamboyance of their local monsters, instead of something silly like football teams. And I sure am glad he does. More, Rob, I want to hear more!" -- Richard Thompson, creator of Cul de Sac and Richard's Poor Almanac
"A funny, exciting tale of melancholy monsters and eminent Victorians.. like How to Train Your Dragon with a twist of Bloom County and The League of Extraordinary Gentlemen. Harrell makes the jump from the newspaper page to the graphic novel with his sense of humor intact." -- Noel Murray, The AV Club
"With a deliciously cinematic sense of both framing and pacing, this indie charmer is both quirky and novel; expect it to appeal to fans of Jeff Smith's Bone series. Just plain monstrous fun." -- Kirkus Reviews (starred review)
"Harrell's exuberant, cinematic cartooning plays up the fun of his mashup concept; despite the 19th-century setting, the dialogue is determinedly modern in a way that recalls the Shrek films. But the anachronisms in no way damper the fun—the jokes pile up as quickly as the carnage." -- Publishers Weekly
"The art is great, the jokes are funny, and the story is as much fun as anything you'd get from Pixar or DreamWorks... whether you're young, old, or somewhere in between, this is one of those stories that you can't help but smile through, knowing you'll be revisiting it time and time again." -- Ain't It Cool News
"Great rollicking fun for the whole family." -- Broken Frontier
"As much fun for older readers as it is younger, Monster on the Hill is an incredibly strong debut for Harrell. Very well done." -- Read About Comics
In a fantastical 1860s England, every quiet little township is terrorized by a ferocious monster -- much to the townsfolk's delight! Each town's unique monster is a source of local pride, not to mention tourism.
Each town, that is... except for one. Unfortunately for the people of Stoker-on-Avon, their monster isn't quite as impressive. In fact, he's a little down in the dumps. Can the morose Rayburn get a monstrous makeover and become a proper horror? It's up to the eccentric Dr. Charles Wilkie and plucky street urchin Timothy to get him up to snuff, before a greater threat turns the whole town to kindling.
Monsters of all ages are sure to enjoy this tale about life's challenges, the power of friendship, and creative redemption, packed with epic battles and plenty of wild beasts! -- A 192-page, full-color graphic novel with french flaps, 7 3/16" x 9"
Reviews
---
Related Titles