Top Shelf's Comic-Con sparks media frenzy and sell-out success!
August 2, 2013
The press response was immediately enormous, and kept building: several national news stories, including dedicated segments on CNN, NBC Nightly News and CBS Evening News, the front page of Roll Call, a 2-page profile in Publishers Weekly, The Washington Post, The Hill, CurrentTV, MSNBC, local news and public radio, and much more.
Headlines used phrases like "real-life superhero."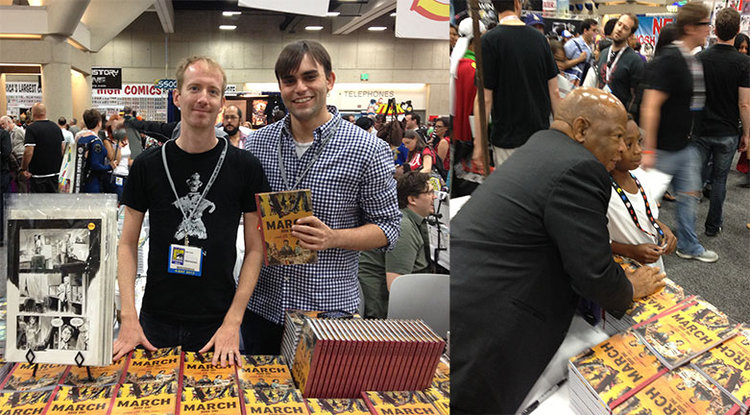 But the excitement wasn't just on the part of the media. Co-author Andrew Aydin and artist Nate Powell joined Congressman Lewis for interviews, signings, and personal encounters with a neverending stream of fans. As the Roll Call piece mentions, their first event (a group presentation by the three co-creators) packed every seat in the presentation hall and kicked off with a spontaneous standing ovation. Congressman Lewis' first signing accumulated a line so long we were nearly shut down by Comic-Con management for safety reasons. And by the end of his first day, we had sold more copies of this graphic novel than we've ever sold of any book in 15+ years at Comic-Con -- even mega-hits like Craig Thompson's Blankets and Alan Moore & Kevin O'Neill's League of Extraordinary Gentlemen! Even amid all the Hollywood dazzle at Comic-Con, people are thirsty for a book like this.
His arrival at Comic-Con also attracted a congratulatory visit from Rep. Susan Davis, his House colleague, who had never attended the show even though it's her home district -- so the number of Members who've attended Comic-Con jumped from 0 to 2 in one fell swoop!

The March team even managed to run into both Lou "Incredible Hulk" Ferrigno and science rock star Neil deGrasse Tyson, who requested signed copies for both himself and his civil-rights activist father.
But that's not all! Even aside from the MARCH hoopla, we had a gangbusters year: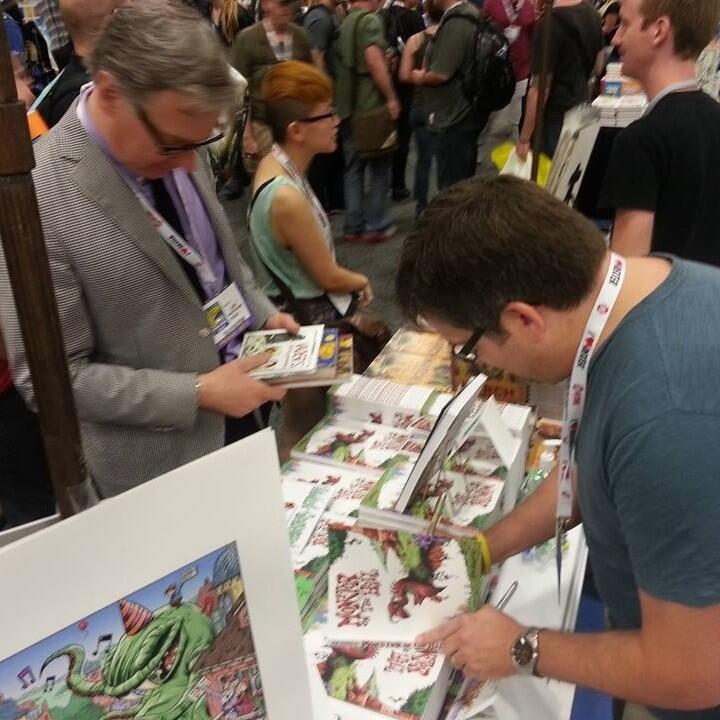 Rob Harrell debuted Monster on the Hill to uproarious response and glowing reviews! Here's Rob signing a copy for Freaks and Geeks co-creator and Bridesmaids director Paul Feig.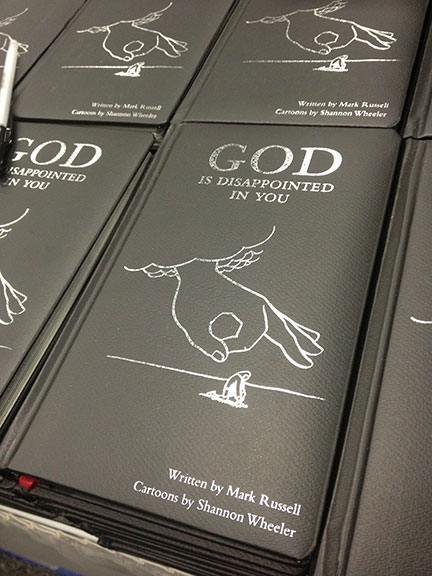 Mark Russell and Shannon Wheeler sold COMPLETELY out of our stock of God Is Disappointed in You (hundreds of copies!), and even went the extra mile (Matthew 5:41) by sketching a different cartoon inside every single signed copy of the book! This book is captivating - once people hold it in their hands and read a few jokes, they have to own it.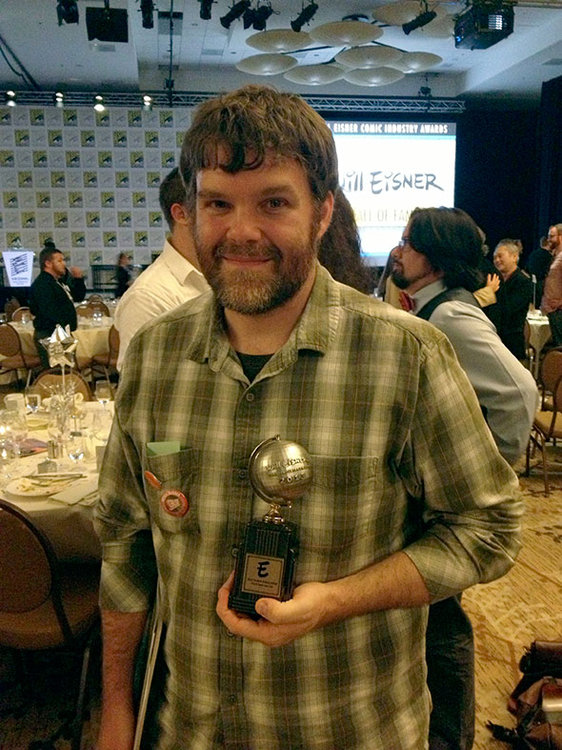 Last but far from least, the incredible Jeffrey Brown not only sold a metric ton of his new autobiography A Matter of Life, he also won the Eisner Award for the utterly charming Darth Vader and Son. Here's the victorious Jeffrey, interviewed afterward on the CBR yacht:
Any of those launches would have made a terrific Comic-Con. All of them together -- plus your overwhelming support of the worldwide "Cyber-Con" digital sale -- made this one for the record books. Thank you, thank you, thank you!