Jeffrey Brown returns to autobiographical comics with A MATTER OF LIFE!
April 3, 2013
ALSO IN THIS MONTH'S DIAMOND PREVIEWS: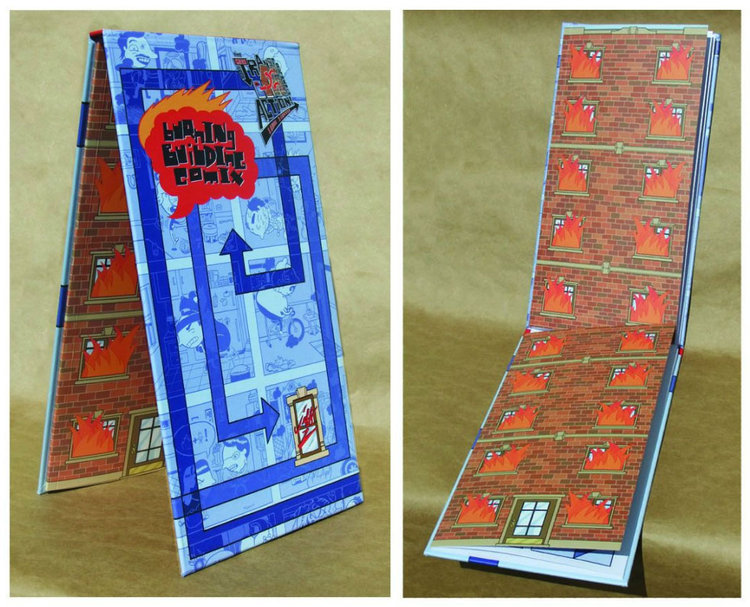 BURNING BUILDING COMIX
by Jeff Zwirek
-- Full-color hardcover graphic novel, 6.25" x 12.25" (unfolds to 6.25" x 24.5")
-- 40 pages
-- ISBN 978-0-9858751-3-8
-- $19.95 (US)
-- Audience: Mature readers (16+)
-- Self-published by Jeff Zwirek & distributed by Top Shelf
-- In the current DIAMOND PREVIEWS (for books shipping in June)
Presented for the first time under one cover and in full color, Burning Building Comix by Jeff Zwirek is a comics art object and reading experience like no other. The innovative format of this book allows readers to follow the plight of the trapped tenants in a ten-story burning apartment building, with each tier of panels representing 1 "story" in the building. Dive into a world of hijinks and drama, as each tenant -- the depressed atheist, the expectant mother, the brave doggy, the latchkey kid, the devil worshipper, and more -- struggles through the smoke and flames to safety!
This unique hardcover opens vertically to reveal two tall booklets, so the reader can move up & down in space and forward & backward in time. Don't miss Burning Building Comix... it's a ten-story story!