January 6, 2012
• Oh, that Kevin Cannon... check him out At Length. The Classics Illustrated Comics Project.
• Complex Magazine's 25 Best Comics of 2011 list is out. Top Shelf has three, count 'em THREE books on it! We've got:
Nate Powell's Any Empire.
Kagan McLeod's Infinite Kung Fu.
Rob Venditti & Mike Huddleston's The Homeland Directive.
• Eric Skillman drew this wicked cool piece of art to celebrate the new year. Also at his site he has a terrific breakdown of the work he did in 2011.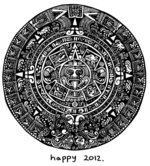 • Finally, this is so cool i just have to throw it out to the world... the endpaper artwork for Ed Piskor's forthcoming graphic novel Wizzywig.