american elf love...
January 17, 2012
Comics Alliance highlights James Kochalka's American Elf in a survey of autobio comics, here.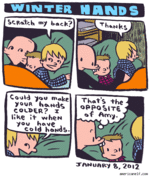 I love their assessment of James's work: "American Elf is the great granddaddy of diary webcomics, and one of the many reasons why James Kochalka is awesome enough to be the first ever Cartoonist Laureate. In four colorful panels, Kochalka captures the small moments of his daily life, from mundane moments with his two sons to his wife's miscarriage. There's a fearlessness to Kochalka's comic -- he'll include something as simple as cooking dinner or as personal as blowing up at his family."
Dear readers, let me just say to you — especially those of you unfamiliar with James' comics — this man is a national treasure. The fact that he's not more widely known is a fucking crime. His comics, ranging from his all-ages books like Johnny Boo, Dragon Puncher, Pinky & Stinky, and Monkey vs. Robot, to his strictly adult fare like SuperF*ckers, and finally to his sublime American Elf are literally PURE COMICS. (And how wicked cool is the name of every single title i just listed?) American Elf is truly a sublime experience... he captures the essence of the life of the middle class American like no other. No one else does comics remotely like James, and i'd wager that anyone would be able to find something within his broad range of themes and memes to like.
I don't make blatant pleas to buy Top Shelf comics too often. (Maybe i should?) But for the sake of all this is Right and True in this universe, go get yourself some Kochalka. You won't be disappointed.